Rust Belt / Southern Road Trip
August 2014
We've talked about going on a road trip for a long time, but our poor 2001 Chevy Cavalier couldn't be trusted to take us to the grocery store reliably, much less across the country, so it wasn't until we got this brand new beauty, a 2015 Honda Fit, that we could realize our dream. And what was our dream, you ask? Pretty much what everyone's is: Pittsburgh, Cleveland, Columbus, Cincinatti...wait, what? Those aren't everyone's dream destinations?
FALLINGWATER
Our first stop was the Frank Lloyd Wright house, Fallingwater, in Western Pennsylvania, about a six hour drive from NYC. Because it seemed like it was in such an out-of-the-way location, we imagined we'd get to admire the architecture on a quiet, leisurely stroll through the house and grounds. Not so. We were herded onto a tour, and because there were tours departing every 5-10 minutes, were shepherded through the house a little too quickly to absorb as much as we might have wanted. But experiential complaints aside, the house itself, built over a waterfall, is fascinating both aesthetically and historically. (It is also totally structurally unsound!) We'd recommend a visit.
PITTSBURGH, PA
We spent much of our time in Pittsburgh debating how many times we'd been to Pittsburgh, which might mean we're getting old. The upshot of that conversation, though, is that we've been a lot. It's a really great city and is actually number two on our list of places we'd want to live. (Number one is New York City and all other spots on the list are irrelevant because we're never moving, but still–high praise for Pittsburgh). If you haven't been, this may sound strange, but it's a beautiful city filled with art, culture, and our friends! We always stay with Zabe and Will, who are renovating a lovely Victorian home and take us to things like bike advocacy picnics in revitalizing neighborhoods and chic farm-to-table restaurants in equal measure. We also met up with Amy and Aaron who have three little kids and they introduced us to a fantastic Scandinavian playspace called the Lozziwurm. We ate at Kaya (Carribean-y, ludicrously large portions, fun), Meat and Potatoes for brunch (Bloody Mary bar!) and Legume (locally-sourced, started by Oberlin folks, excellent). Mostly we just hung out and caught up with friends and skipped sight-seeing because, hey we've been to Pittsburgh like four times. Or three? Maybe five?
CLEVELAND, OH
Thankfully, we were on top of the fact that there was a Sister Corita Kent exhibition at the Museum of Contemporary Art Cleveland, so when we left Pittsburgh, we drove straight there. Before we made it into the museum, though, we swung through Little Italy's Feast of the Assumption, which we unwittingly arrived in the middle of, and ate some eggplant and risotto. Red-sauced up, we proceeded into the neat Fashid Moussavi-designed building to see a fantastic selection of Sister Corita's artwork. A nun and art professor at the Immaculate Heart College in LA in the 60s-70s, Sister Corita expressed her feminist-, peace- and Civil Rights-activism through brilliantly-colored and innovative posters, prints and murals. We were inspired! Don't you wish you were in the art class pictured below?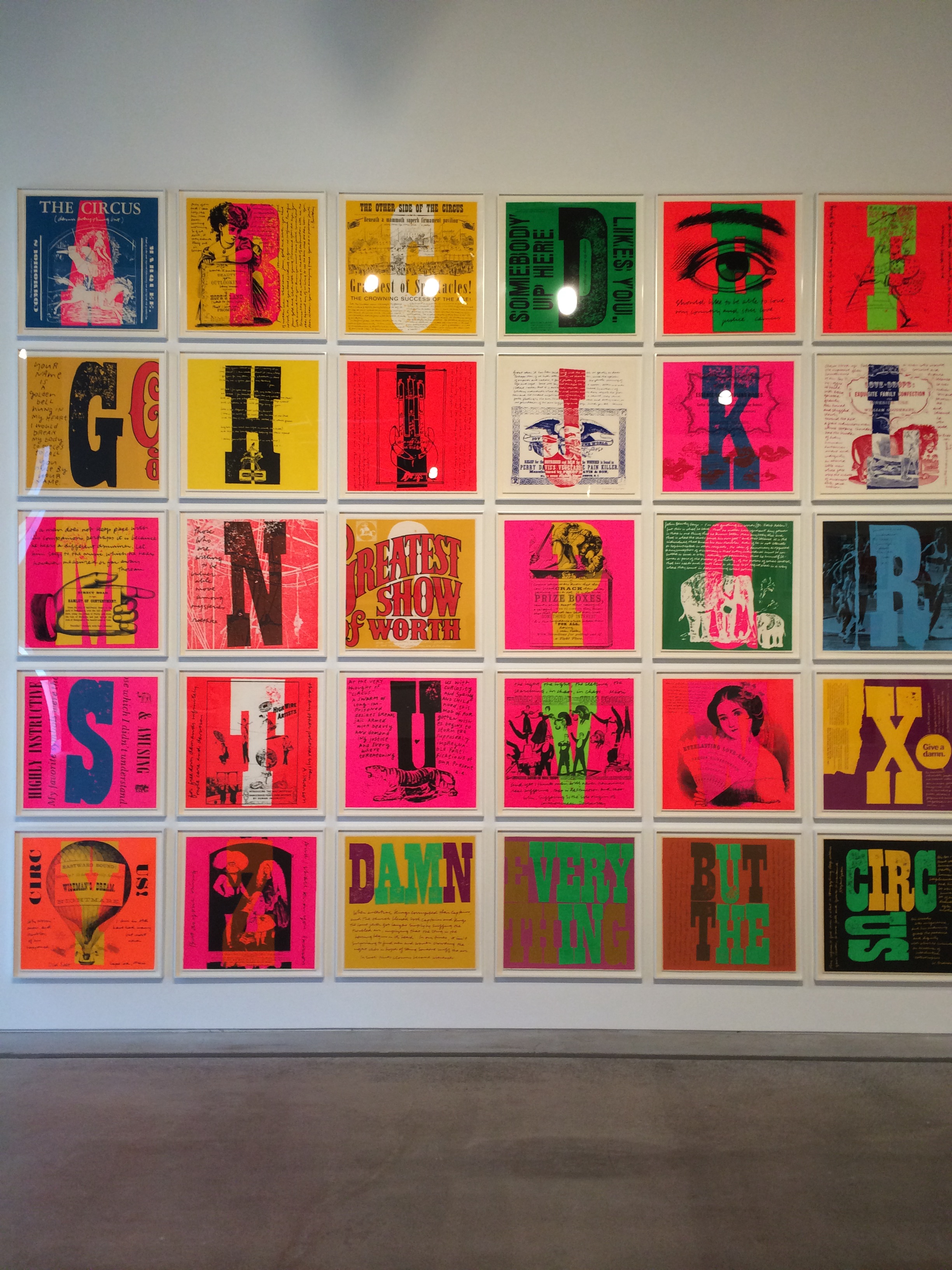 Our main objective in visiting Cleveland was to hang out with Dan's grandmother, Roz. We stayed with her in her assisted living facility, which was a pretty awesome experience. We learned that, between women, the drama is just as high in the assisted living cafeteria as it is in the middle school lunch room! Roz is 96 years old and going strong. She goes to the gym three times a week, which is three times more than either of us.
Roz took us out to a neat little town called Chagrin Falls. We ate Jeni's Ice Cream before dinner. Eating Jeni's Ice Cream has been a dream of Nicole's for years and it did not disappoint. We ate burgers at a place called Flipside and then considered getting more ice cream.
The next day, we ate breakfast with Roz at a charming deli called Jack's, where we brought the median age down about 75%. After dropping Roz back at home for her art class, we swung through the cool indoor space Westside Market where Dan bought beef sticks that perfumed the car for the rest of the trip. Nicole ate some fancy noodles at hipstery Noodlecat. The other cool lunch we had in Cleveland was at a place that came highly recommended, the Greenhouse Tavern. The menu looked more exciting for dinner than for lunch, but we had dinner plans: pizza at a neighborhood spot called Geracci's (nostalgia perhaps clouded the judgement of the folks who recommended this one...) and Chinese food in a very old school spot in the mall, followed by more delicious ice cream at Mitchell's.
We also managed to squeeze in a trip to to the paint factory run by Dan's relatives, which grew out of his great-grandfather's printing business. You can read more about that here. We grabbed some tools and type and beautiful expandable metal lock-up furniture.
OBERLIN, OH
We took a great day trip out to Oberlin to visit Dan's alma mater. He bonded with the new guard at the Oberlin radio station, and led a guided nostalgia-tour of the campus.
COLUMBUS, OH
After leaving Cleveland, we drove straight to 400 West Rich Street in Columbus. An arts complex/community in what folks there describe as a "new neighborhood," it seemed pretty cool; we could imagine ourselves setting up studios in the building. We were under the mistaken impression that there was a restaurant as part of the complex, so we only stayed long enough to watch some dudes skateboard around with a camera, view a wolf sculpture, see the pictured Bob Ross business card, and grab coffee. Then, we headed across the river to Katzinger's Delicatessen in Germantown, an almost painfully charming neighborhood. We ate pickles (free) and gluten-free sandwiches and knishes (not free), then sought out some more Jeni's Splendid Ice Cream (pineapple upside-down cake buttermlik frozen yogurt and corn/black raspberry ice cream—INSANE) and perused some records at the legendary Used Kids Records.
CINCINNATI, OH
Our only goal as we passed through Cincinnati was to see the groundbreaking Contemporary Arts Center, designed by Zaha Hadid. The building was the Iraqi architect's first commission in the States and the first U.S. museum designed by a woman. Once there, we couldn't resist going in and were so glad we did, because we got to see an incredible exhibition by German artist Michael Sailstorfer. He had trees suspended from the ceiling by rotating arms, slowly drawing on the floor with their falling leaves, and a series of photographs depicting the time he fed a cabin into its own wood-burning stove. In hindsight, we probably should've explored Cincinnati some more.
LOUISVILLE, KY
Louisville was the only spot on our trip where we didn't stay with friends or family. We found an adorable, affordable tiny shotgun house on AirBnB. It was located in the Germantown neighborhood, which was described to us as Williamsburg-y in that lots of young people live there, there are a few hip bars, and the houses have crappy vinyl siding. (The similarities might stop there.)
It was on the late side when we arrived so we headed into the completely, apocalyptically empty downtown to find Hillbilly Tea, Appalachian-themed restaurant with lots of tea and moonshine on the menu. We had a circular conversation about mason jars (Louisville copying Brooklyn copying Louisville?) in which Edward Said's "Orientalism" came up and then we shut up and drank our drinks and ate our food, which was fine if not as special as the menu suggested.
A friend of Dan's was, at the time, at the helm of a music venue called Dreamland. That night, we had a drink with him and absorbed the atmosphere.
On our one full day in Louisville, we knocked out nearly everything on our list. We ate breakfast at gralehaus (awesome) on Bardstown Road, which we'd repeatedly read was the "cool" part of Louisville, but other than gralehaus and its attached restaurant Holy Grale, that seemed like false information. After breakfast, we went to the Kentucky Museum of Art and Craft to see a taxidermy show, the 21 C Museum Hotel, a museum dedicated to 21st century art that's also a hotel, its swank hotel restaurant, and--yes, we took a quick spin through the Louisville Slugger Factory (admittedly only to use the bathroom). It was 9million degrees and humid at this point, so we got in the car and drove past Churchill Downs and then spent longer than we'd like to admit looking for the historic neighborhood with all the old lovely homes. When we finally found it, it was dreamy-beautiful but meltingly hot. We proceeded to the bar of the historic 1930s Brown Hotel, where the Kentucky Hot Brown was invented, and drank some bourbon cocktails until we felt revived and the proceeded to the Falls of the Ohio (more on that in the next section). We had dinner at Holy Grale, where we ate the best pickle plate of our lives. We finished off the night conquering our social anxiety at Nachtbar a hipster-ish bar in Germantown, where we were able to take in the "scene." In the morning, we hit the two remaining spots on our list, the coffeeshop/record store Please & Thank You and the gluten-free bakery Annie May's Sweet Cafe.
FALLS OF THE OHIO, IN
It's hard to admit this, but our handle on US geography is pretty poor. At some point, driving from Ohio to Kentucky, we saw a sign on the highway and wondered aloud if we were close to Indiana. We decided, "no way." But then, following a tip gleaned at Dreamland, we took a short drive across the Ohio River from Louisville to the Falls of the Ohio and realized that we were, suddenly, in Indiana. Is Indiana in the South? we wondered. Is Kentucky in the Midwest? What was wrong with us?
In any case, the Falls of the Ohio is a 390 million year old exposed fossil bed and it's a wonder. As the heat relented, we picked our way across the flat, bleached landscape beside the Ohio River, marveling at the fossilized coral below us and the circling turkey vultures above.
RURAL KENTUCKY / THE BOURBON TRAIL
Driving down to Louisville from Cincinnati, our GPS took us off the construction-clogged highway on a drive through rural Kentucky. The roads were winding, the hills blue, and the cows bucolic. We saw picturesque ponds, barns decorated with "barn quilts," and a charming young Mennonite couple. We felt very grateful for the detour.
Leaving Louisville, we decided to swing through a bourbon distillery. We are not big drinkers and don't know anything about bourbon, but it seemed like the thing to do. We selected a small, family-owned spot called the Willett Distillery which we figured would be more charming and interesting than one of its big-deal neighbors like Jim Beam. It was! We were on a tiny tour, comprised only of us and a pair of young women on a bourbon pilgrimage from Chicago. The tour of the small, homey distillery culminated in a tasting, where we shot our bourbon rather than sipped it like the real connaisseurs.
After a few more hours of driving, we realized we needed to eat something and wound up in the tiny town of Glendale, where we took a booth at The Whistle Stop. We ate serious Southern food: chopped steak and a "vegetable plate" in which all the food was brown (broccoli casserole, fried okra, potato cakes and corn pudding). The sweet hostess took our picture because we were visiting for the first time, printed it, and gave it to us in a branded card. We did a little shopping afterward in a small shop that sells goods made in Kentucky. It was really cool to see the little community and talk to a few of the people who live there.
NASHVILLE, TN
In Nashville, we stayed with Nicole's aunt and uncle, Nancy and Mike. They live in a great 1920s home, in a really cool up-and-coming neighborhood. The small apartment on the top floor of their house is decorated with, among other things, Nicole's senior prom photo.
Mike just became a Lyft driver; we have no doubt he's an excellent one because he and Nancy ferried us around town like the world's best taxi driver tour guides. After a first Nashville meal of hot chicken at Hattie B's, they whisked us around from the bonkers 19th century replica of the Parthenon to the wacky yuppie-hipster complex Pinewood Social, a restaurant/bar/scene complete with vintage bowling alley and network of soaking pools. We saw Music Alley, Jack White's record store, the Gulch neighborhood, the enormous convention center, the raging honkey tonks on Broadway and a Christian band performing in the parking lot of a closed car dealership. There is live music everywhere in Nashville, for real. Everywhere and all the time. It's ubiquitous like potholes or lane closures in NYC.
The next morning, we had coffee at the Thistle Stop Cafe, which is run and staffed by women recovering from addiction, prostitution and sex trafficking. You can order the awesome bath and body products the women make from Thistle Farms. The organization is an outgrowth of Magdalene residential communities, which were started by Becca Stevens, a friend of Nancy and Mike.
Then we spent half of our incomes to get into the Country Music Hall of Fame. We loved the archival film footage, Elvis's diamond dust-coated car, and Dolly Parton's handwritten lyrics to "Jolene." Less so the display of Miranda Lambert's stage costumes. We toured the affiliated Hatch Show Print, which has been printing up country music posters and other materials continuously since the late 1800s. It was a little frustrating in that the guides assumed that we all had zero knowledge of printing, so we spent a lot of time hearing basic explanations about Guttenberg and how typesetting works.
We hit up a few dusty record stores, but couldn't sustain much walking around in the heat and humidity (Uncle Mike taught us that people in Nashville say weather like that is "close." It felt real "close" that day) so we headed to the most recommended honkey tonk, Robert's Western World, which was filled with music, two-steppers and bachelorette partiers even at 2pm. We drank Woodchuck cider and PBRs and took in the scenery and the Johnny Cash covers. It was pretty fantastic.
A little tipsy, we didn't leave quite enough time to spend in the fantastic Frist Center for the Visual Arts. Set in an unbelievable Deco former-post office, the museum was phenomenal. We saw an exhibition on the history of animation and also a small Maira Kalman show.
Nancy and Mike have this spectacular front porch--pictured below--where the neighborhood congregates to chill out, chat, listen to music and drink. One of the frequent porch-socializers is Clay, who owns the restaurant Silo, where we ate delicious elevated Southern cuisine Saturday night. We followed that up with a trip to the Bluebird Cafe. If you watch the TV show Nashville, which to our surprise everyone in Nashville seems to, you'd be familiar with this spot where songwriters workshop songs, perform, and are sometimes discovered. Mike used some of his industry connections to get us a coveted spot in the 100 seat room; we wound up directly next to the three performers. They were super interactive and great at engaging a crowd. It was very different from anything we've ever done before or would typically do and was extra neat because of that.
On Sunday, we hauled over to the number one recommendation we received for Nashville, the spot Nancy and Mike's world-traveling son wants to go on every homecoming, the Loveless Cafe. We shopped around while waiting for a table to open, then ate biscuits, barbecue, fried green tomatoes and more. While watching biscuits get punched out of dough and a peanut butter pie get perfected, we were gifted a slice of said pie. Too stuffed to eat it, we took pictures with it instead. Mike the cab driver then took us on a tour of hipster East Nashville, and then we set out on our own to hit up Ann Patchett's Parnassus Books, and several record stores.
We also got drinks at the over-the-top hip Barista Parlor. For dinner, we went to Husk, Sean Brock's Nashville outpost of his Charleston temple to Southern food heritage. Housed in a beautiful old building, complete with a small fruit- and vegetable-laden garden, the setting was great, but nothing compared to the food. There is no explaining how good it was–a medley of beans, okra and tomato with spicy smoked vinegar hardly sounds life-changing, but IT WAS! Literally one of the best meals we've ever had.
Despite being so sleepy and stuffed, we hauled over to another hip neighborhood, The Nations, to check out country night at The Stone Fox. Inside, we found a band playing country swing and kids decked out in high-waisted jeans and cowboy hats two-stepping around under a black velvet painting of Tom Selleck and it was really civilized and fun. And it started at 9pm. Come on, New York. Learn a thing or two from some other cities! Go out earlier!
CHARLOTTESVILLE, VA
When we were planning our route back to New York from Nashville, we got it in our heads that Charlottesville, VA was on the way and started to get excited about visiting Monticello, Thomas Jefferson's home. In reality, it is only on the way in that anywhere you might go between one place and another place is on the way. It was a nine hour drive from Nashville (it seemed like 10 with the time change) and then another many, many hours to get home afterward, and didn't really break up the trip in a way that made it an easier drive. But it was worth it! We stayed with Nicole's former co-worker, Jacqueline, in her amazing converted barn where vegetables grow rampant and a tiny playful cat named after a NYC tugboat frolics. Jacqueline, manager of school and group programs at Monticello, hooked us up with a deluxe tour that included a trip to the normally-closed upstairs of Jefferson's home. Monticello provides a great view into both presidential history and the history of enslaved Africans, combined with a spectacular view. It was a beautiful and fascinating stop.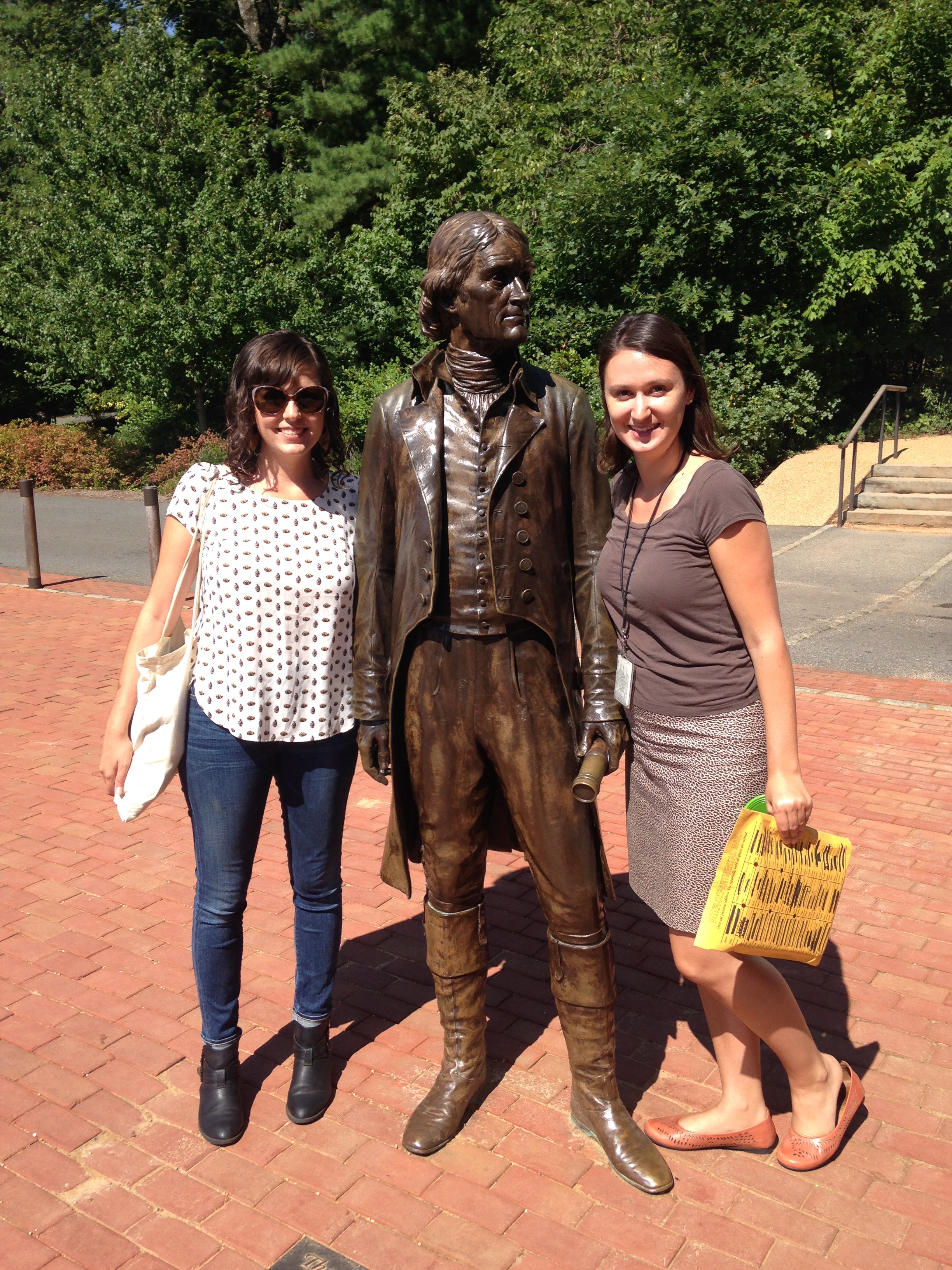 HARRISBURG, PA
On the ride home from Charlottesville, we needed a dinner stop, so we pulled into Harrisburg, PA. We drove around, stunned, for a while. It is incredible there! The architecture of the buildings and bridges was mind-bogglingly charming, so much so that we immediately started googling to find out if we should move there. The answer is no--apparently despite it's better-than-Brooklyn appearances, it's a pretty conservative town. It was a little hard to let go of the idea of moving there, though, when we also realized there were dinner options like arepas and multiple Vietnamese restaurants. We picked one of the Vietnamese restaurants and rolled into a random part of town to find it. The owner of the restaurant is well-known in the community for feeding unemployed folks for one penny on Wednesdays and for giving local kids cash prizes for good report cards. The food was delicious. Why doesn't New York City have a spot like this?
So that was our end-of-summer road trip. The trajectory may seem a bit strange to some people, but we had a great time exploring the art, food, architecture and culture of these places, and an even better time catching up with our families and friends.