Breaking from our recent tradition, we took our summer road trip in April this year. We spent a lot of time looking at maps and timing routes—we had eight days and wanted to go everywhere in the American South except Florida. Eight days, unfortunately, wasn't enough time to cover everywhere, so we settled on Savannah and Charleston as our main destinations where we'd spend a few days each, with briefer stops in Virginia, North and South Carolina, and DC and Baltimore on the way down and back. Once we started researching and realized how much there was to do, see, and eat, it was even harder to reconcile how little time we'd have to spend in each place—we will just have to go back.
Richmond
On our way down to Richmond, we were stuck in I-95 traffic, of course. We missed lunch time, but had dinner reservations for later that night, so we wound up getting a snack at one of the restaurants we were interested in checking out but hadn't ultimately picked as our dinner spot: Pasture. We drank pretty good cocktails and had some great small plates at the bar. The restaurant was downtown on a strip of upscale eateries. It was nice and fun without being too cool or fancy. Before and after eating, we spent time exploring the Jackson Ward neighborhood, a gentrifying area where older, mostly African American owned-businesses operate alongside newer restaurants, hotels, galleries, boutiques and the record store Steady Sounds. We looked up the rent for a two-bedroom, two-bathroom (um, and two washer-dryer) apartment in a cool dairy-factory-turned-residential building and, suffice to say, the rest of the country must think we are real idiots for paying what we do to live in NYC. We stayed at the serviceable Linden Row Inn (we wanted to stay at the Quirk Hotel, which is kind of hilariously over-the-top, but they had a two night minimum) and had dinner—a restaurant week prix fix—at Saison, all in the neighborhood. Saison wasn't the most exciting spot ever, but the food was actually really delicious. Dan was extremely proud of writing the secret to the much-talked-about wings in chalk on the bathroom wall: Sichuan peppercorns! The following morning we had breakfast at Perly's, a refurbished Jewish deli, right around the corner, which was not unlike New York's newish Russ & Daughters Cafe.
There were so many places we wanted to eat in Richmond, but alas, we were only there for one day. Here are some restaurants we didn't make it to: L'Opossum, Dinamo, Rappahonnock Oyster Co., The Roosevelt, Heritage, the coffeeshop Lamplighter Roasting Company, WPA Bakery and the bakery Sub Rosa.
During our approximately nineteen hours in Richmond, we also walked around as many neighborhoods as we could: the Fan District, which had beautiful architecture and Civil War statues on Monument Ave, Church Hill, which was cool in a yuppie-ish way, Carytown, which someone described to us as "a white people shopping area," and Oregon Hill, which was really charming and low key.
The night before, after we checked into our hotel, we were sitting in our car outside figuring out where to go next when we noticed a man standing across the street. Dan pulled up Facebook on his phone to see a profile photo and confirmed—the man was one of the three people he knew in town but hadn't seen in years. Johnny and his friend, local musicians (Rah Bras!), recommended we spend our limited time the next morning checking out Hollywood Cemetery. It was built on rolling hills beside the James River, and featured graves dating from before and around the Civil War up until the present day. It was a bit jarring to see so many Confederate flags (*not only was our visit before the election, but we wrote 99% of this post months before, too, and won't really update it now, but if we knew then what was coming...), but we were really glad we went. We made a quick stop on Richmond's outskirts at Country Style Donuts to grab a snack for the road (Nicole tried a few bites of two donuts—one was fine but the other was really leaden and over-fried! They made the car smell nice, at least, for the next six hour leg of the drive).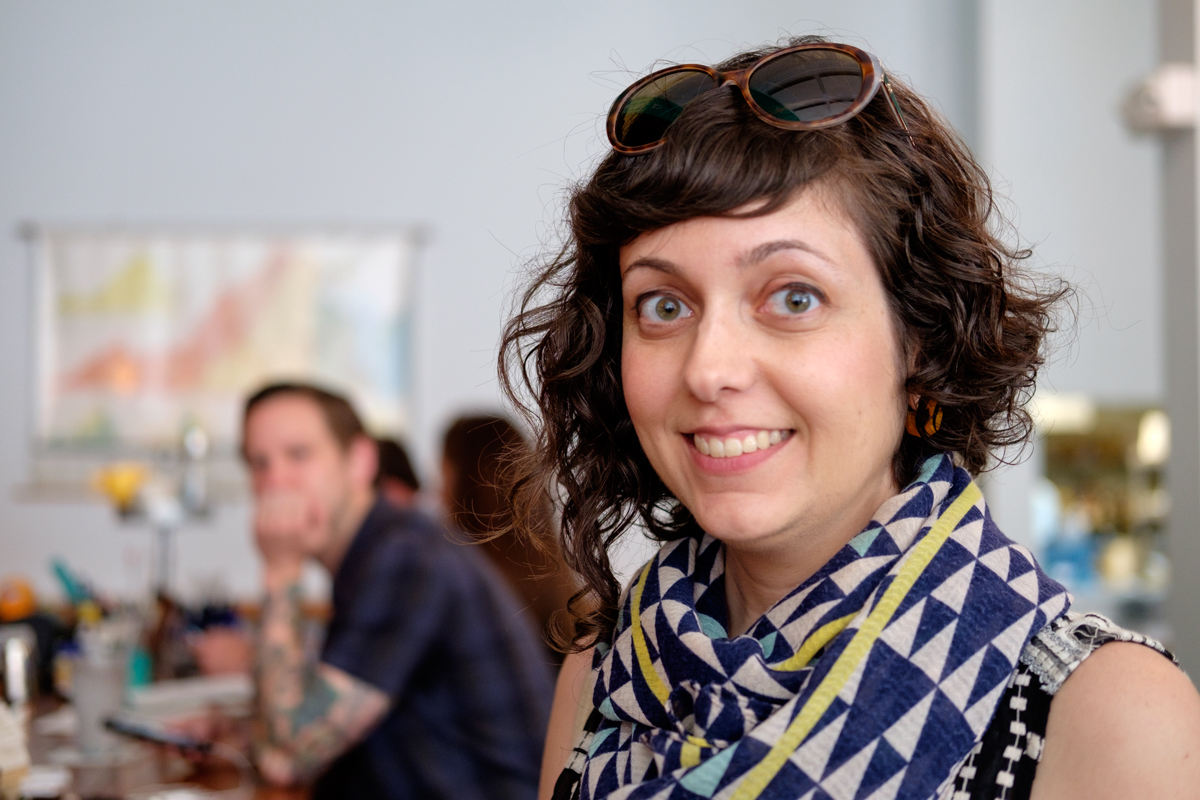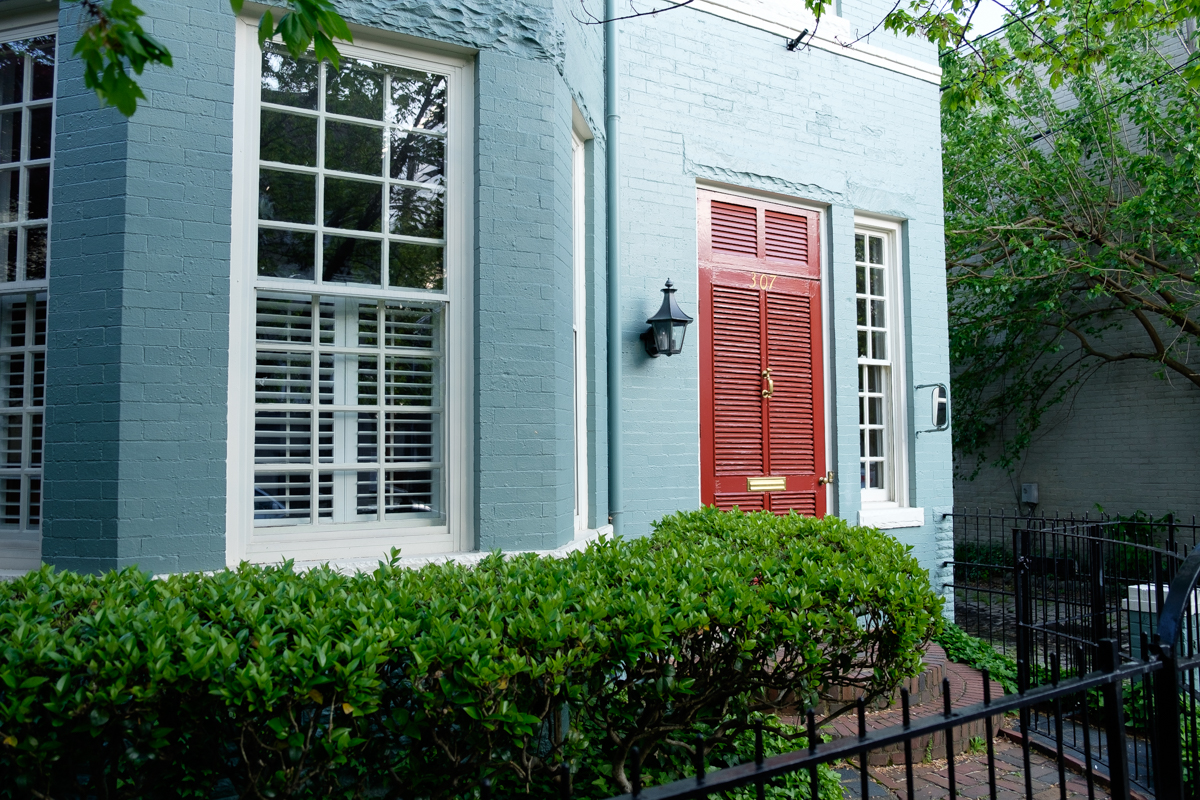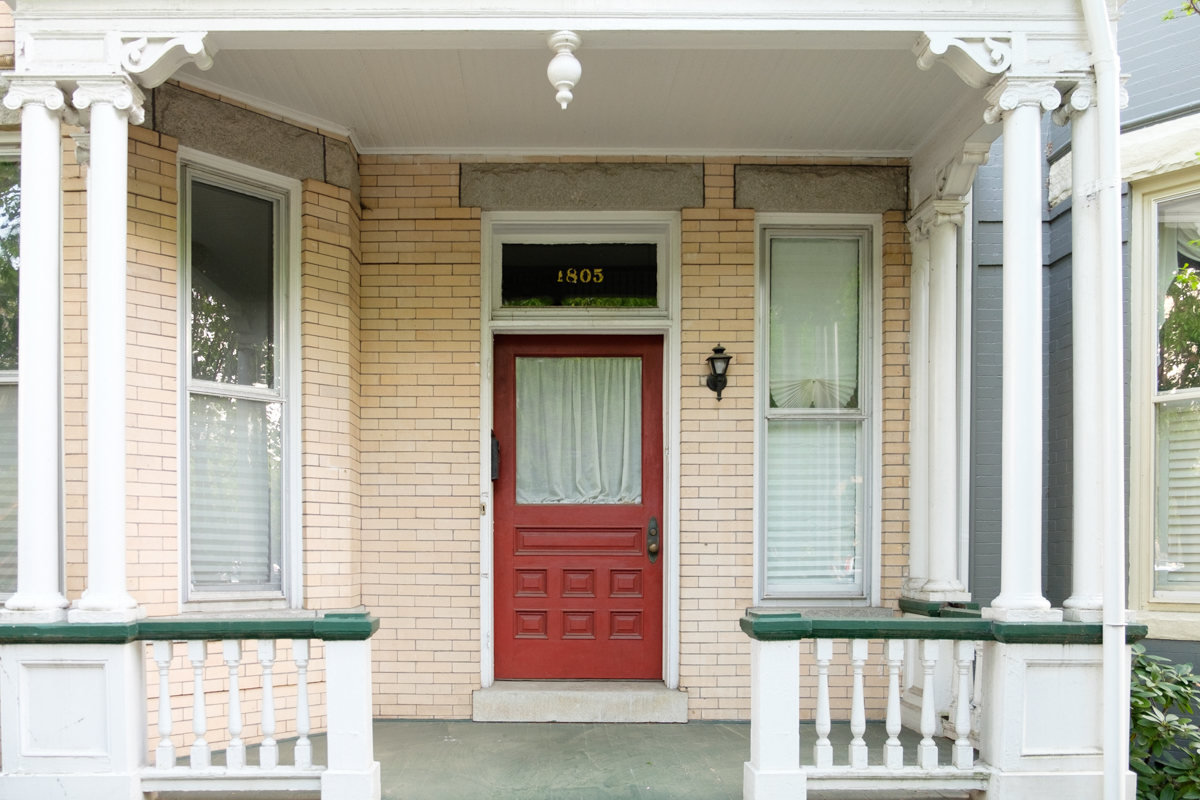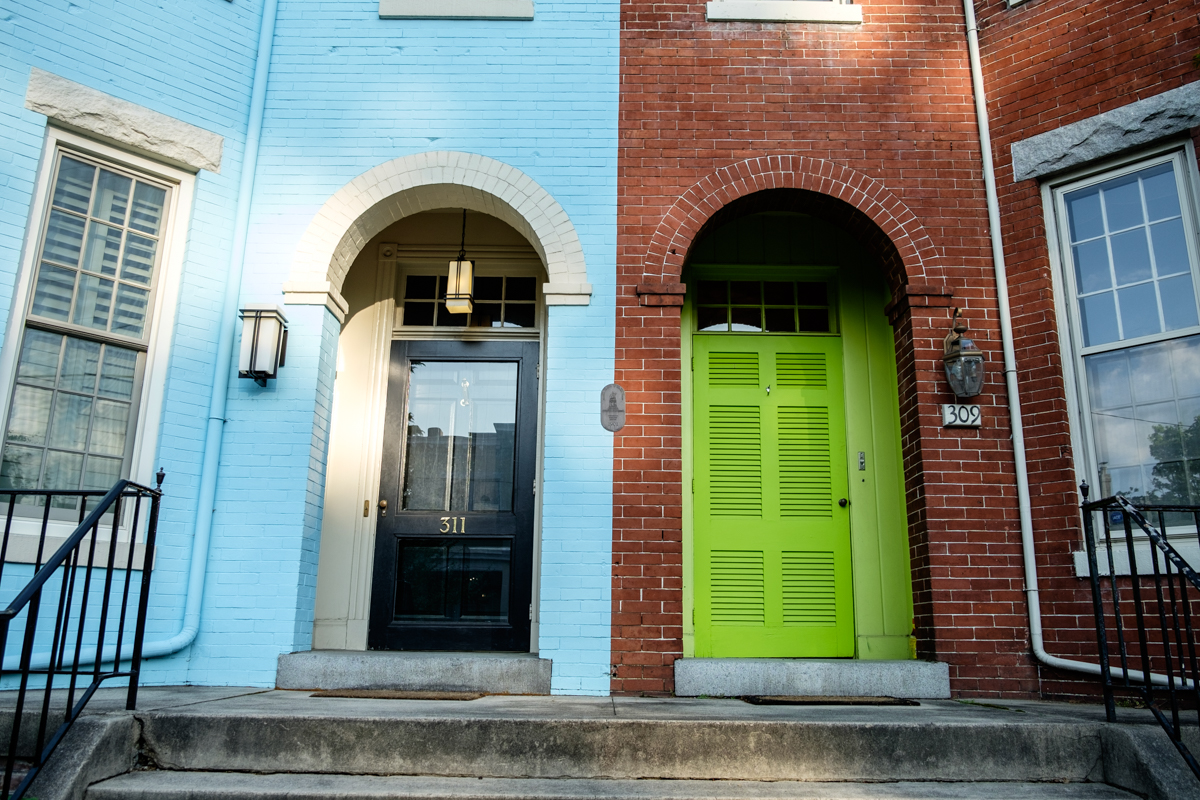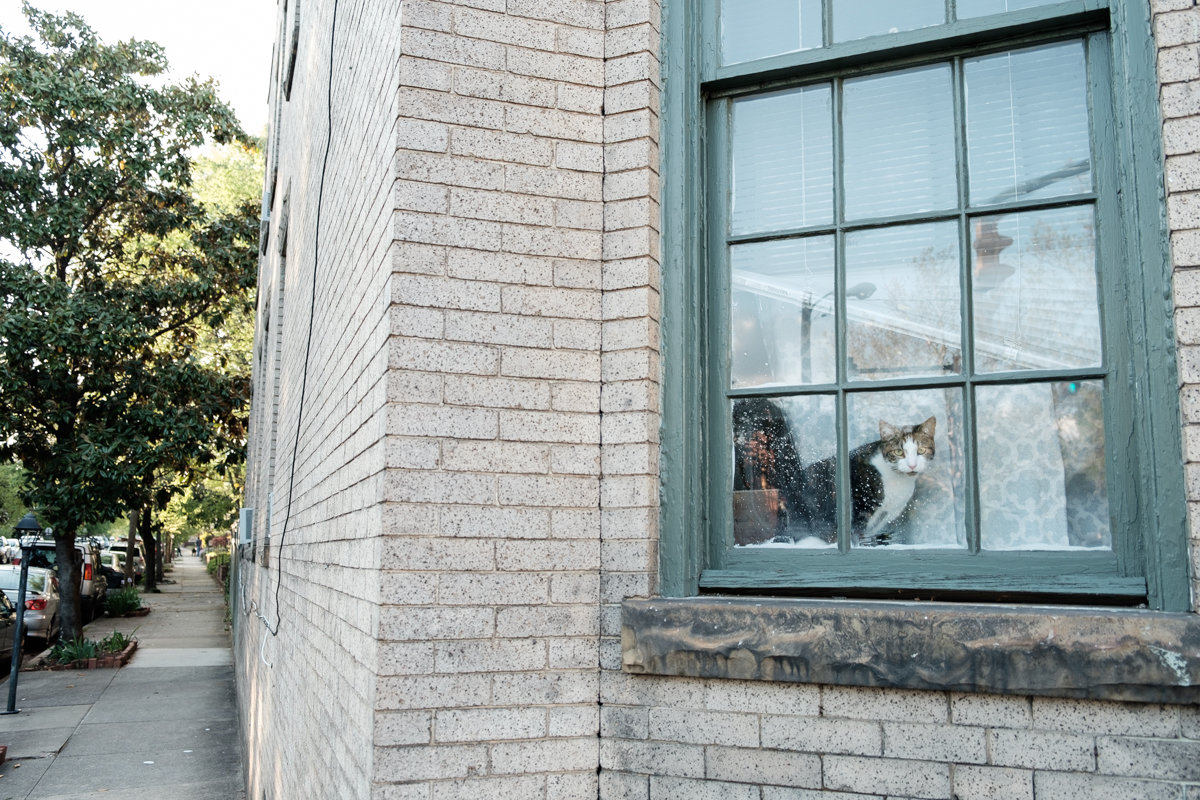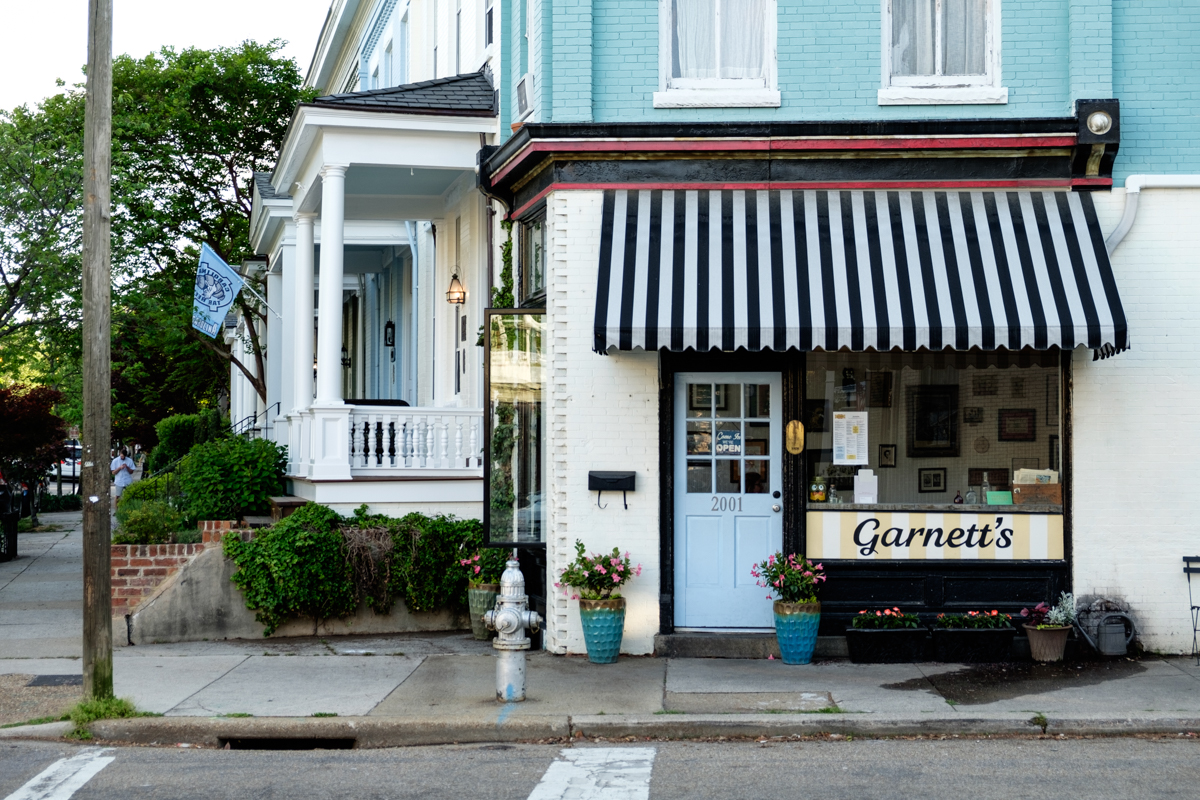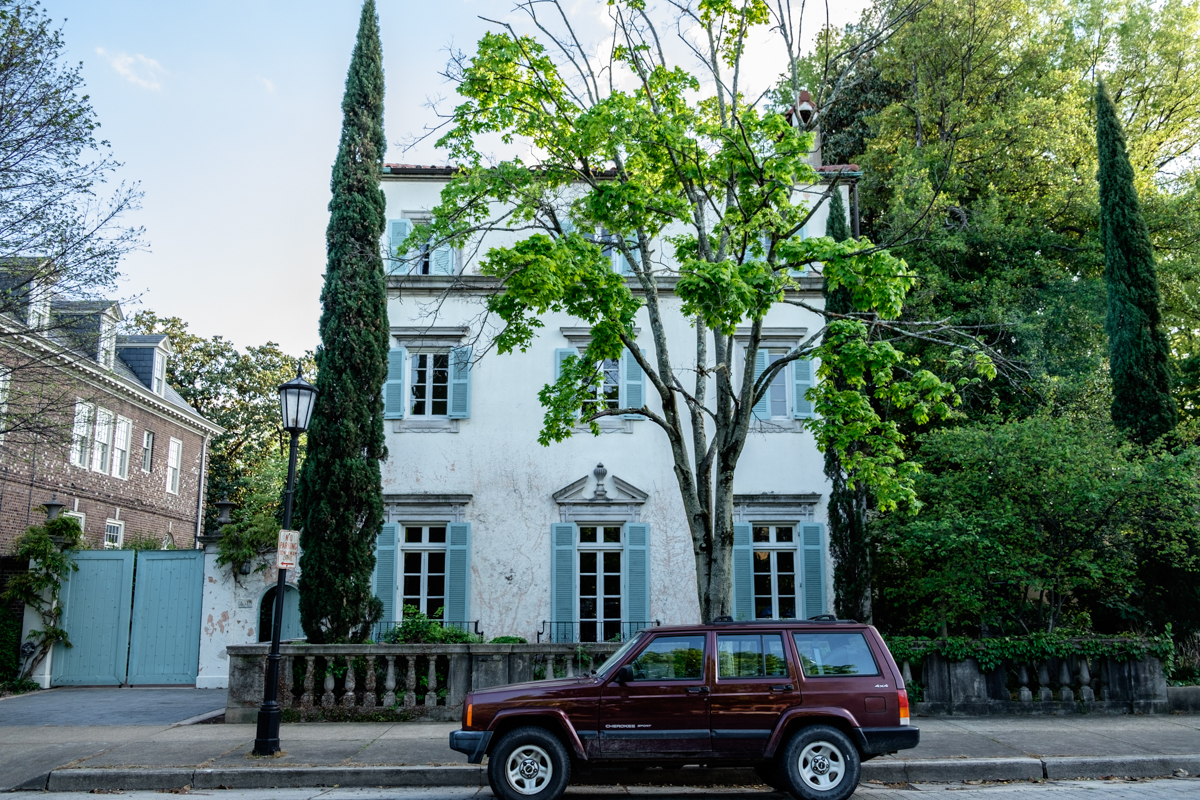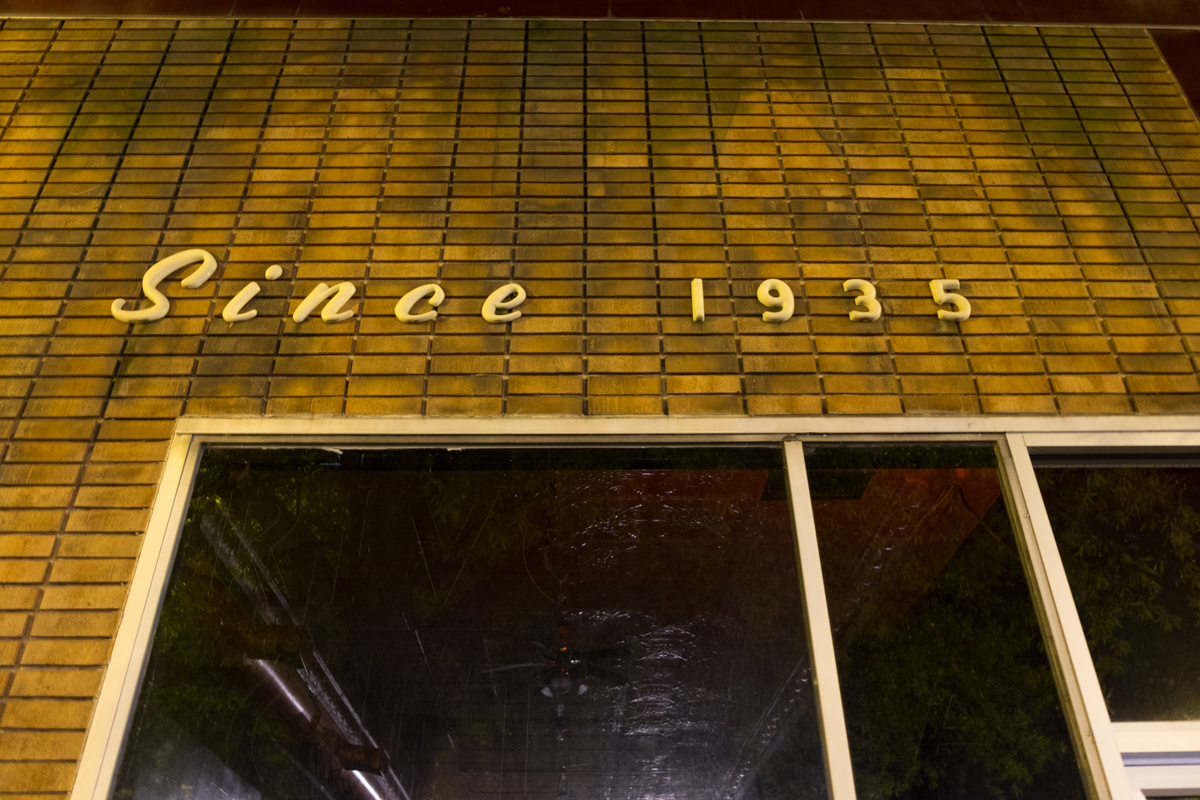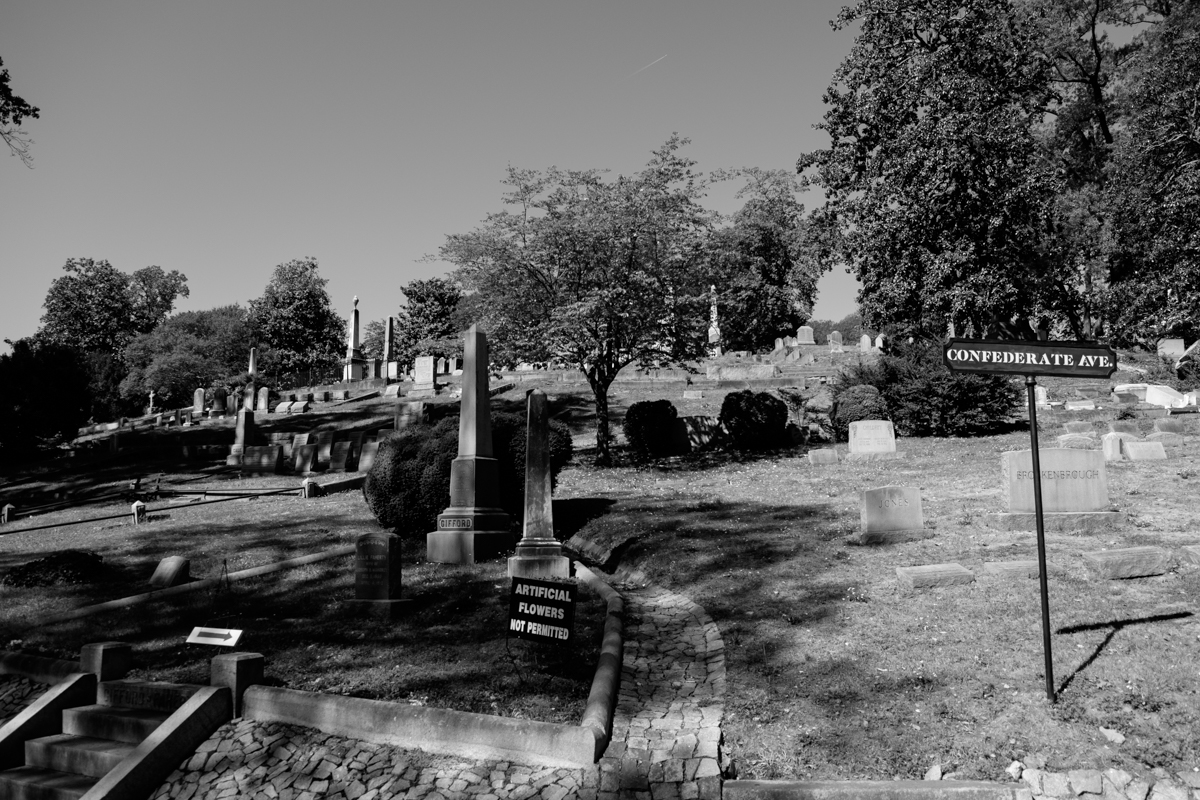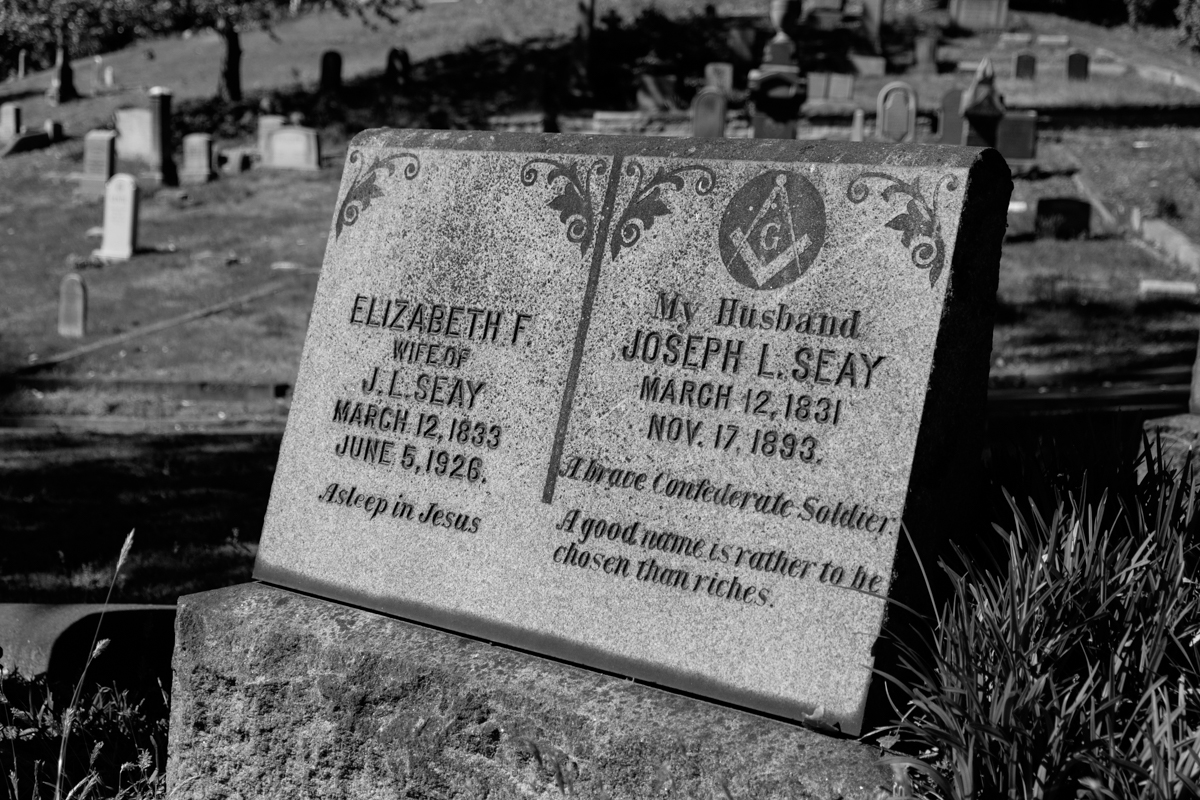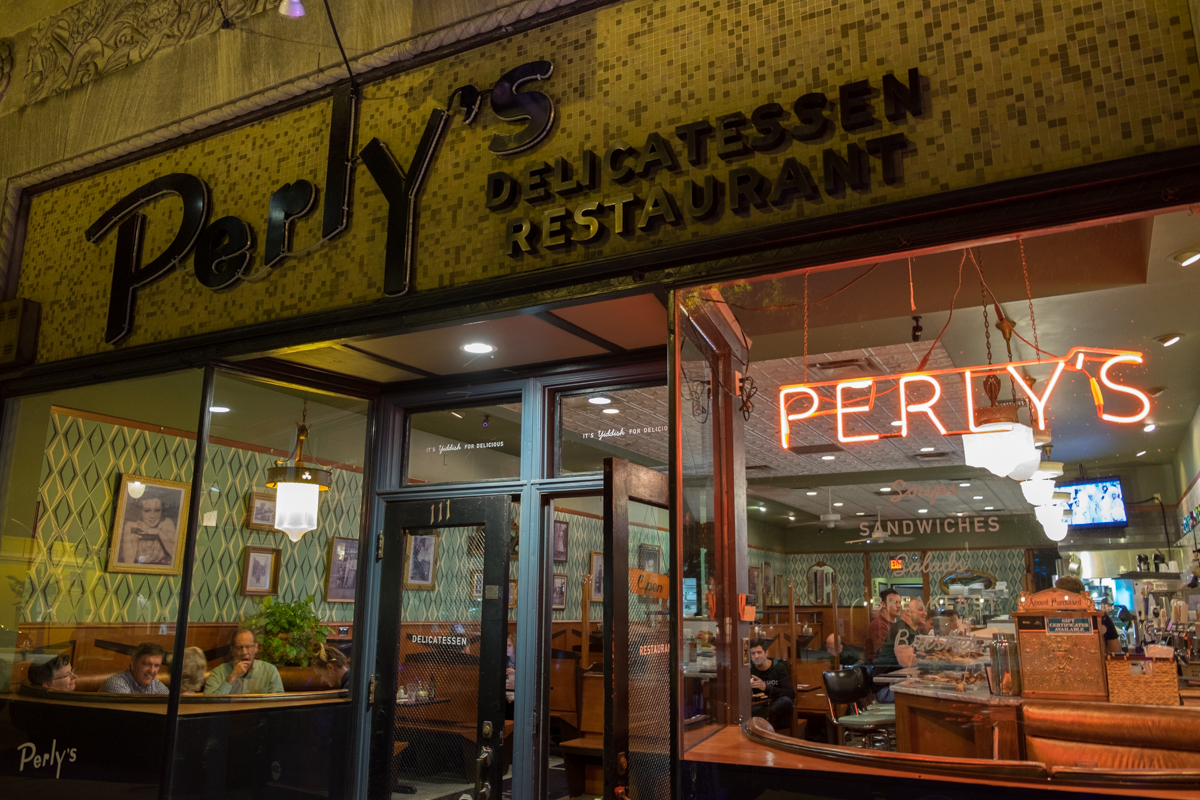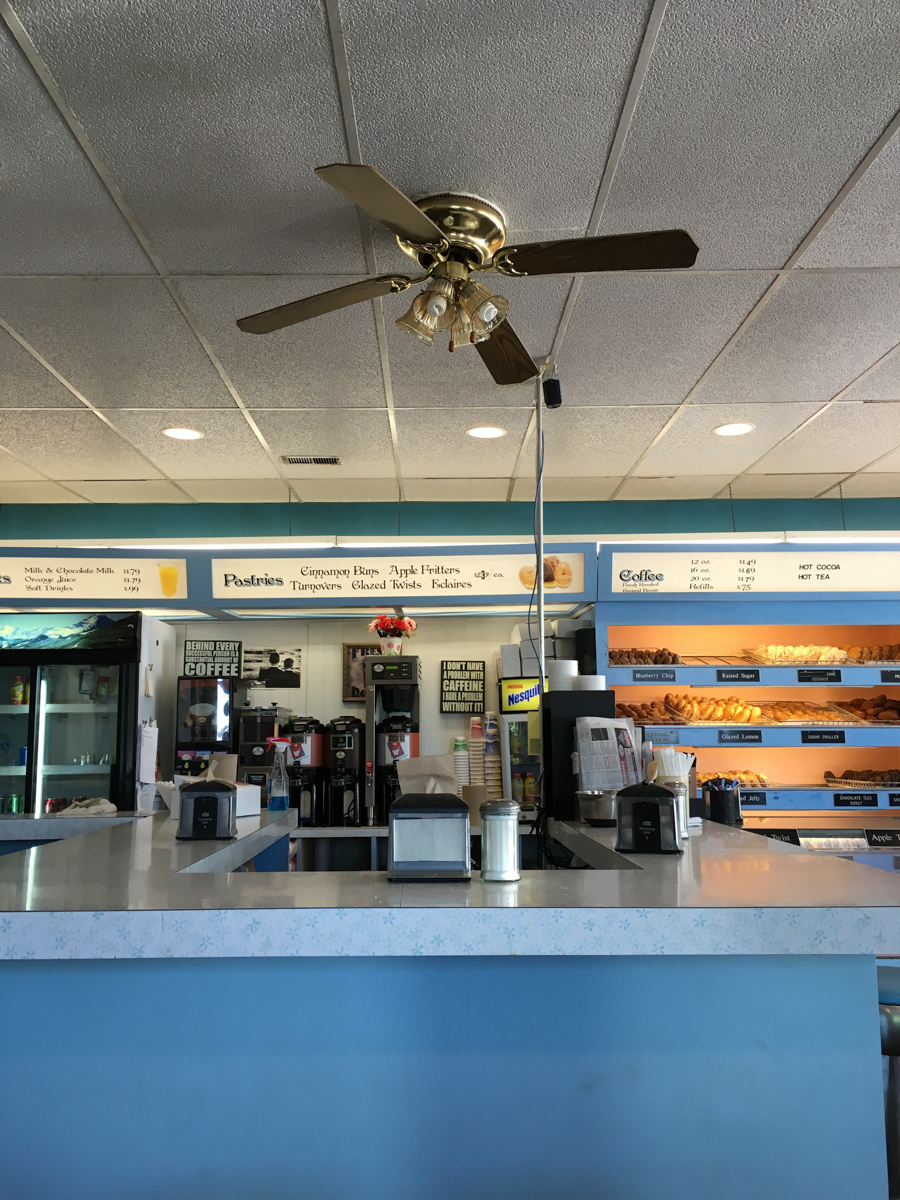 Charleston
We pulled into Charleston in the early evening and debating heading straight to one of the divey waterfront seafood spots we'd heard a lot about—Bowen's Island or The Wreck—but wound up deciding to go straight to our AirBnb instead. That decision is one of the only ones we regretted on our trip, but oh well. Our AirBnb was awesome—it was in a slightly out-of-the-way residential neighborhood but the drive was worth it. The spare, impeccably designed loft was over a couple's art studio across the yard from their house and beside their chicken coop and firepit. We wanted to stay there forever.
The Charleston food scene is a bit overwhelming—there were so many hip, awesome-looking spots we were kind of paralyzed. All of our weird food restrictions didn't help, either. We wound up heading to Edmund's Oast, a pretty big restaurant inside of a newly constructed complex of other cool establishments like The Butcher and Bee, which relocated and wasn't quite open yet when we were there. We sat at the bar and drank delicious cocktails and shared a few really special small plates—pickled shrimp, smoked fish salad, wahoo ceviche, etc. A friend from NYC who had coincidentally moved back to Charleston, her hometown, that afternoon met us for a drink. She said she liked the restaurant a lot but was bummed we were spending our first night in a new spot instead of one of the older historical ones. Luckily, we had time the next day to soak up a lot of history.
The next morning, we had intense cold brew coffee at the very hip The Daily, which seemed to be from the same people as The Butcher and Bee. We sat outside in the sun and people-watched, then headed over to Hannibal Kitchen for breakfast. Hannibal's is a serious soul food spot. We shared their famous shrimp-and-crab rice and fried fish plates. The crab rice, particularly, was delicious in a way that was alchemical—you could see everything that was in it, it seemed, but it was a thousand times better than the sum of its parts. It was the kind of place that every politician is parading through when on the campaign trail, as evidenced by a series of photographs on the wall.
After breakfast we spent hours—hours and hours!—wandering around Charleston, admiring the architecture. Jasmine was blooming everywhere and that added to the magical beauty of the city. If you get a chance to visit, please do it in April when the jasmine is in full force! After a while, we wandered all the way up King Street, the shopping district, past the chain stores until we got to the record store and a few other hipstery spots. Then we drank some iced tea at The Black Tap—it was really steamy out—and headed back to the historical area. Charleston is nicknamed "The Holy City" for the number of churches it holds, which is truly astounding. There are no skyscrapers in the city because nothing is supposed to be taller than the church steeples. We spent some time in a beautiful graveyard, which contained a marker commemorating the labor of the enslaved people who built the church. It wasn't the only official acknowledgment we saw of Charleston's place as the center of the American slave trade, but it was disturbing that there weren't more overt condemnations of that history, especially given the troubling present situation regarding racism and white supremacy in the area and around the country. We kept reminding ourselves, though, that New York City was second only to Charleston when it came to the slave trade, so we shouldn't be casting stones.
As the sun began to set, we used a list we found online to visit all the various alleyways in the city, which upped the picturesque-quotient. The darker it got, the more ghost tours we eavesdropped on. Tourists love their ghost tours.
We ate dinner at McCrady's, which we'd been wanting to do ever since reading about it and its chef, Sean Brock, in the New Yorker way back in 2011. Brock's Husk is definitely buzzier and we might have liked it better—we did eat at Husk in Nashville and it 100% lived up to the hype—but we wanted to go for the more serious, studious McCrady's, which celebrates local Low Country ingredients and works to preserve the area's food history. Dan ate a plate of ham with johnny cakes that was probably intended for a table's worth of people but was special enough he was glad to have it to himself. Nicole had warm smoked fish with crispy rice and scallions, which was delicious and exciting because rice is McCrady's specialty. Entrees were good, too, but dessert was incredible: a bruleed corn cake with lemon balm cream and a white chocolate crumble. After, we wished we were bigger drinkers because the bar attached to Husk looked brutally charming but instead we took another picturesque walk and went back to our Airbnb to pass out.
The next morning, we had breakfast at Hominy Grill, which people said is sort of touristy but locals go there, too. We went right on the cusp of lunch, so were allowed to order tomato pudding to go with our biscuits, eggs and grits. Tomato pudding came recommended from Nicole's uncle. It seemed to be tomatoes, basil, grits and a TON of sugar. It was both disgusting and compelling enough that we ate all of it. Our server was outrageously sweet and brought us boiled peanuts to go. We ate them on our drive and felt like we were taking in some important culture, but they aren't a thing we necessarily needed to eat ever again. We made a quick stop on our way out of town at Candy Shop Vintage to pick up some gifts and headed out.
Here are a few more spots we wanted to try but didn't have time to check out: Bertha's and Martha Lou's—soul food, The Ordinary—fancy seafood, Minero and Husk—Sean Brock's two other establishments, Normandy Farm, Two Boroughs Larder, Little Jack's Tavern and Leon's Oyster Shop.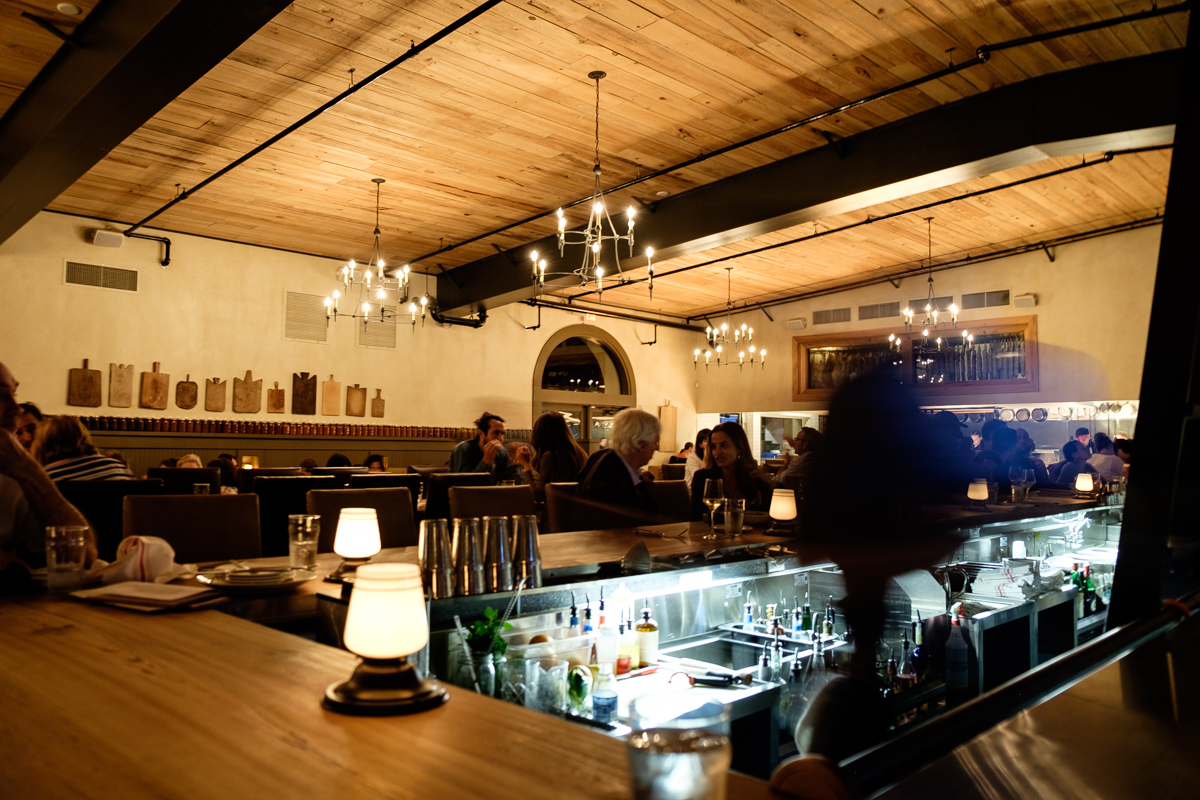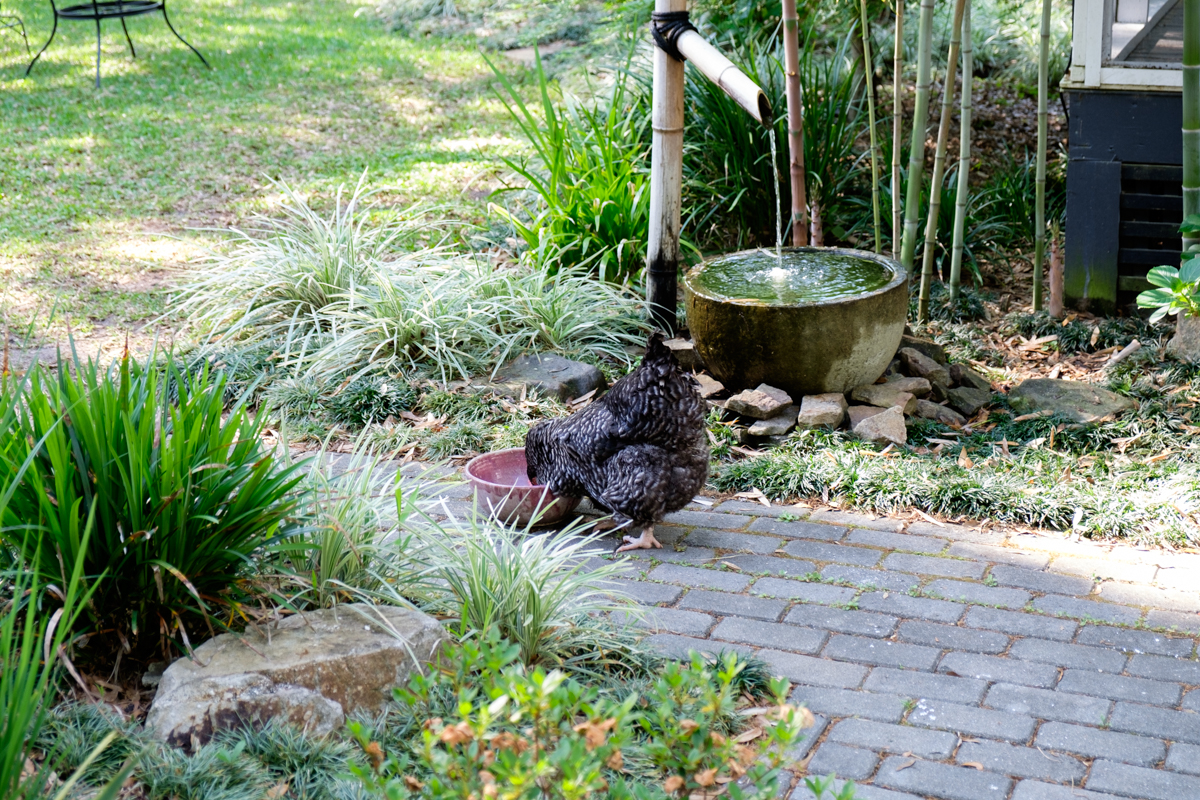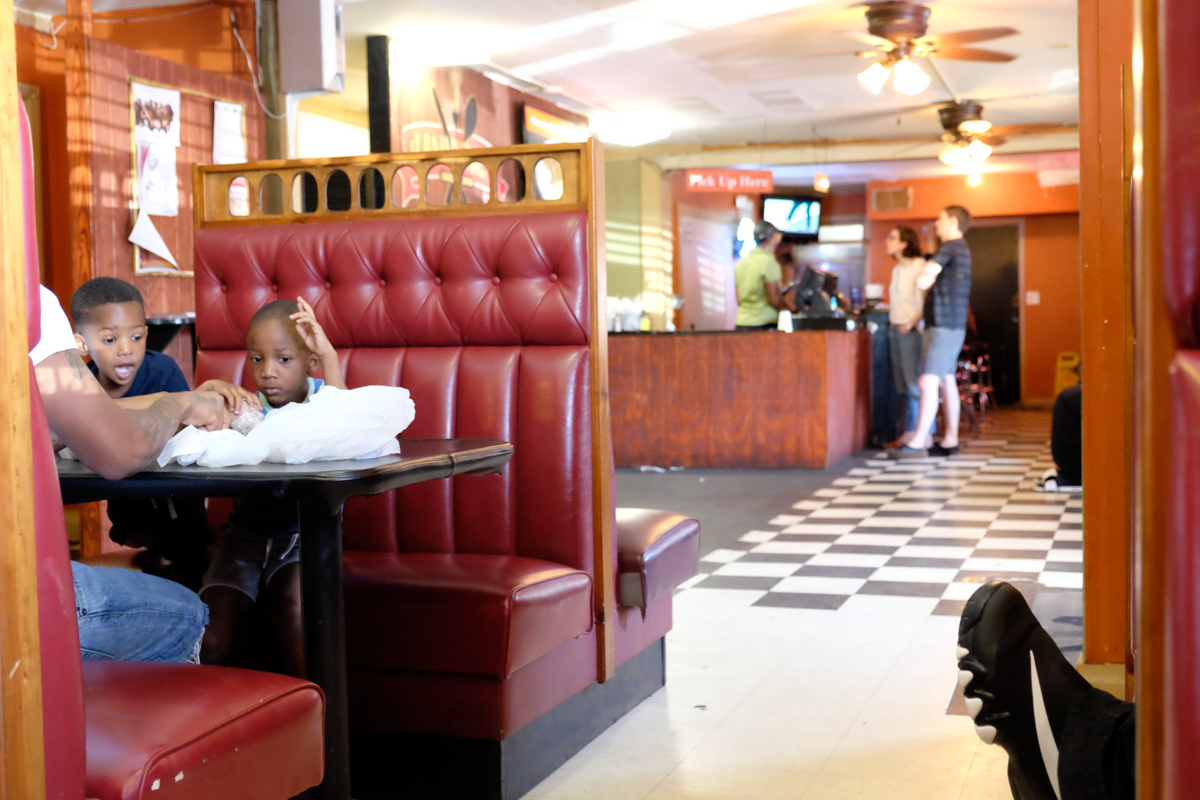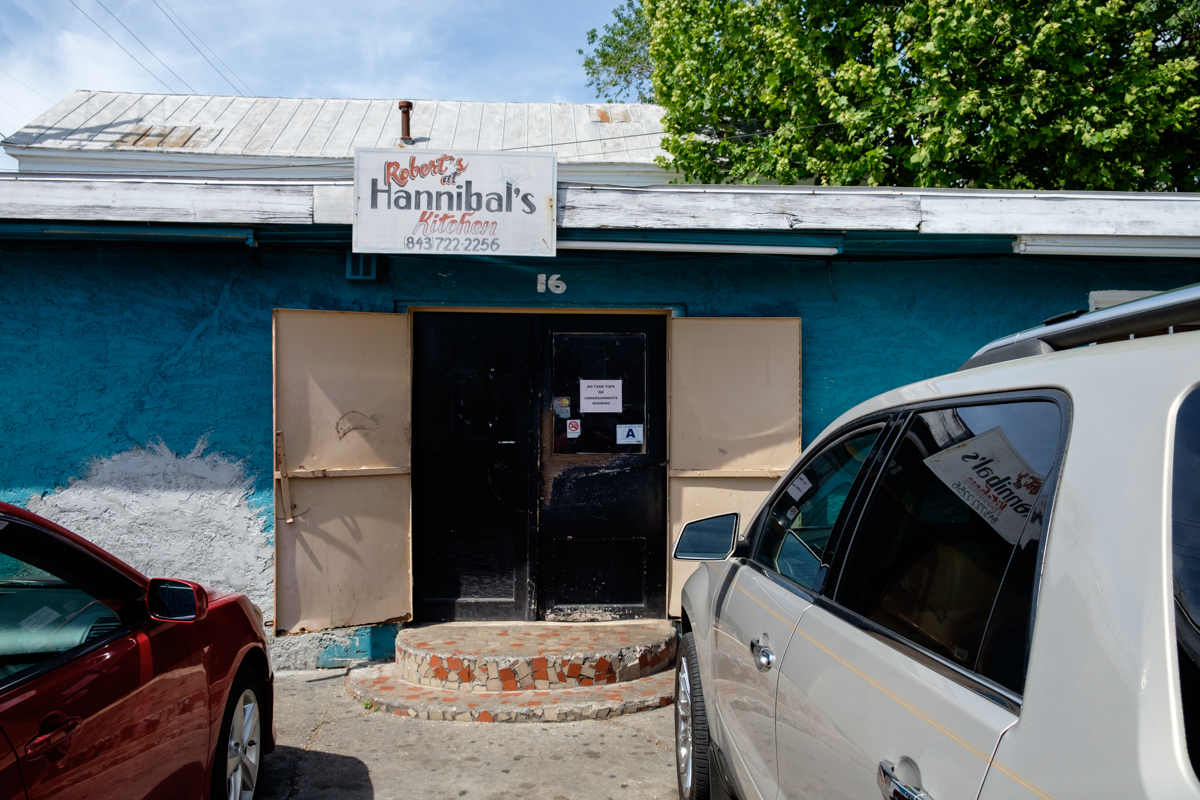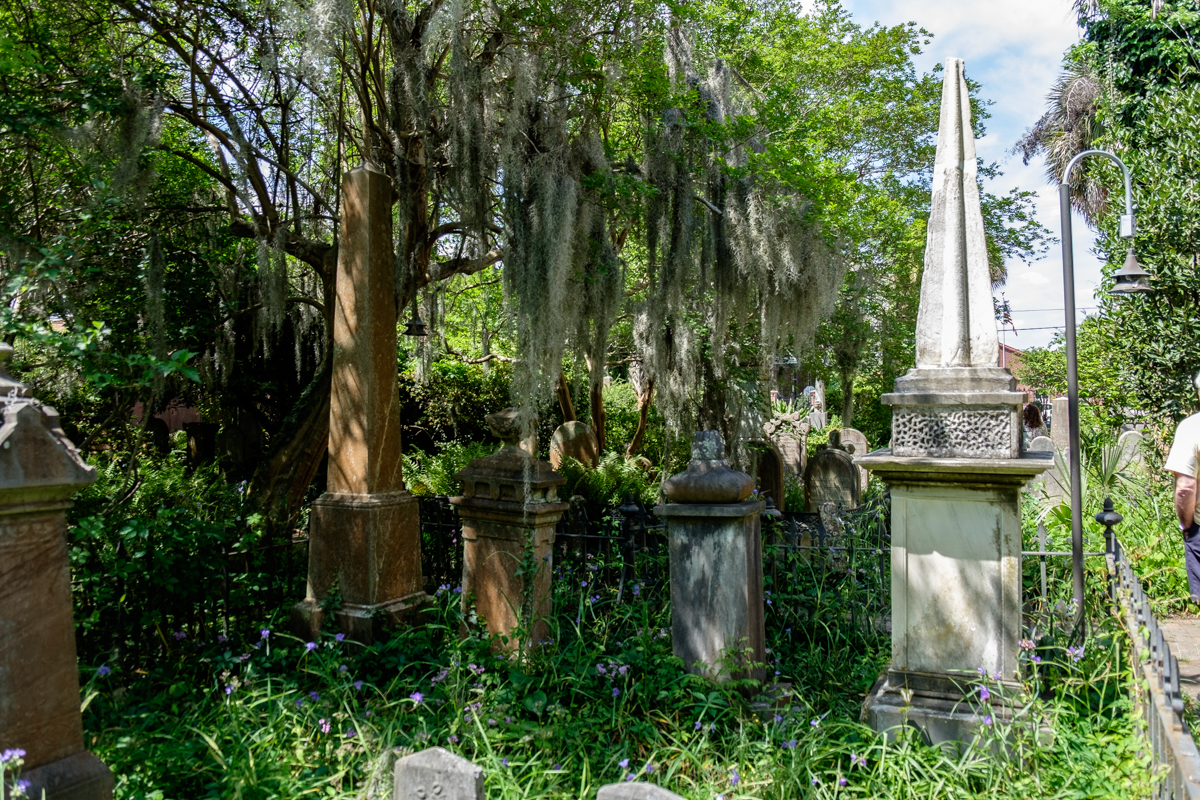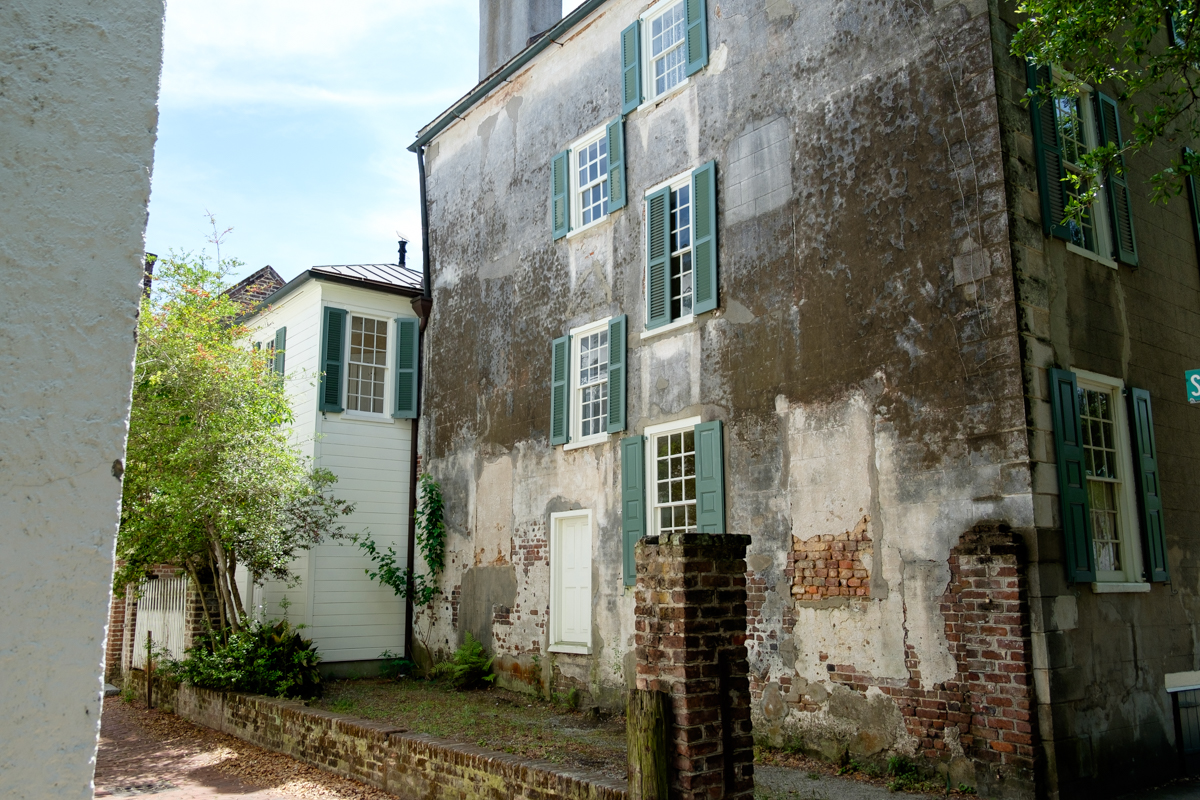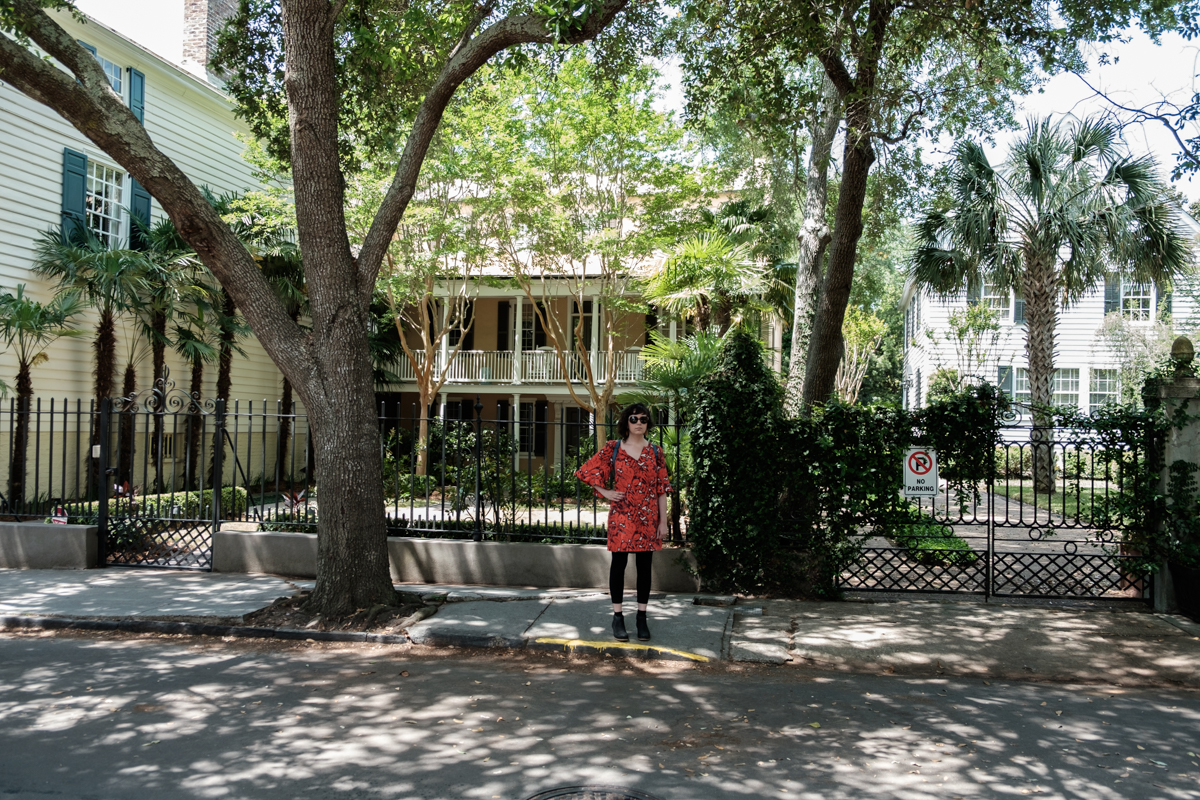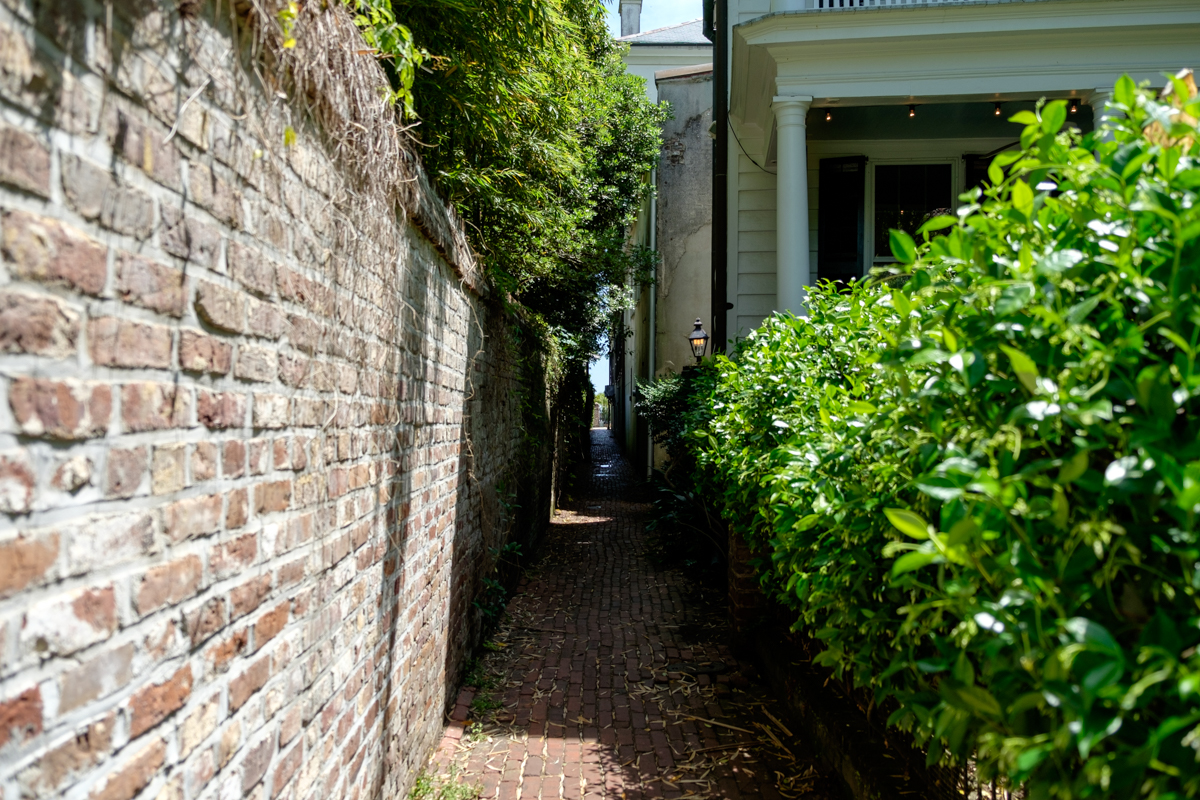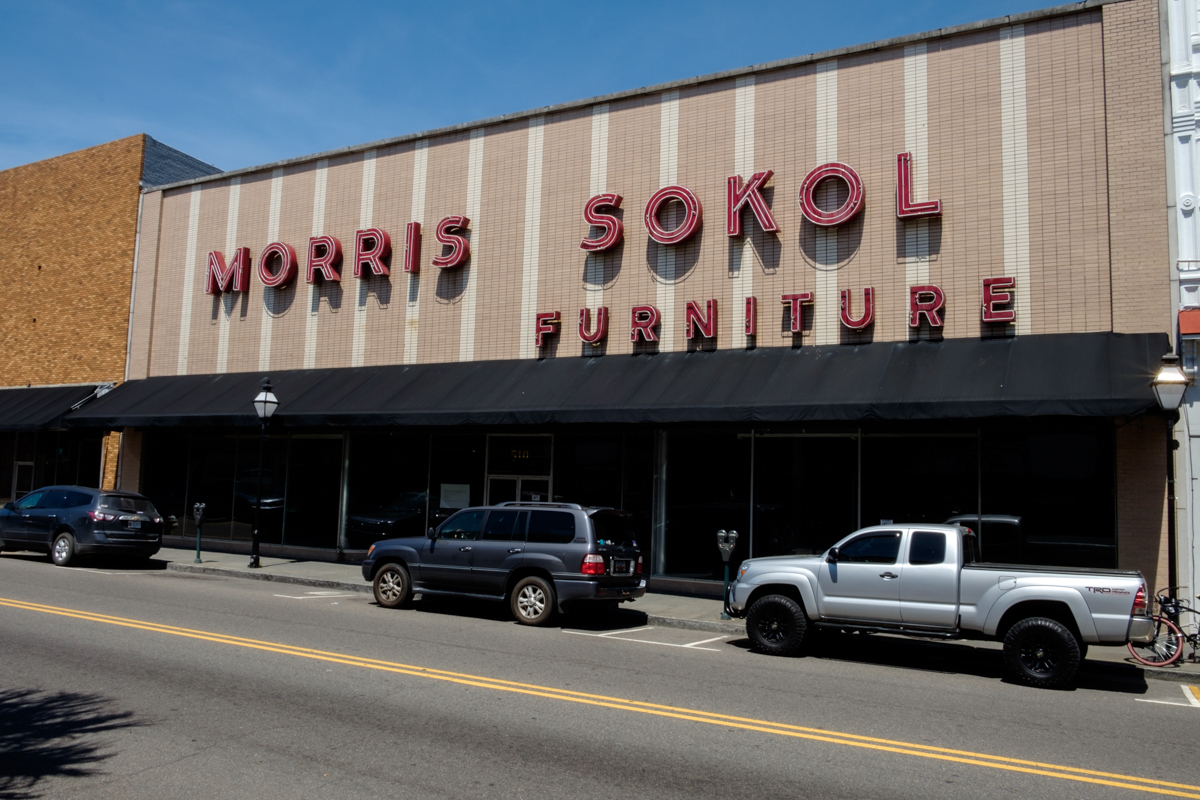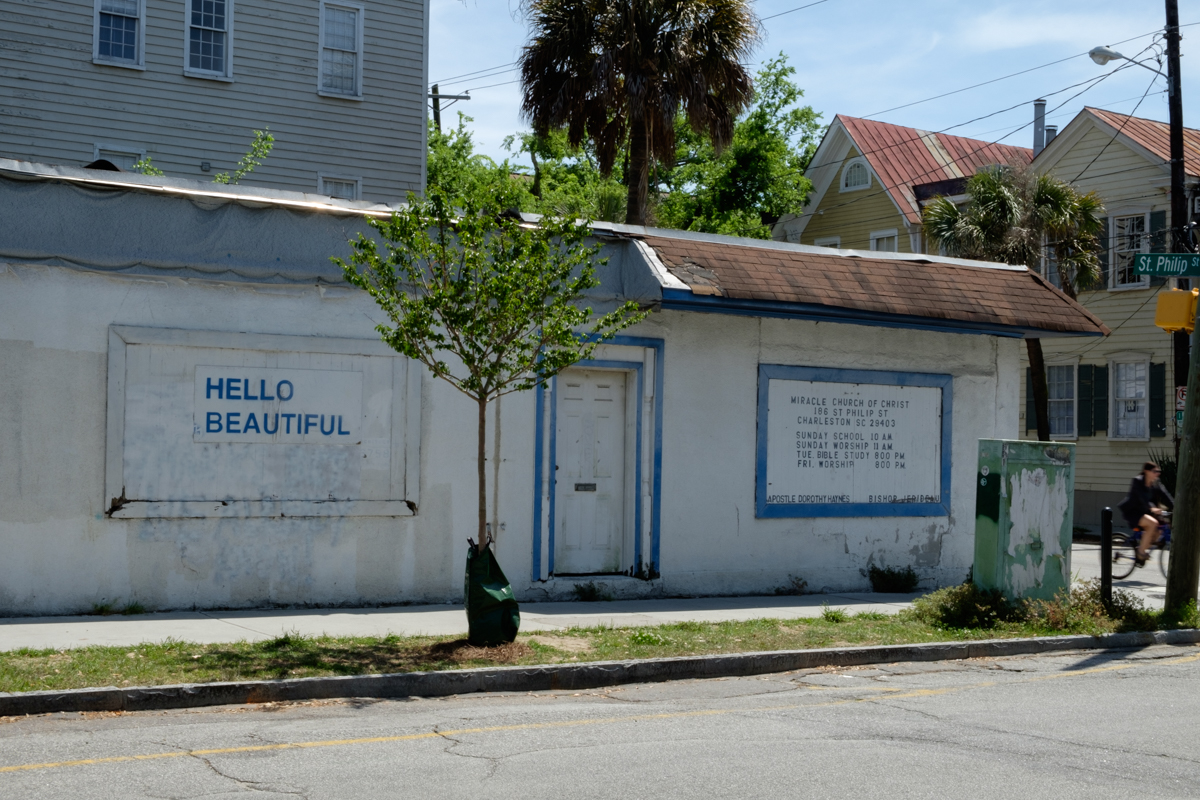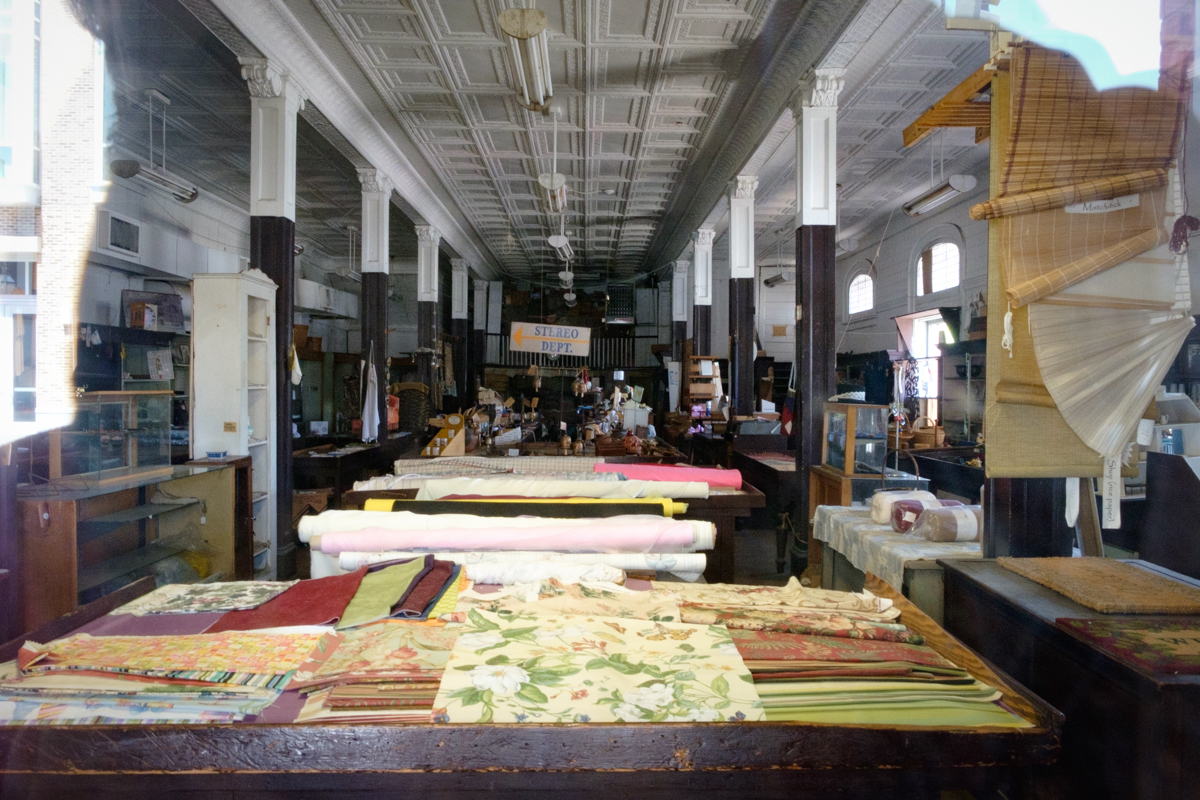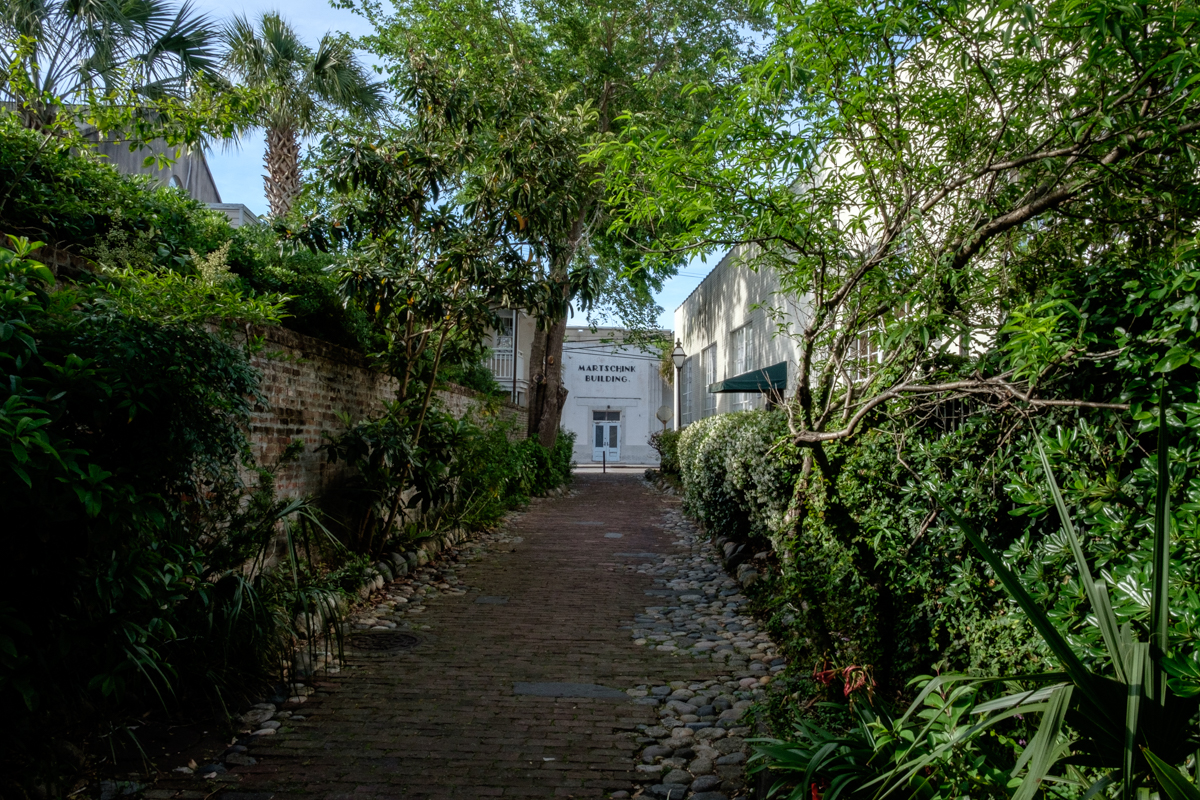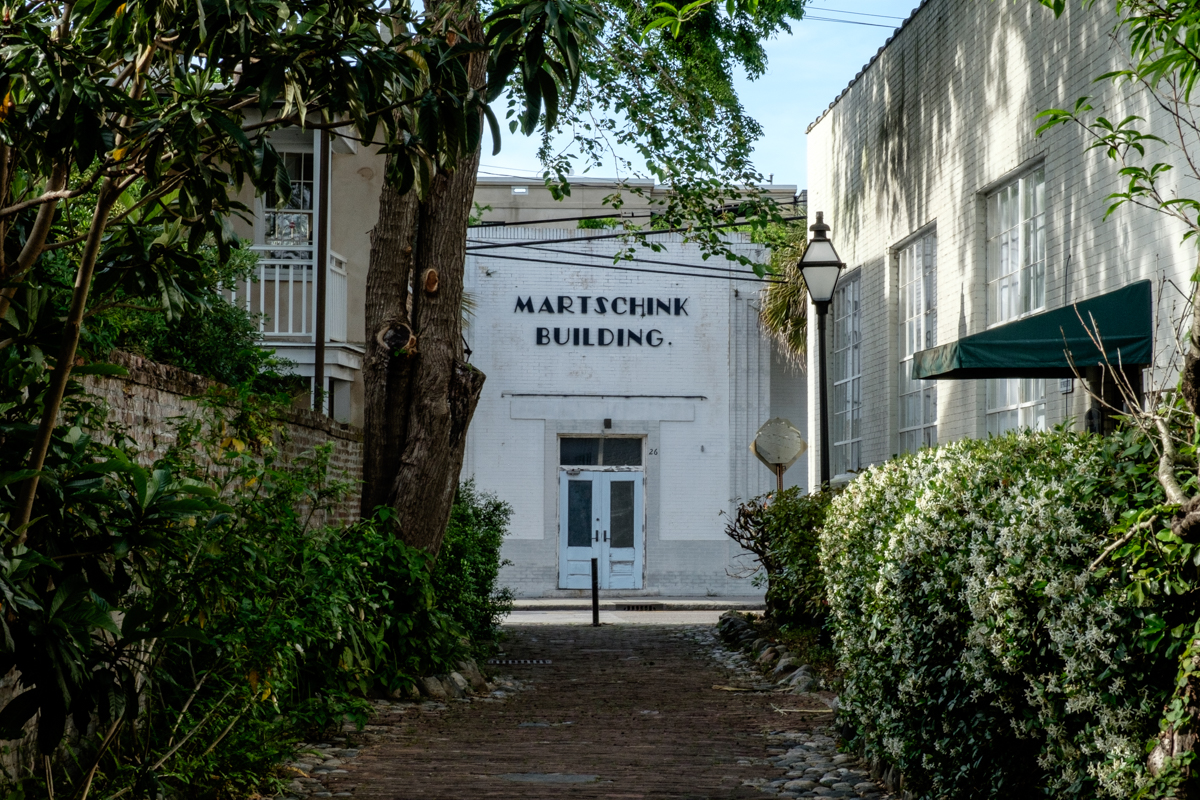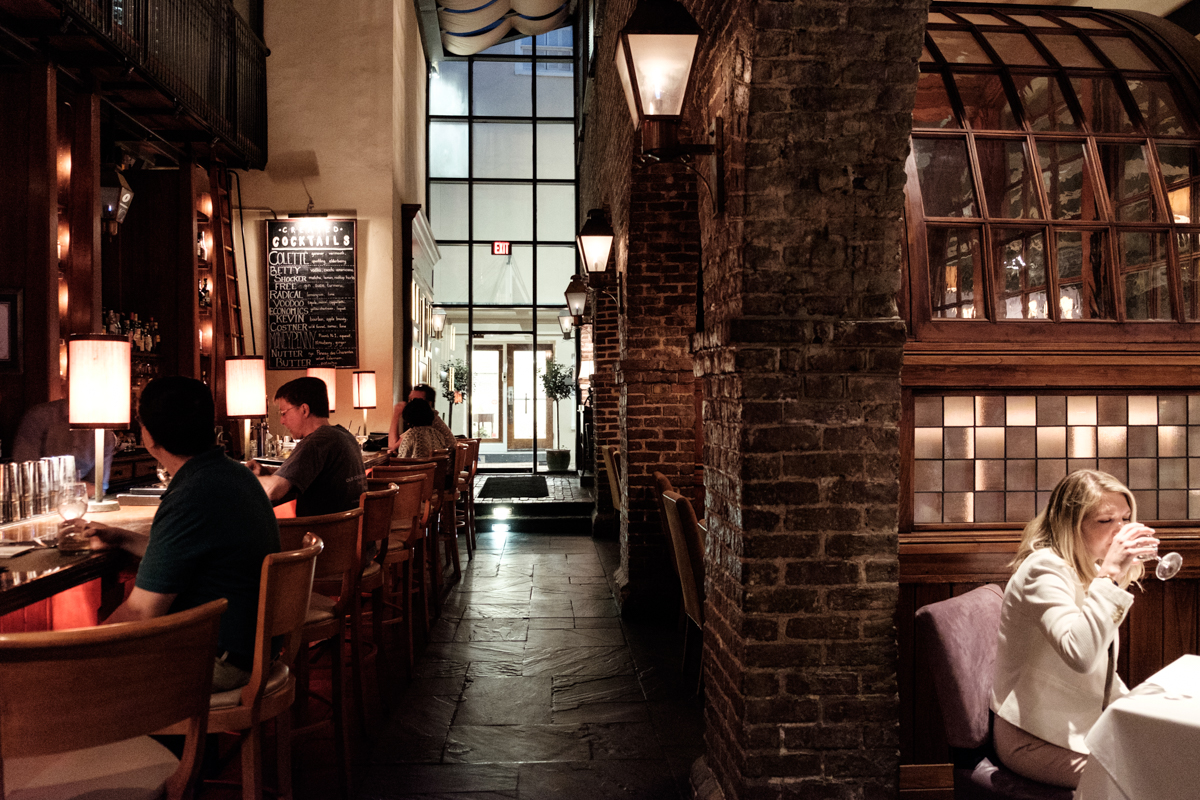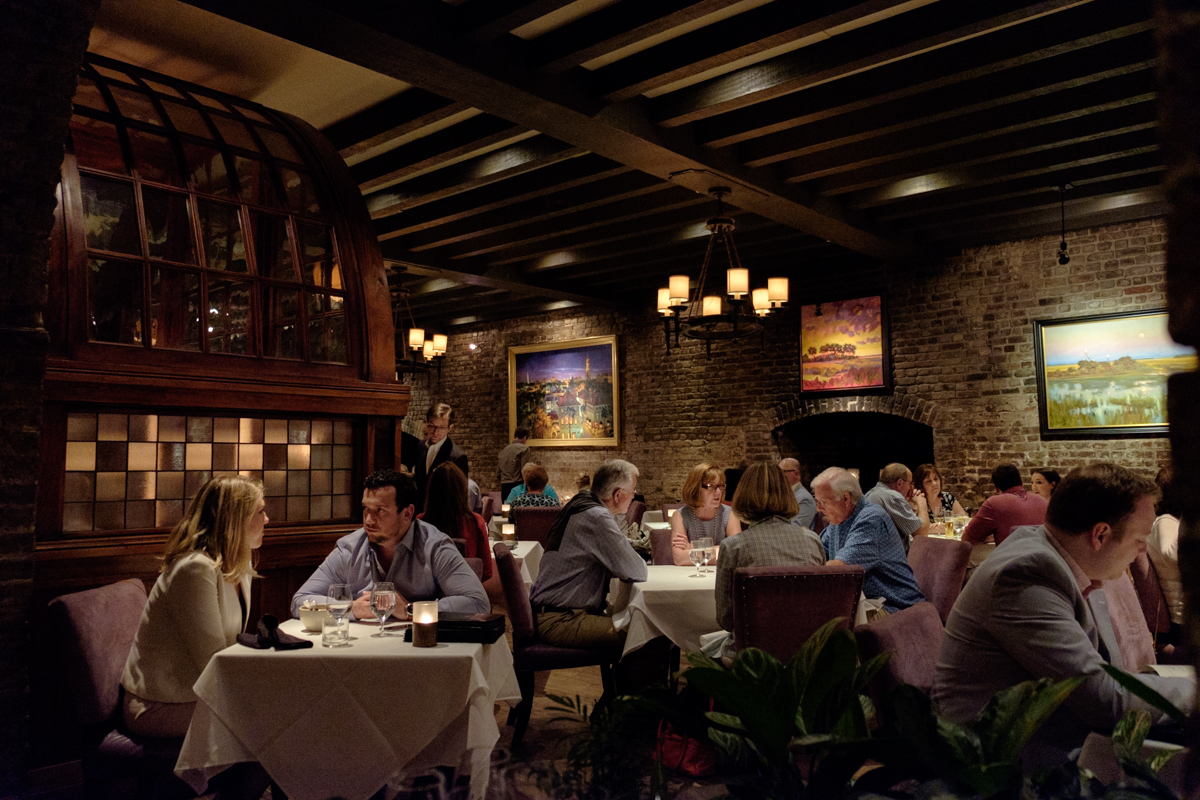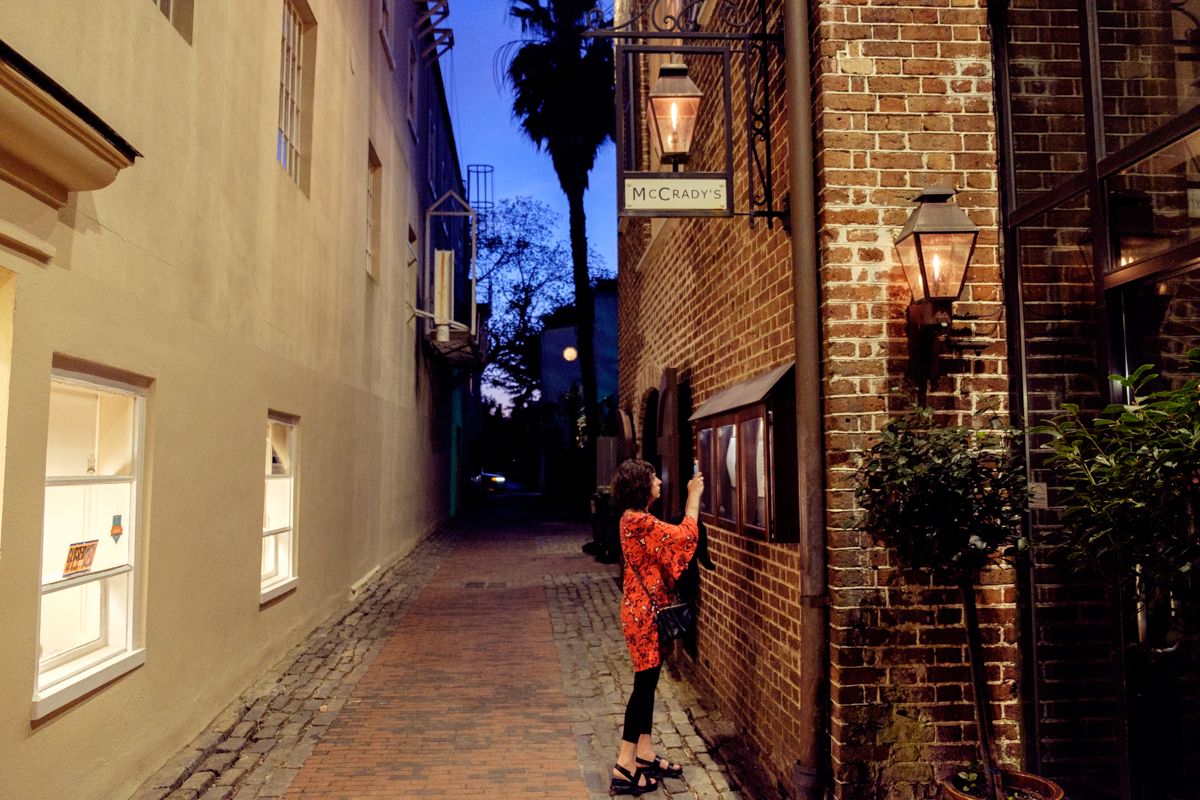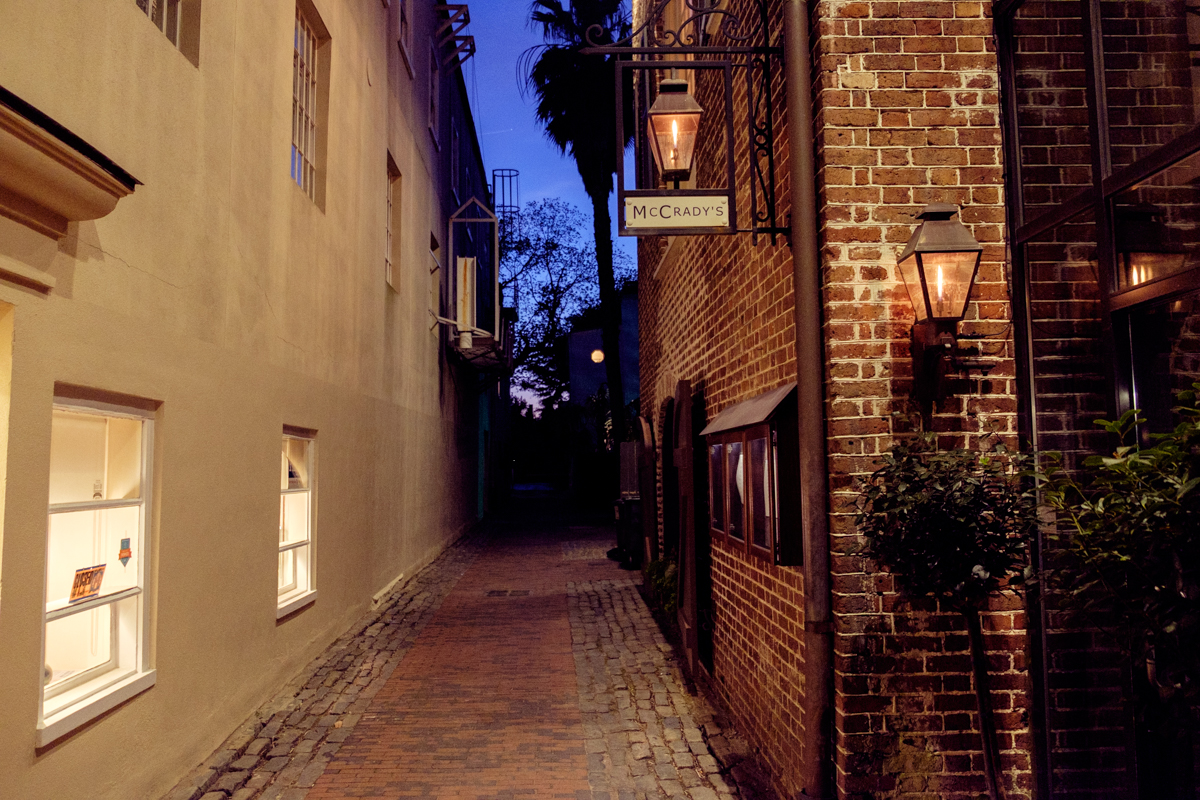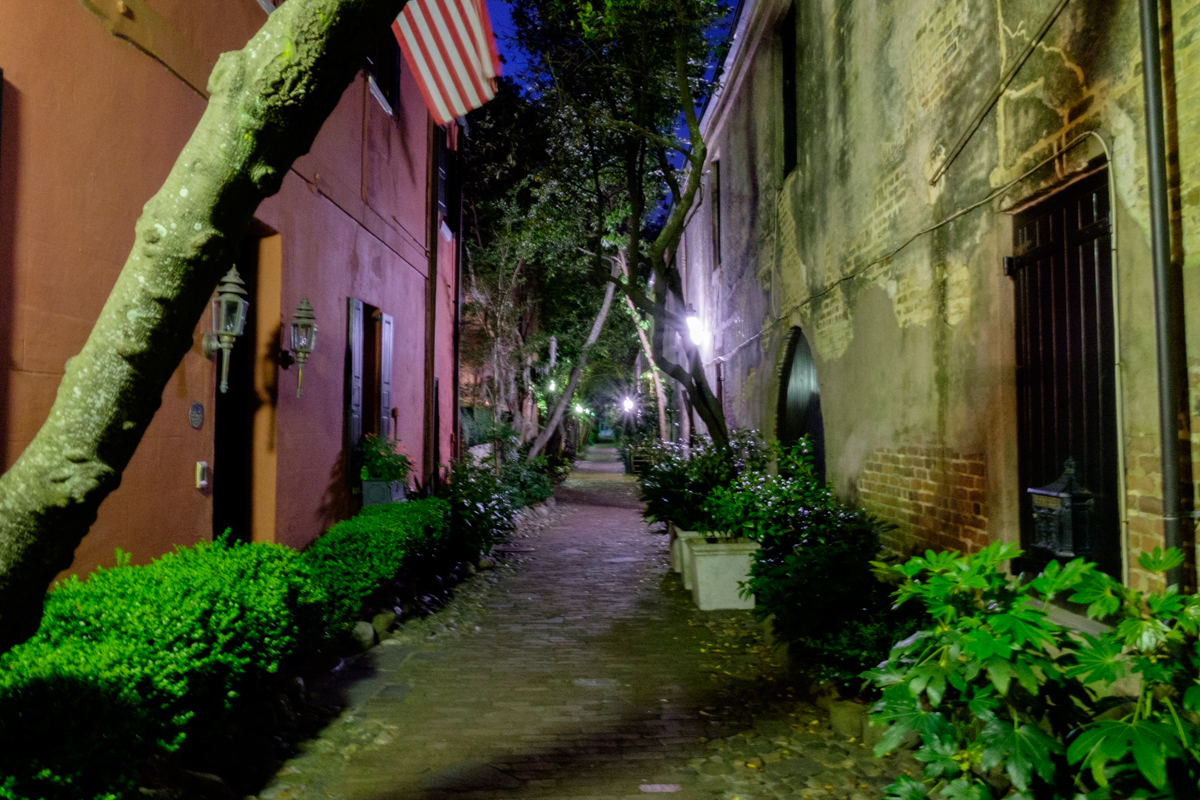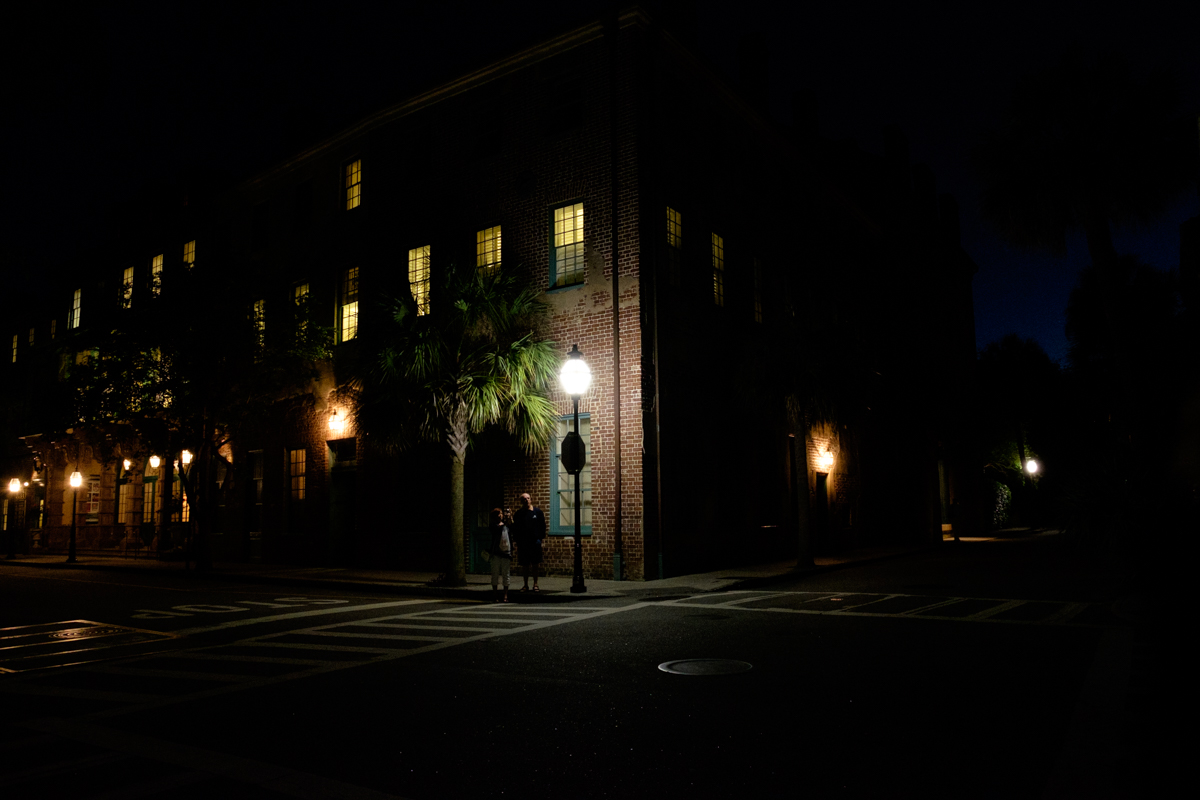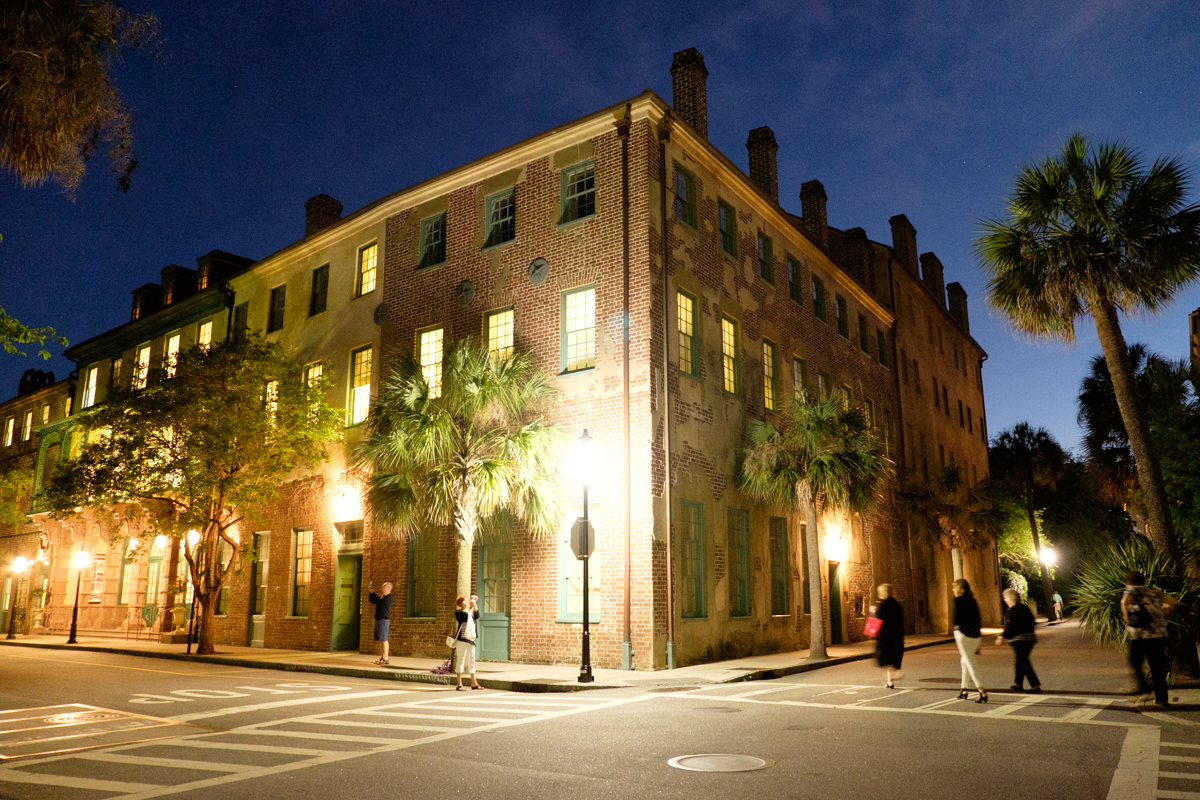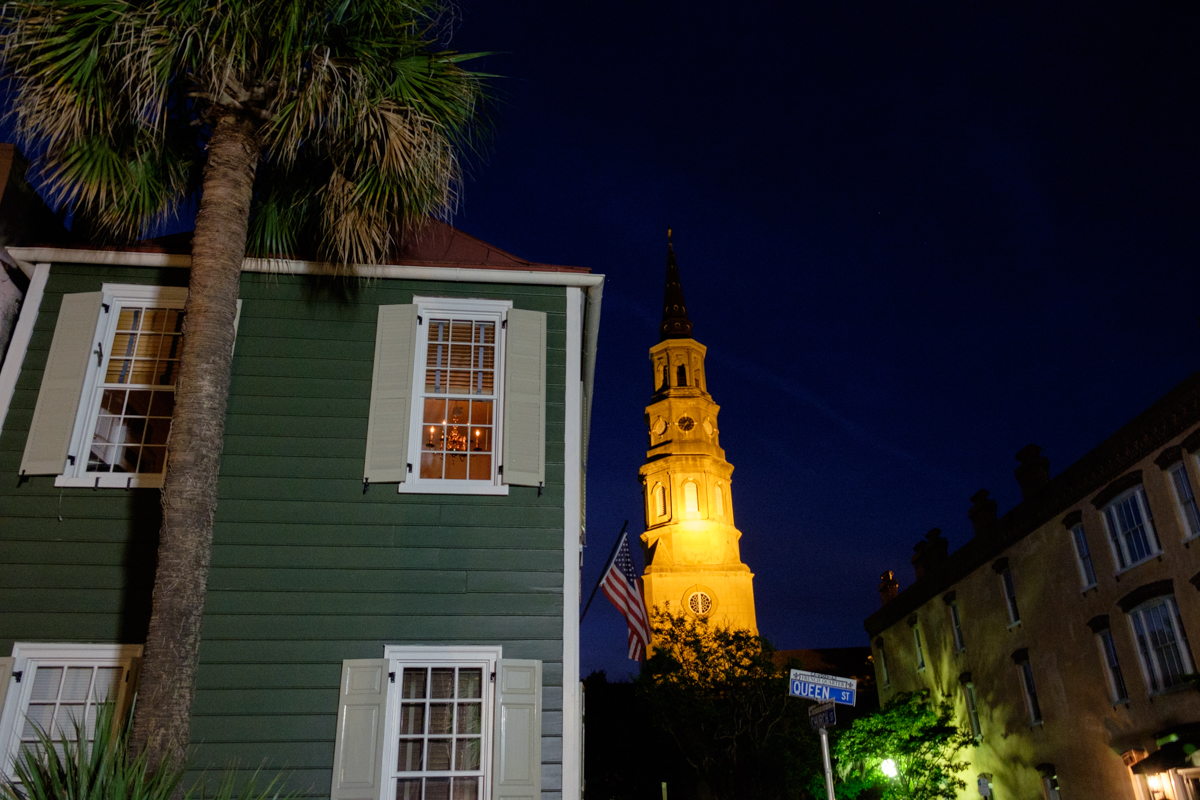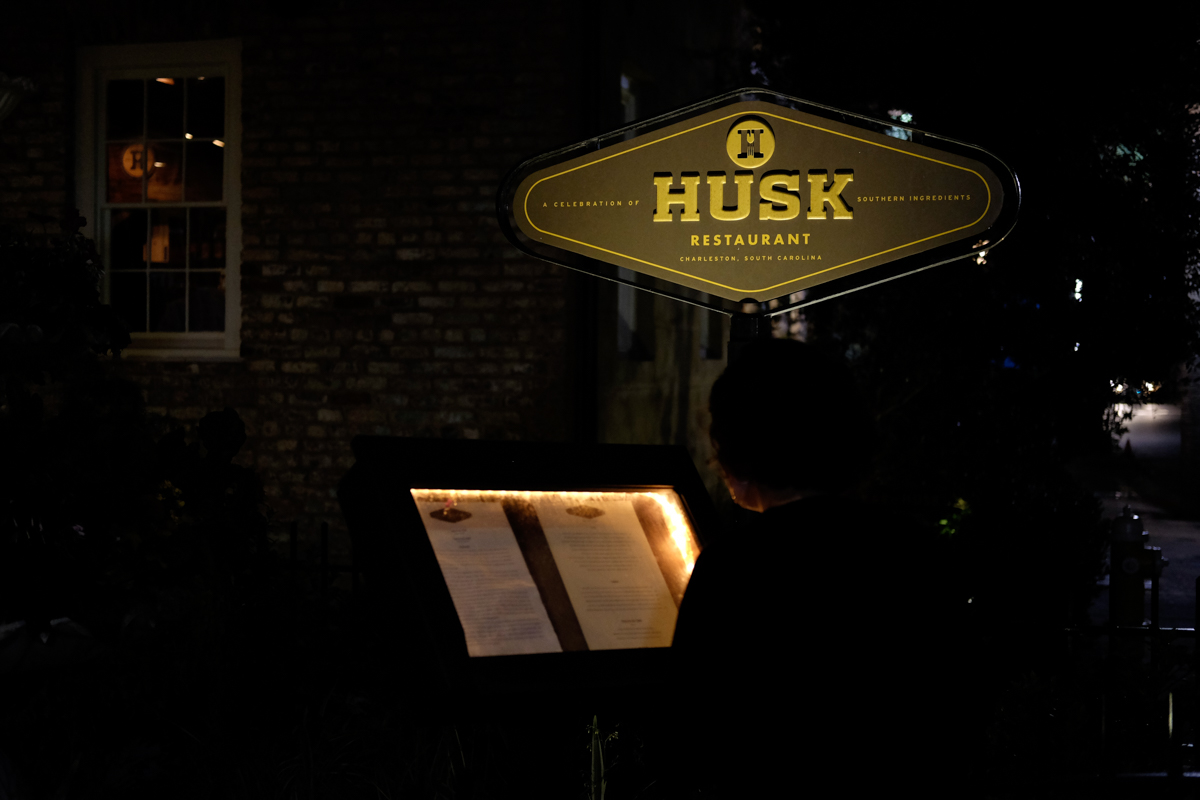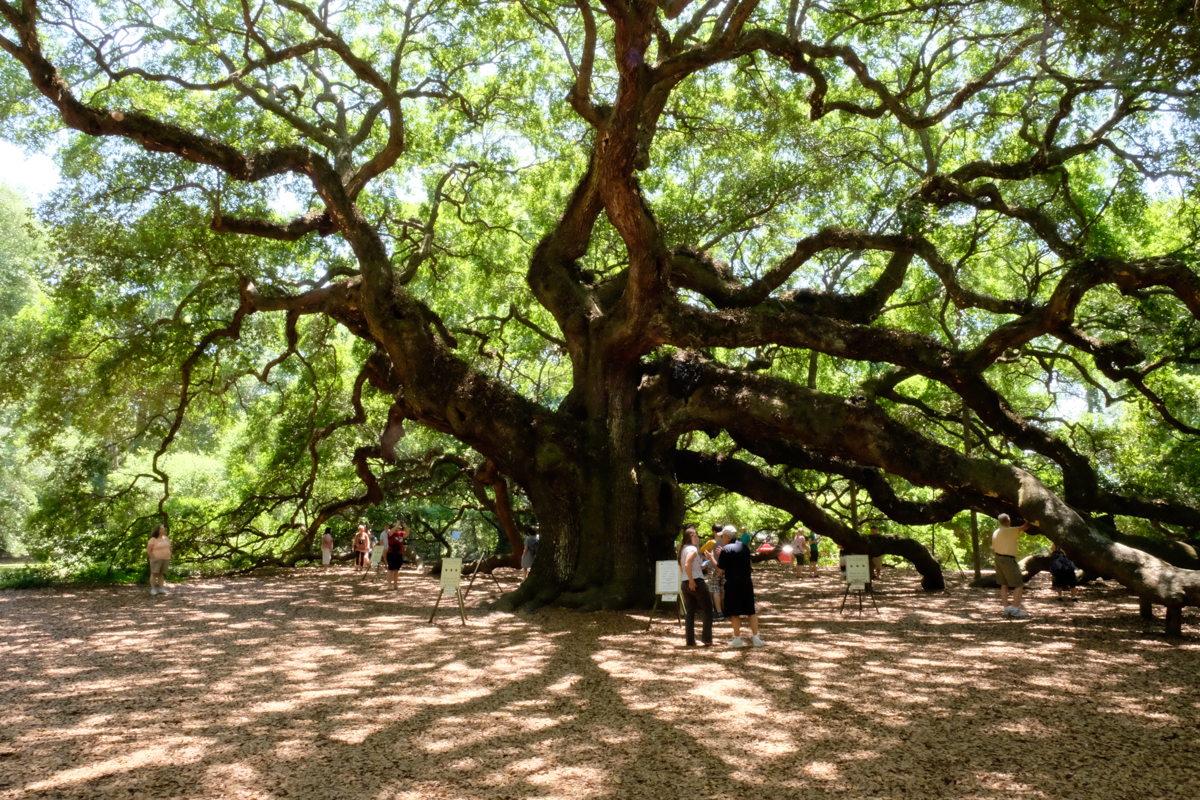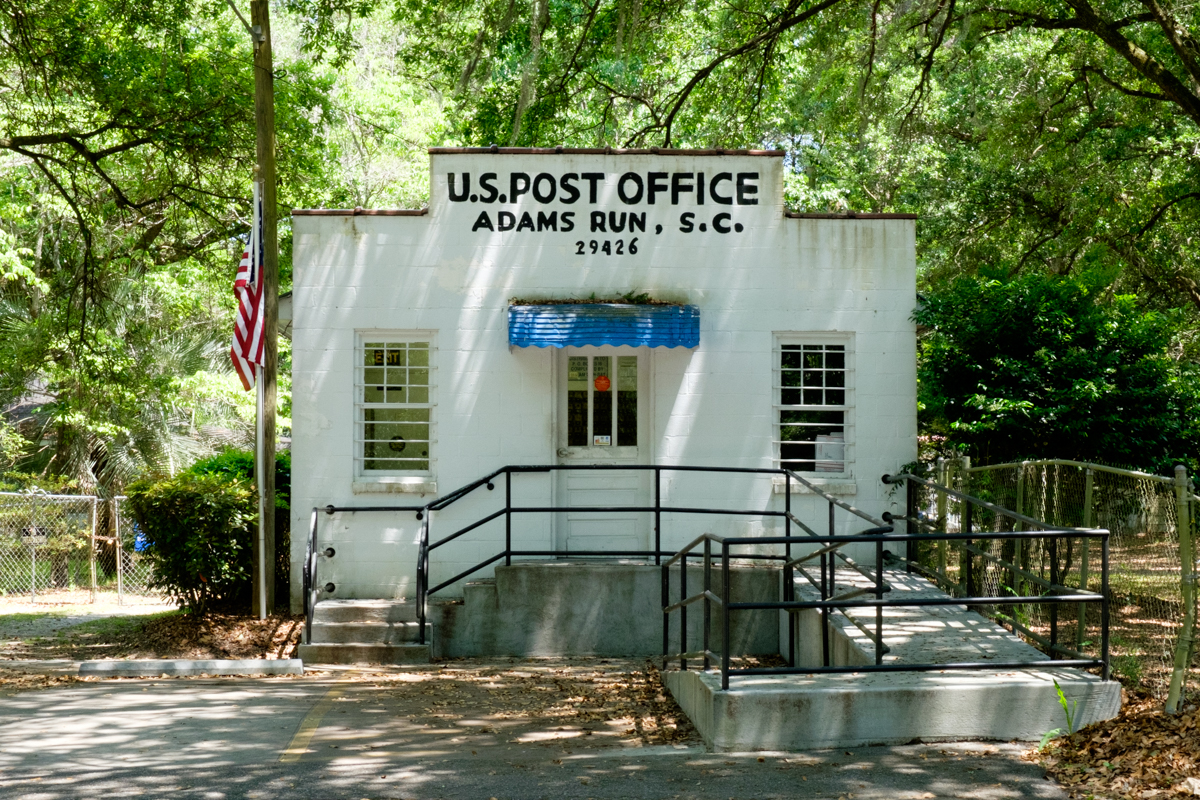 Low Country
We decided to meander down to Savannah. Our first stop was just a few minutes outside of Charleston at the Angel Oak Tree. Is it a must-see? No, but you could do worse than spend a few minutes milling around underneath an impossibly large, centuries old tree. From there, we wound through the Barrier Islands, making our way to along the Edisto Island Scenic Byway to the Edisto Island Beach. Nicole waded into the water—very tentative at first, expecting it to be cold—and was more shocked to find the water almost as warm as the air already in April. The beach was littered with grey shells; it was very peaceful and a great stop.
Next we drove to a town called Beaufort, which we read was worth a stop, but we didn't get it. We stayed in the car and kept moving, to a barbecue spot attached to a gas station Big Joe's BBQ. It had a few Korean items on the menu, which was an unexpected South Caroline bbq twist. We would really recommend taking this drive to get between Charleston and Savannah—it took us six hours instead of the just-under-two it would have taken to go directly, but the views of the marsh, the trees and the water were unbelievable and worth every extra minute. We added the pictures of this drive to the end of the Charleston section above.
Savannah
Our next stop was Savannah, which we didn't know much about other than "art school" and "Midnight in the Garden of Good and Evil." It's hard to miss the Savannah College of Art and Design, it was all over the place, and we had a great visit at the SCAD Museum of Art. We also visited the Telfair Museum, an exhibit at the Jepson Center called American Art Now and the Roots Up Gallery which was a strange mix of folk art and local crafts. Below that was the Book Lady Bookstore.
Our first meal in Savannah was at The Grey which is located in an old bus terminal and was really cool looking. It was one of the few places in Savannah that seemed to fit any recent foodie trends as far as "new" restaurants goes. Compared to Charleston we were surprised there weren't more hip contemporary (contemporary conformist?) eateries. We found another one for breakfast, Collins Quarter, coffee at Foxy Loxy Cafe, and walking around at night maybe found the one hipster bar, The Original. Other than those we saw a lot of touristy places, good and bad. At least one of the former of which was certainly worth the hype. To eat at Mrs. Wilkes, you have to get there early and wait on line. Then you're seated at a large table with a bunch of strangers; we were next to a Vietnam War vet from Alabama and his wife. The table is immediately filled with food to be served family-style, all classic home southern cooking and delicious.
We explored all of the squares and historic Savannah which was really lovely, including the Midnight in the Garden of Good and Evil house. We stumbled upon a hole-in-the-wall BBQ place called Angel's which was great. We were really happy to find a place like that in the middle of all the touristy areas. We also also utterly failed at being non-tourists when we sat down on a bench to eat some chocolate before we realized we were in the park where Forest Gump had his box of chocolates. Despite that, the setting was wonderful and we loved walking around the squares and driving around midtown to see the beautiful mansions. We also continued our tour of the cemeteries of the south with a visit to Bonaventure Cemetery.
Being in Savannah a bit longer than Charleston, we had more time to explore so we took a drive to Tybee Island to lay on the beach and watch dolphins, and ate at Wiley's Championship BBQ on the way back. Nicole had yet another meal of sides while Dan ate many varieties of meats.
Having the time to explore helped us get a better sense of the city beyond the historic squares. Using the traveling trick of searching for the record store to find untouristy neighborhoods, we headed to Graveface Records and found areas that were further out from where we had been walking, and wandered into Back in the Day Bakery, The Florence, The Vault, some boutiques. We also discovered Trick's BBQ, a BBQ pit in front of a hand car-wash. We were early and had to wait, but it was worth it. For one of us at least. But even the meat eater amongst us couldn't go crazy because we had already stuffed ourselves earlier than morning at what might have been our favorite meal of the trip, and maybe one of our favorite meals ever, Narobia's Grits and Gravy. We ate fried lamb, crab stew, biscuits, hash browns, grits and french toast, and that was without ordering anything beyond 2 entrees and their associated sides. Absolutely fantastic.
Another trip out of town brought us to the picturesque (if mosquito-ridden) views of The Wyld Dock Bar. We also tried to see Wormsloe, a plantation with a driveway lined with trees but it was too dark to get a good look and tried to get sweet potato pie from Sweet Potatoes Kitchen but they only had coconut.
We didn't have enough time for these recommended spots: BBQ at Sandfly, Randy's, coffee at The Sentient Bean.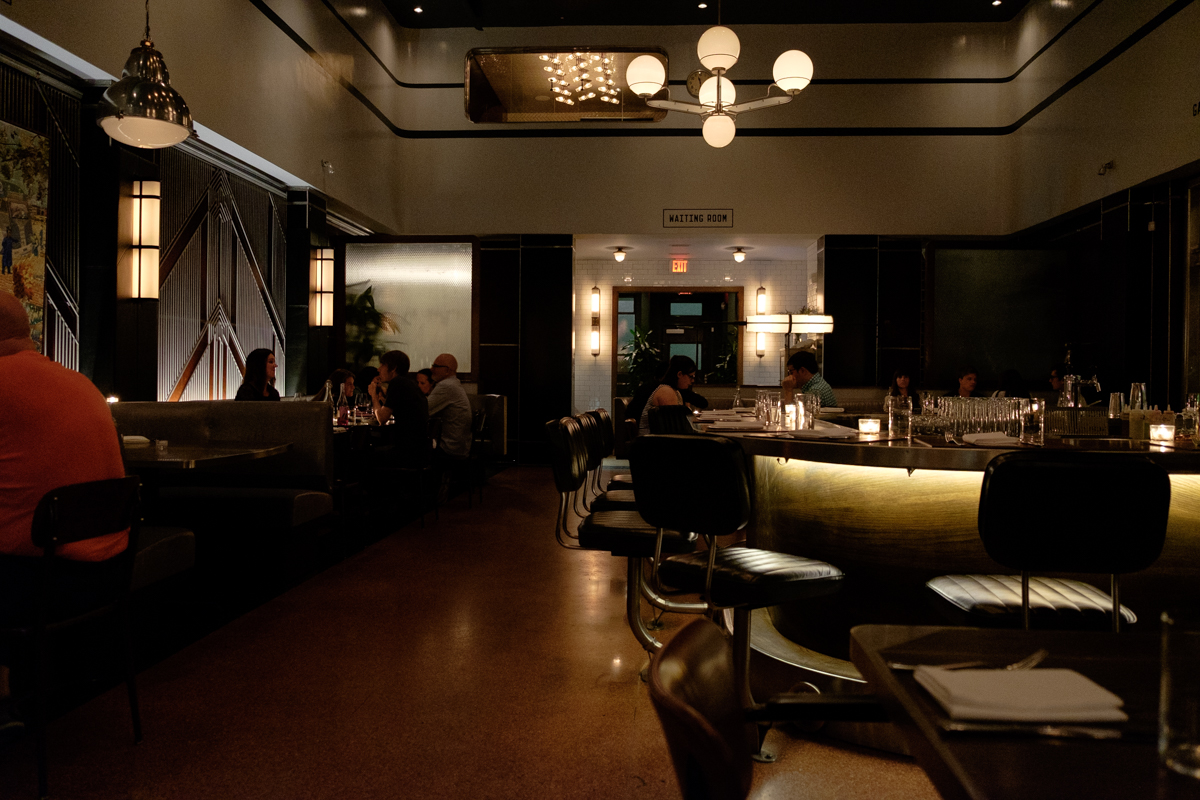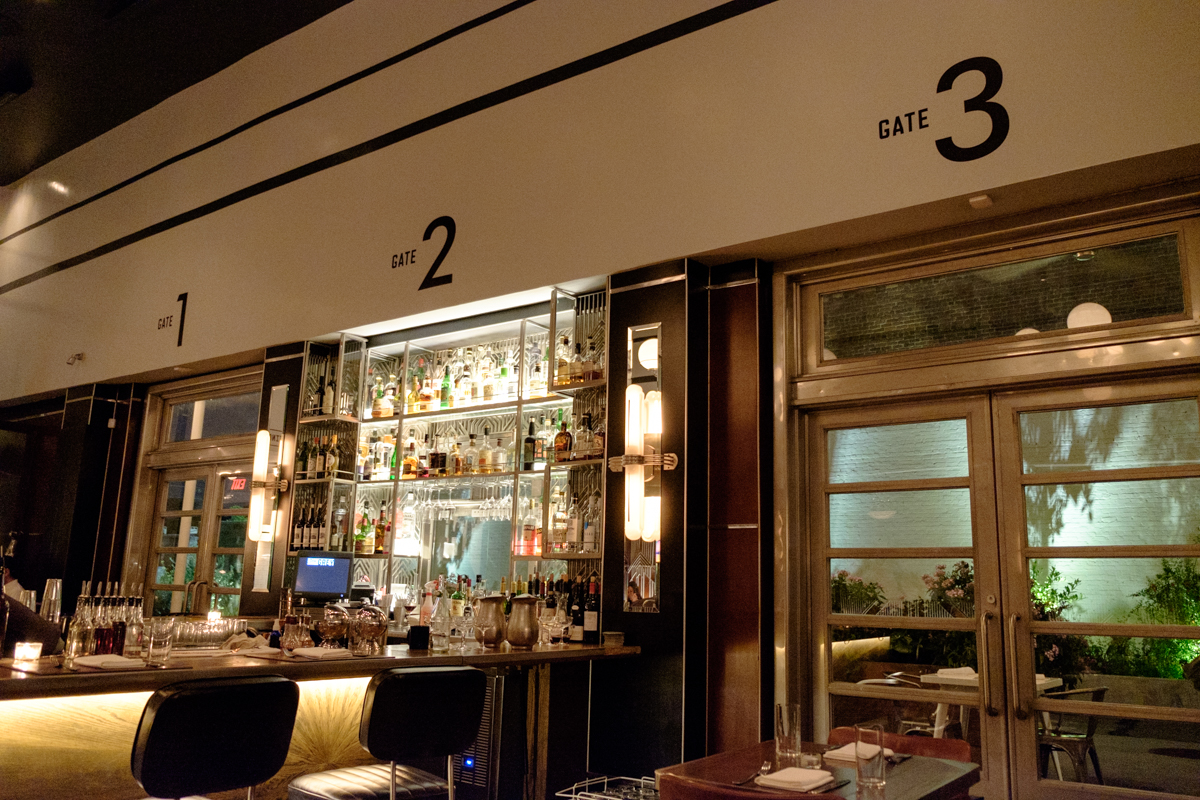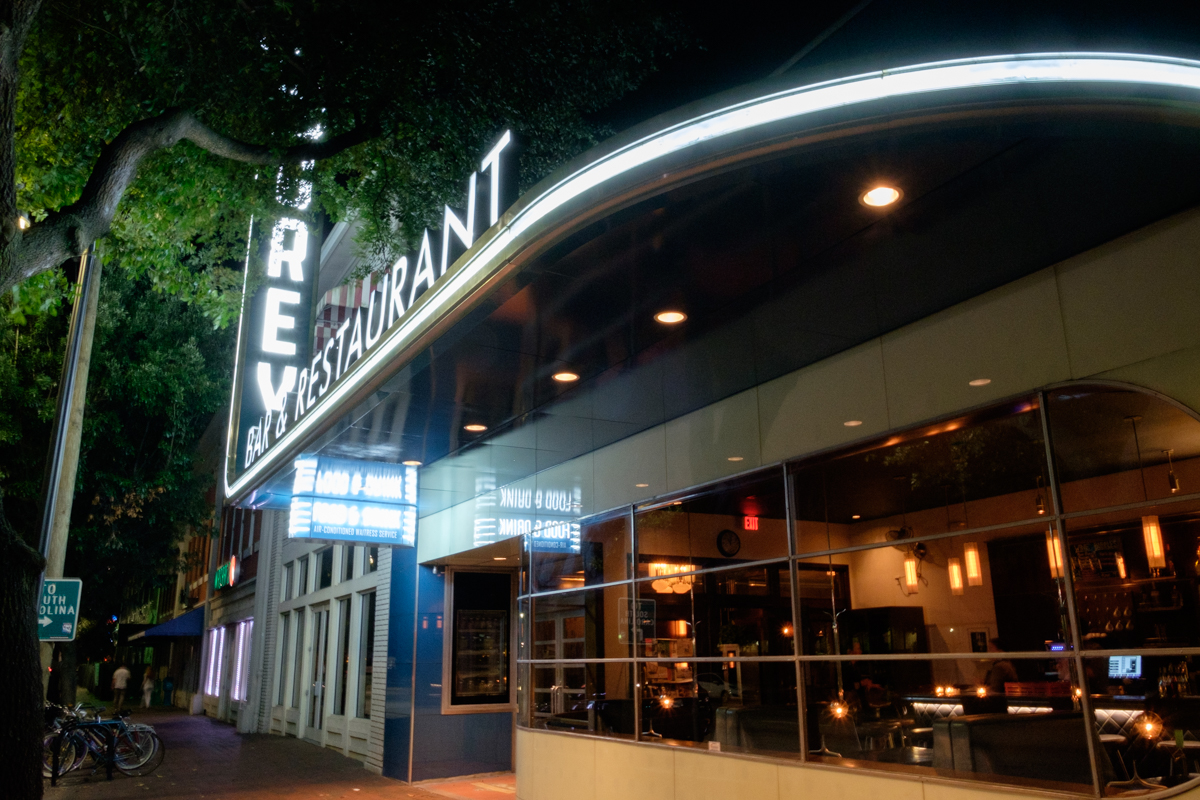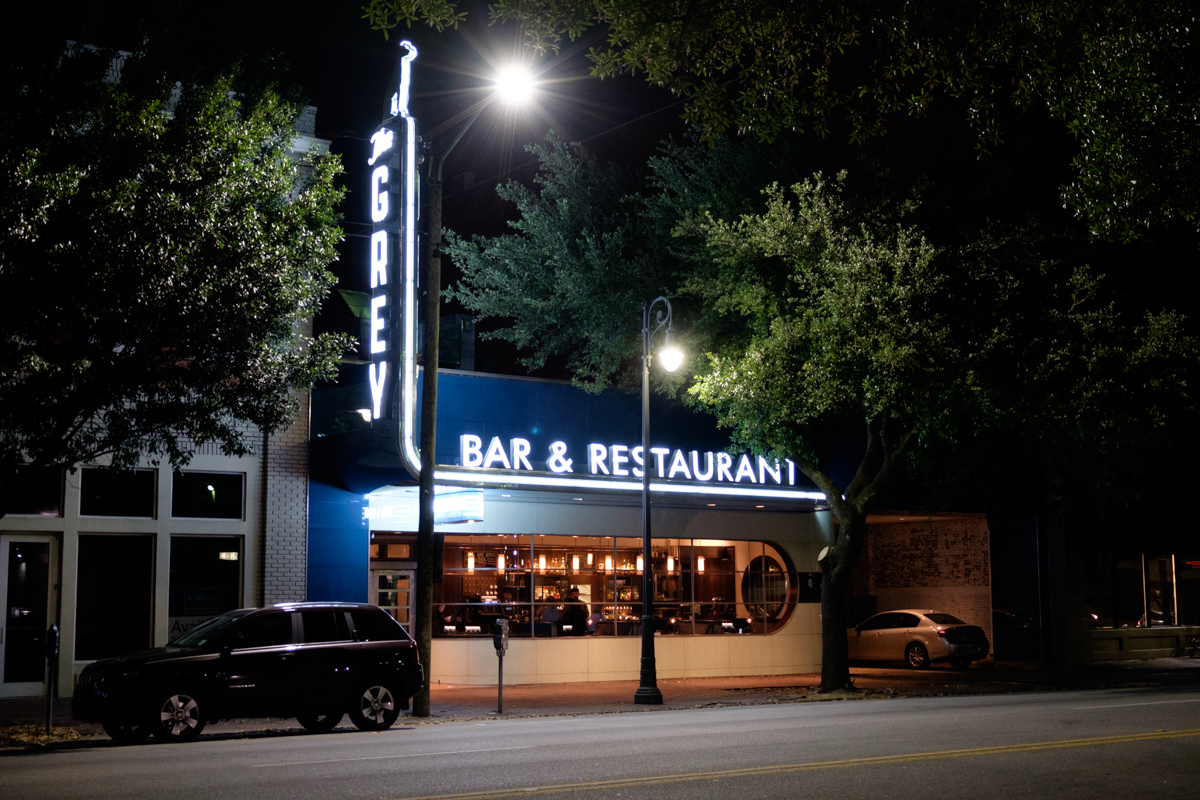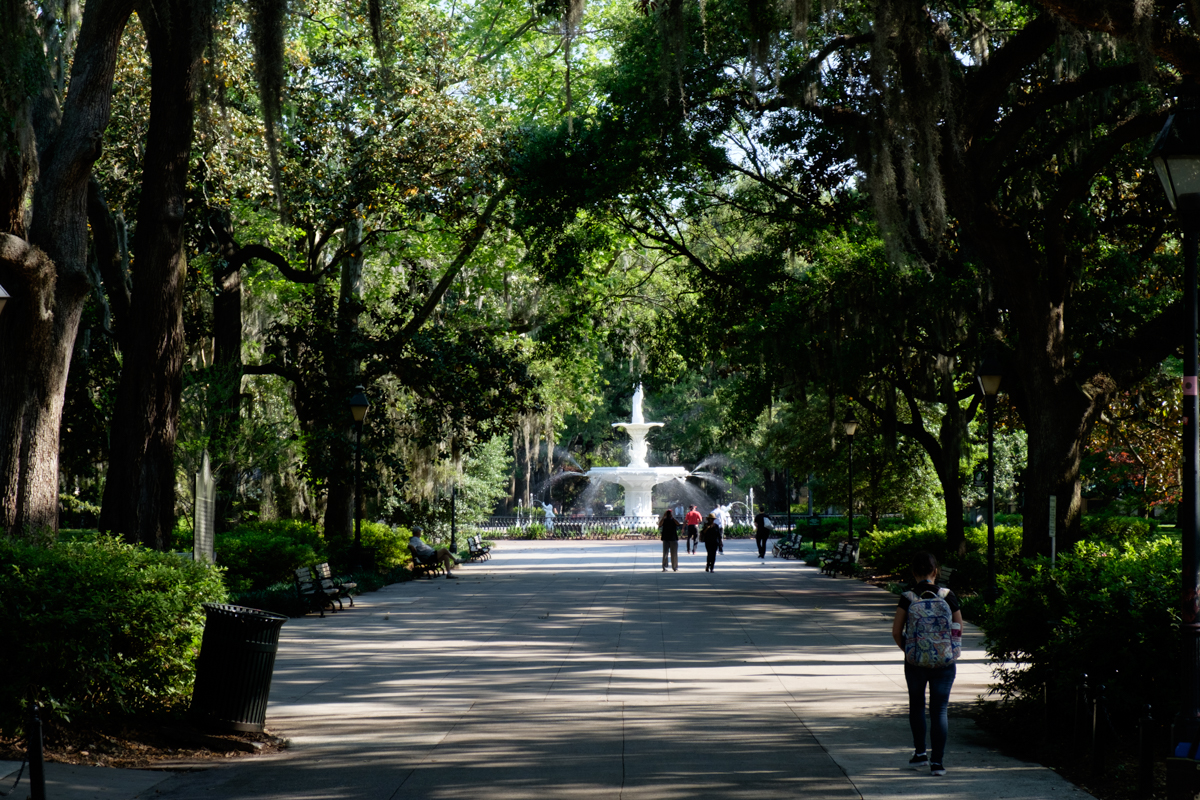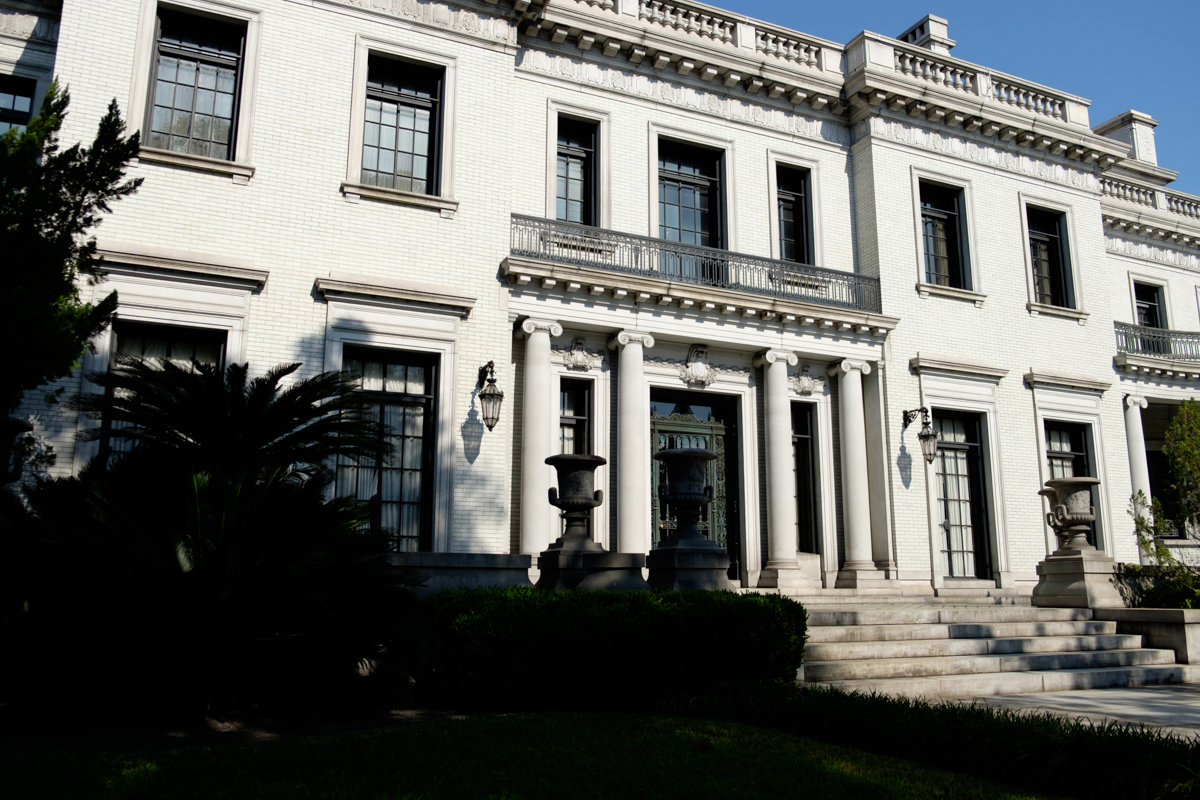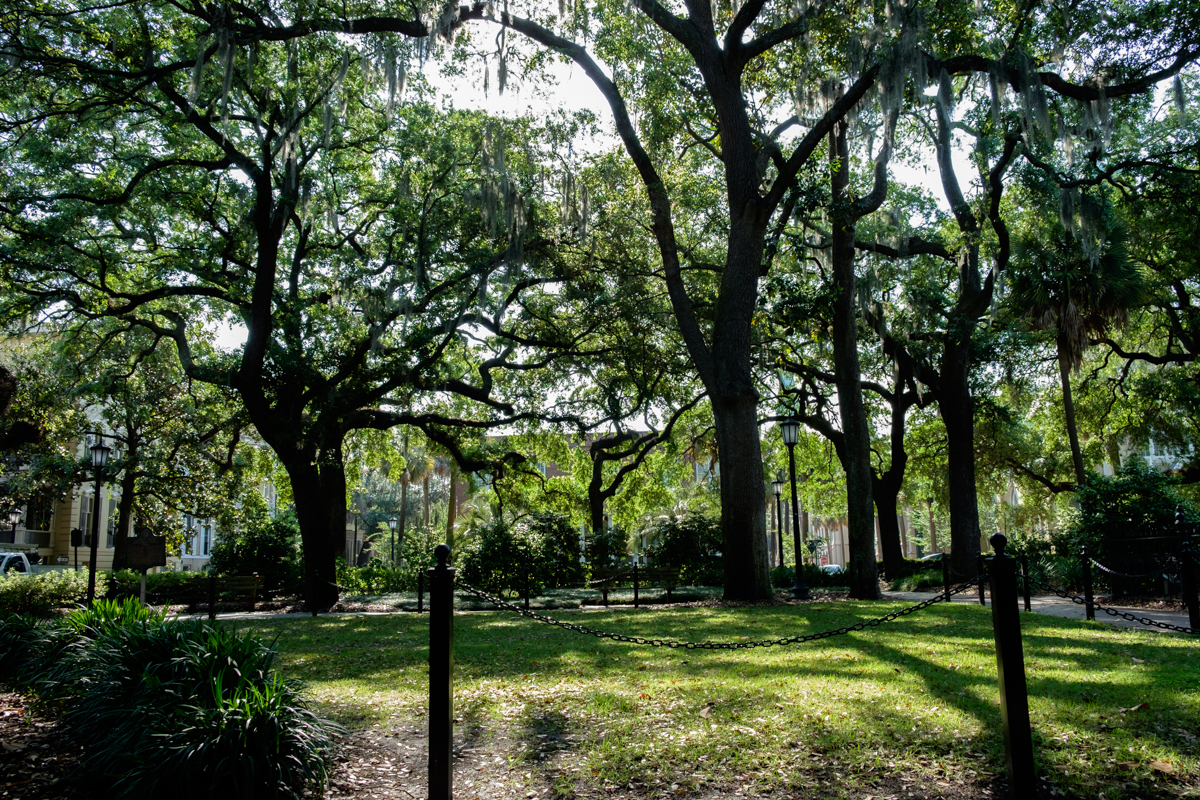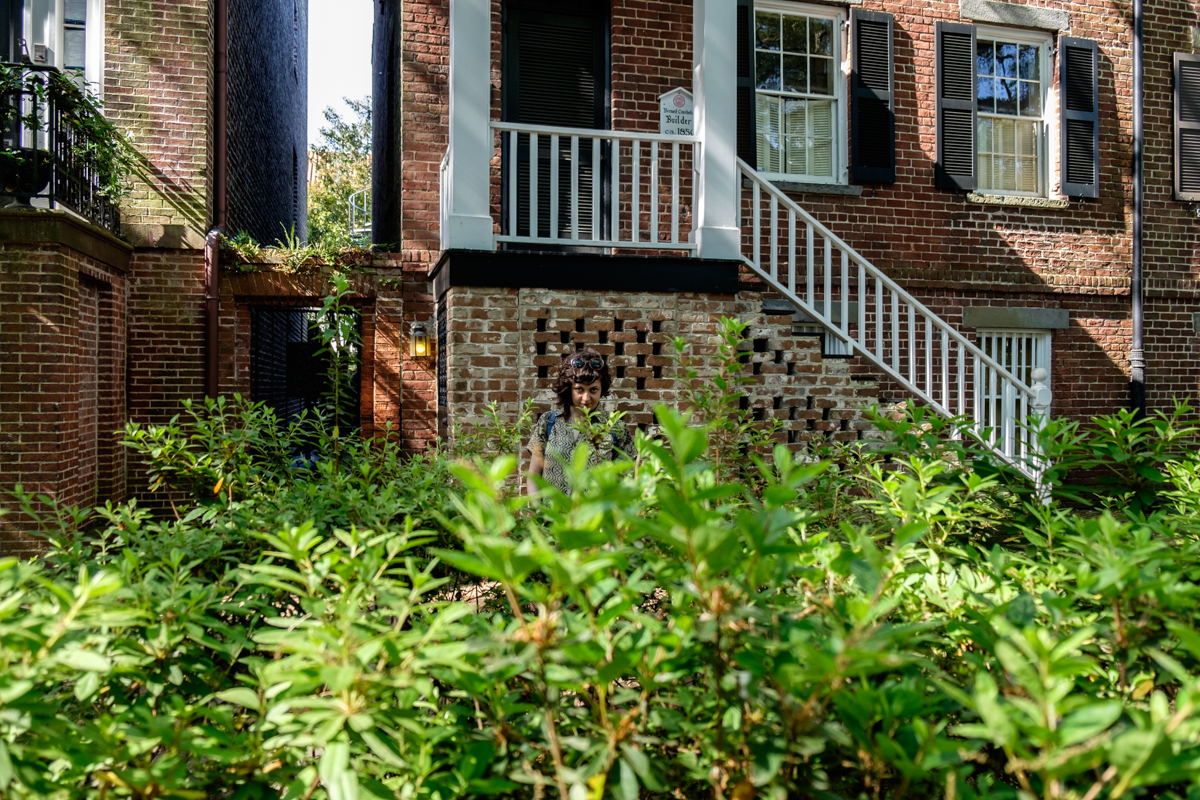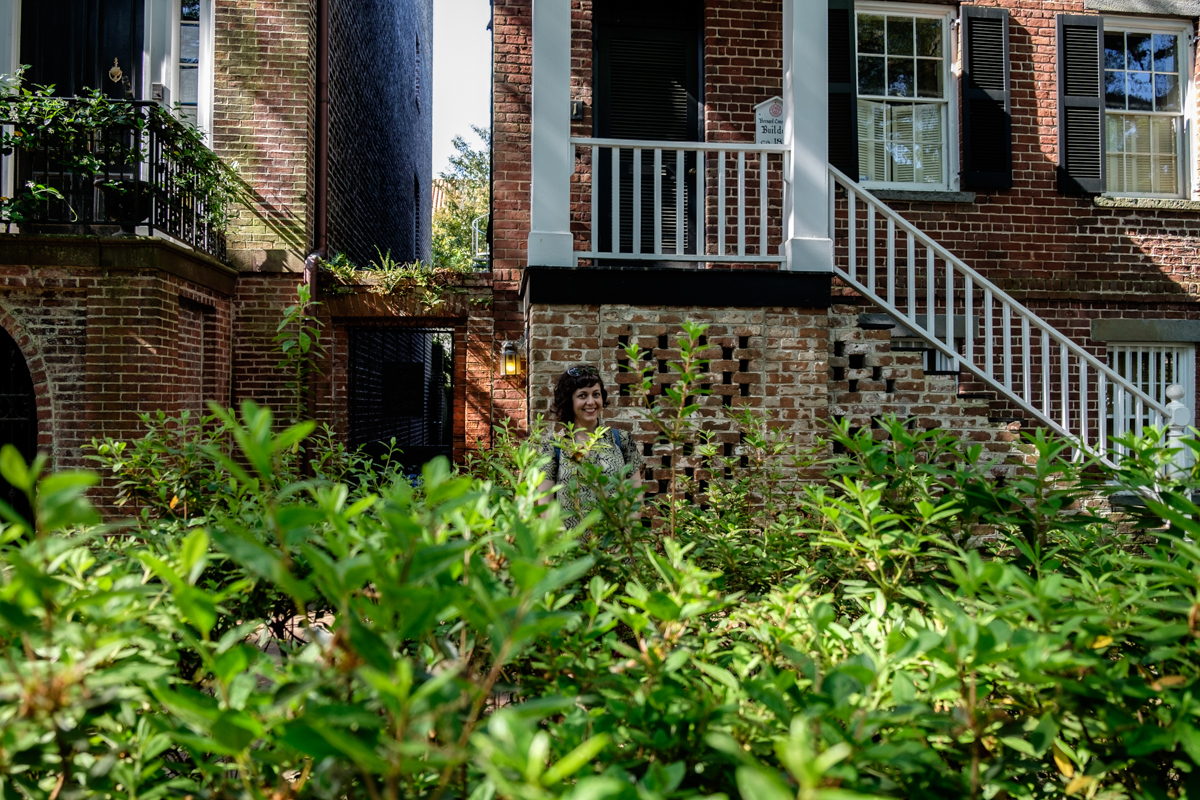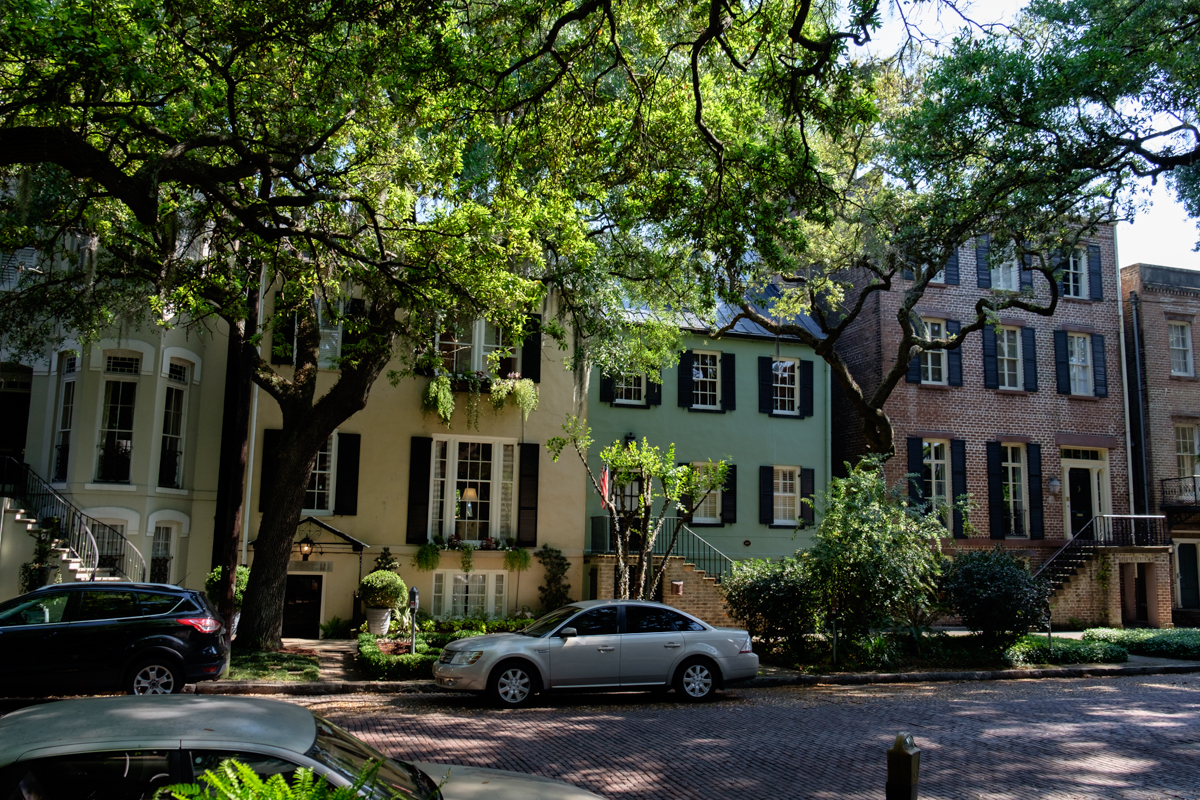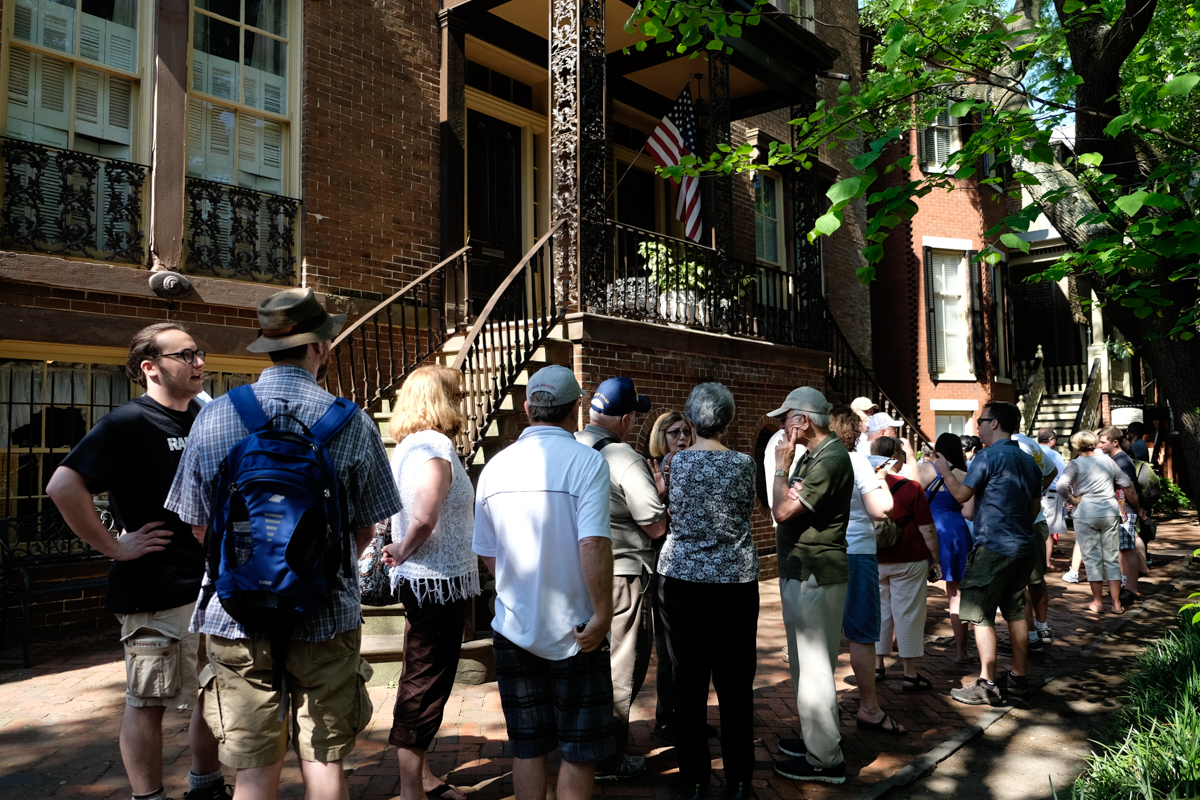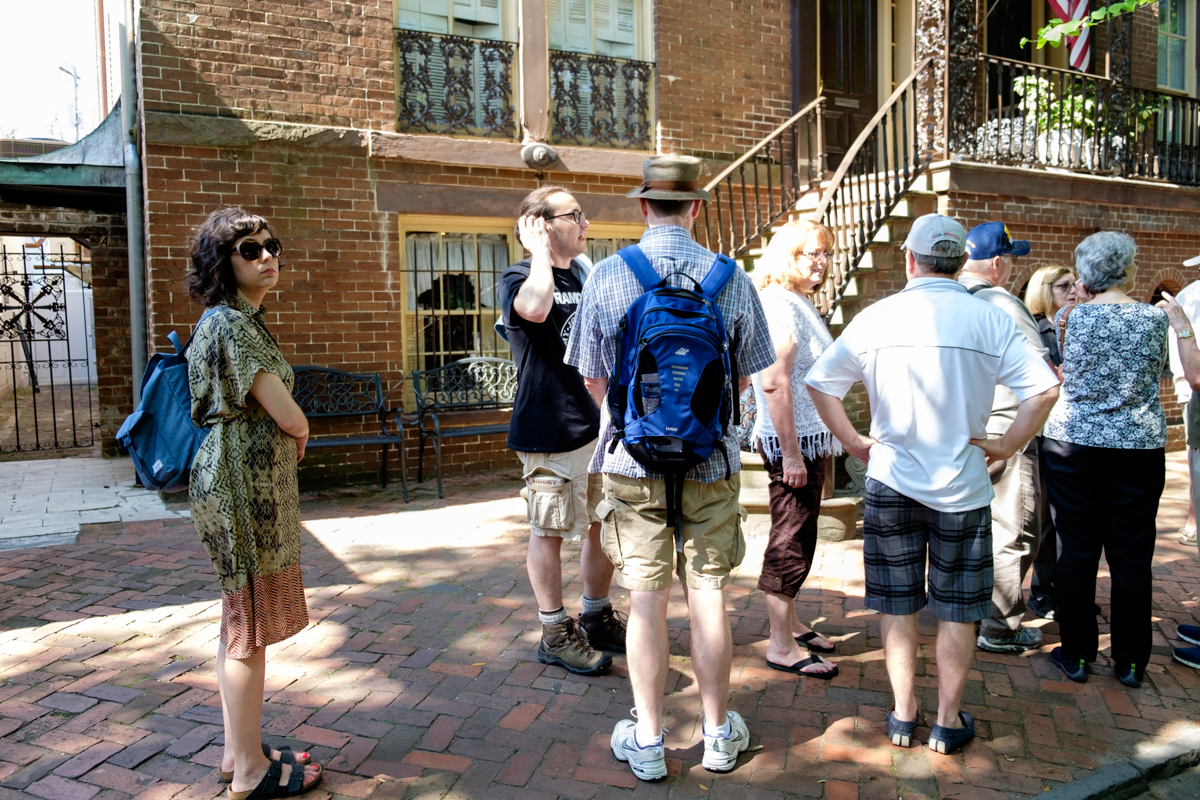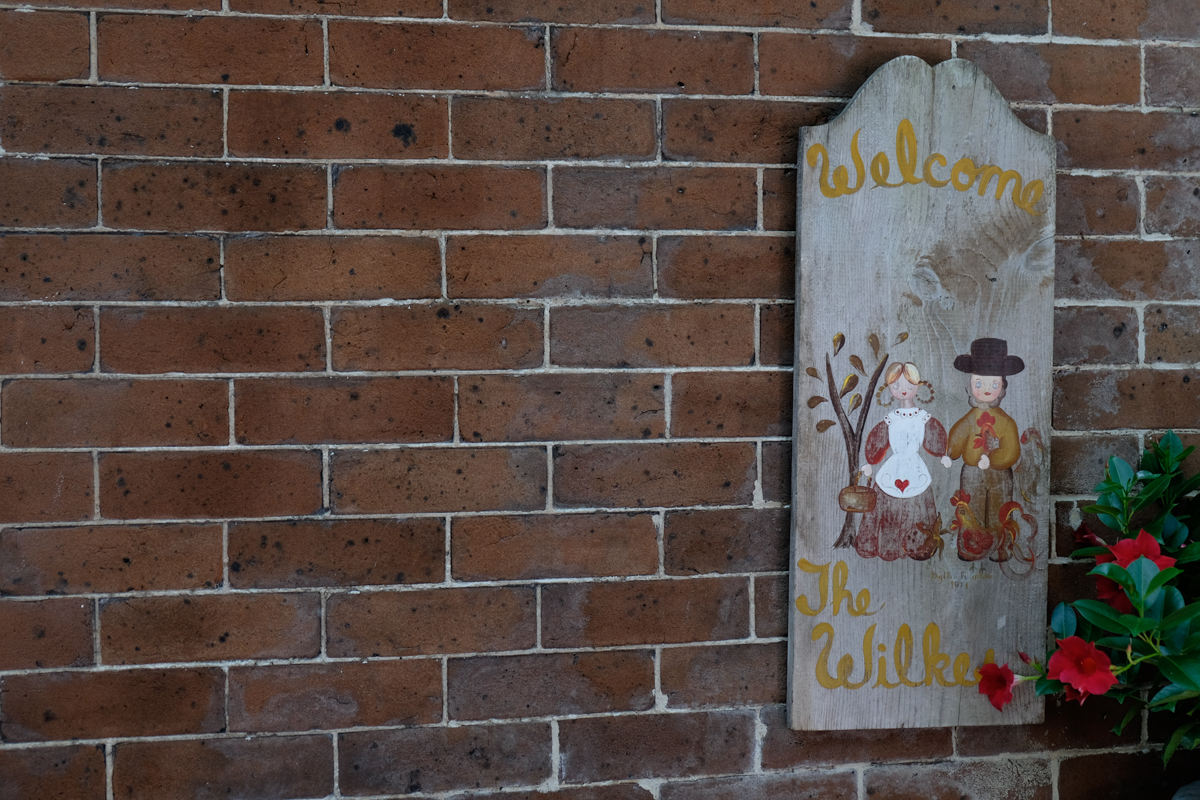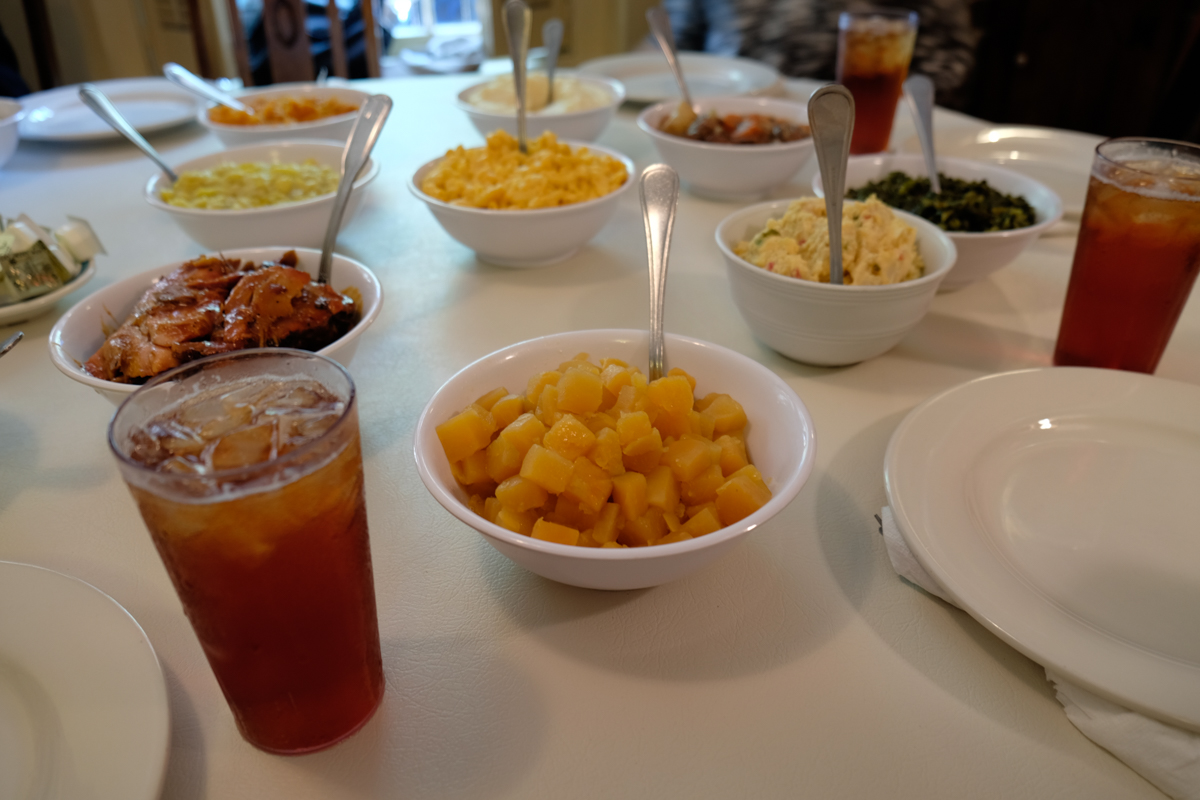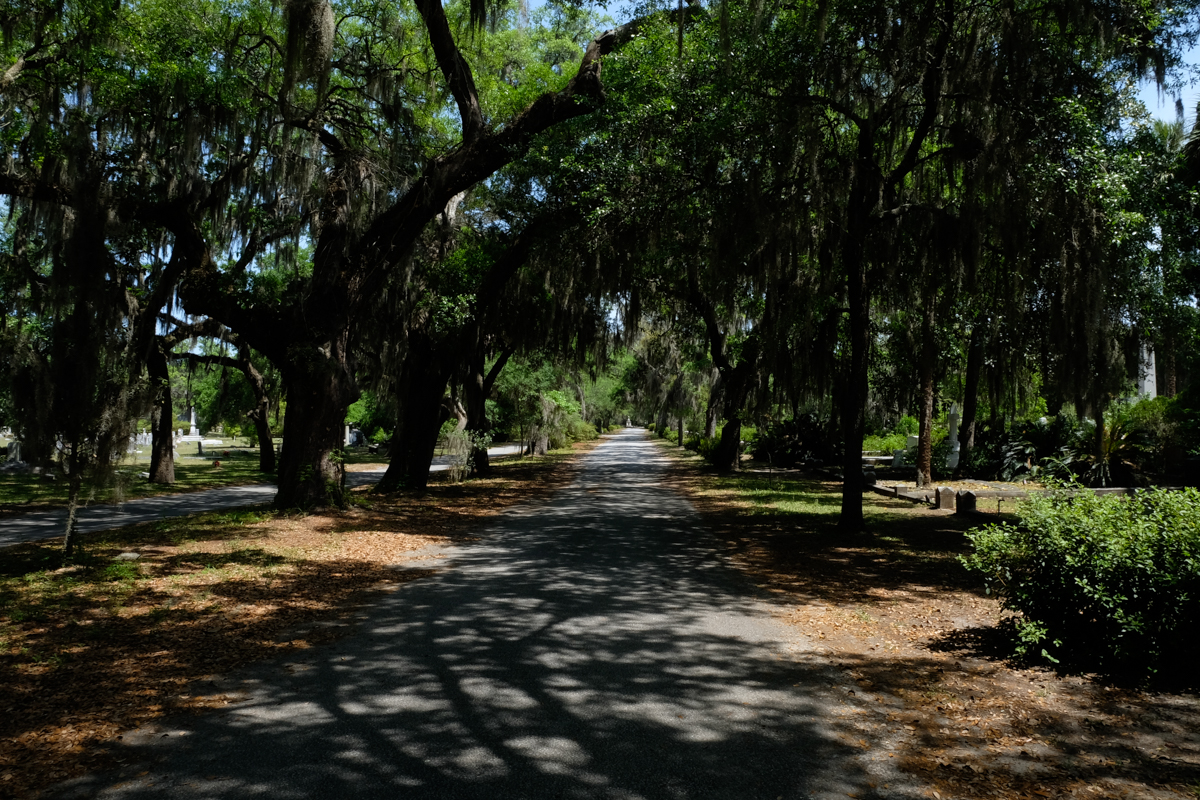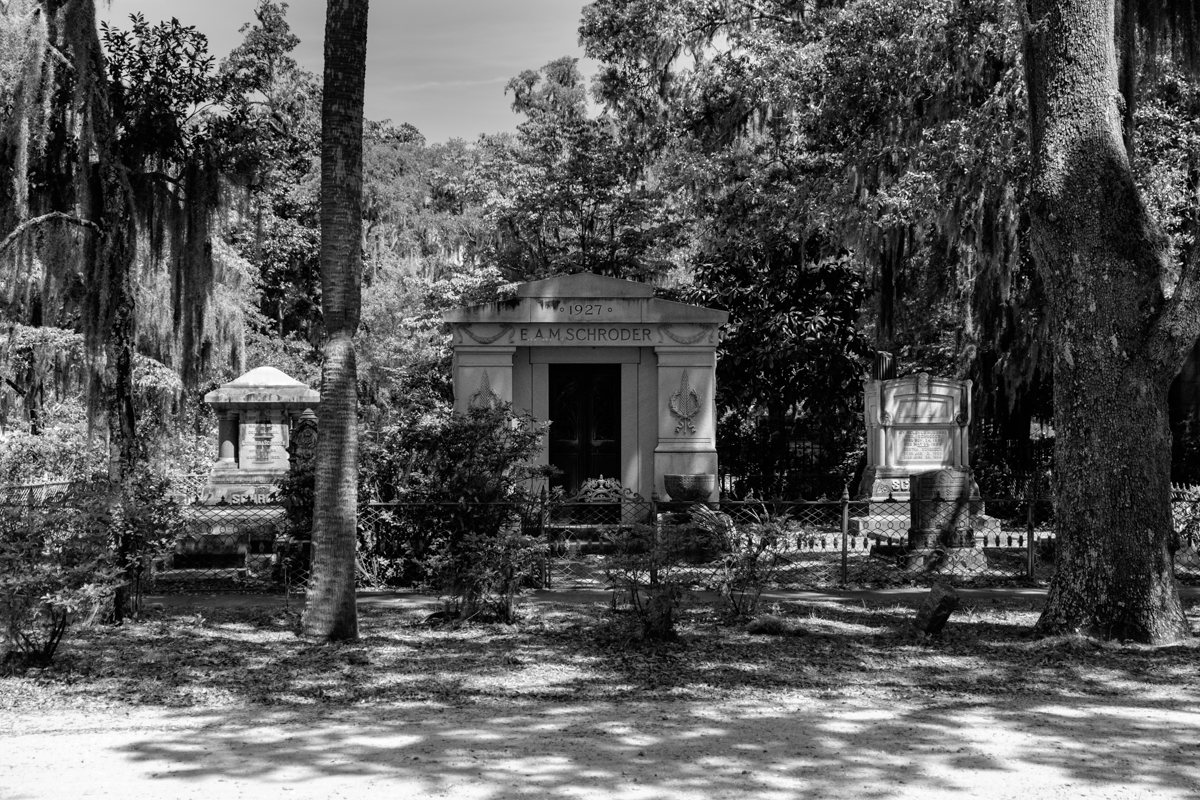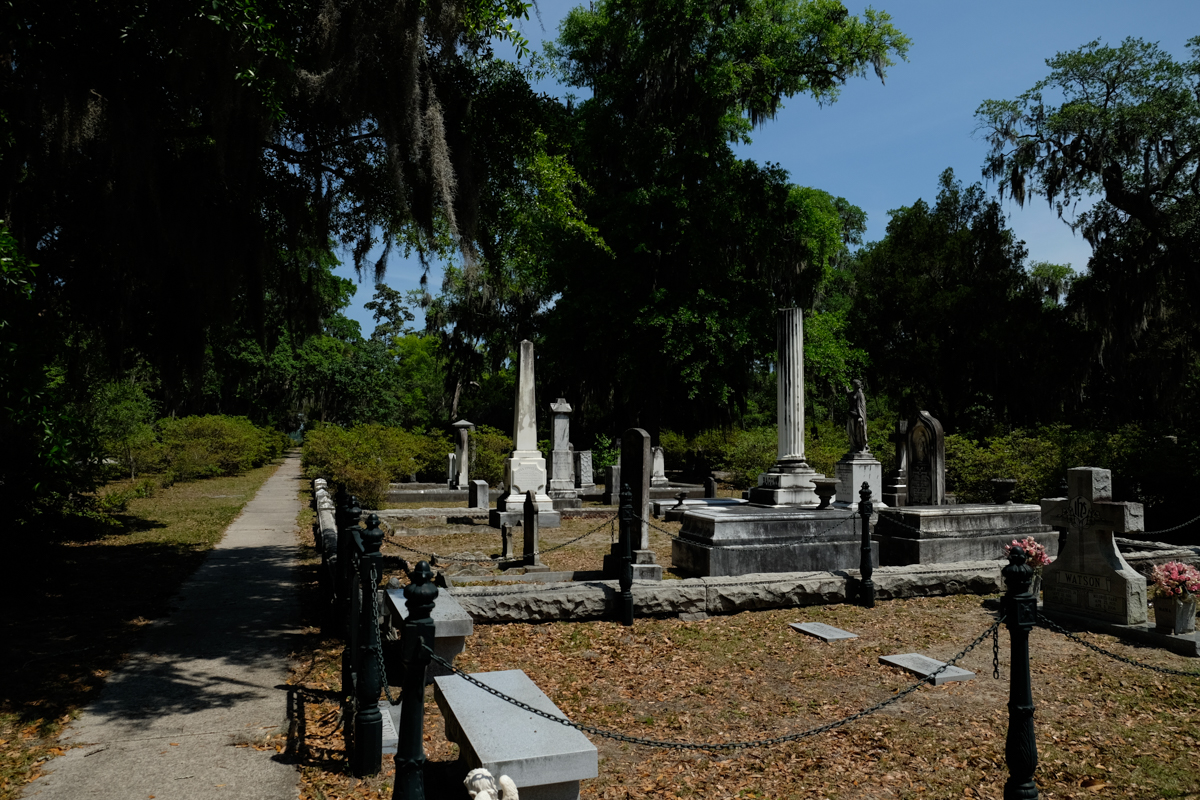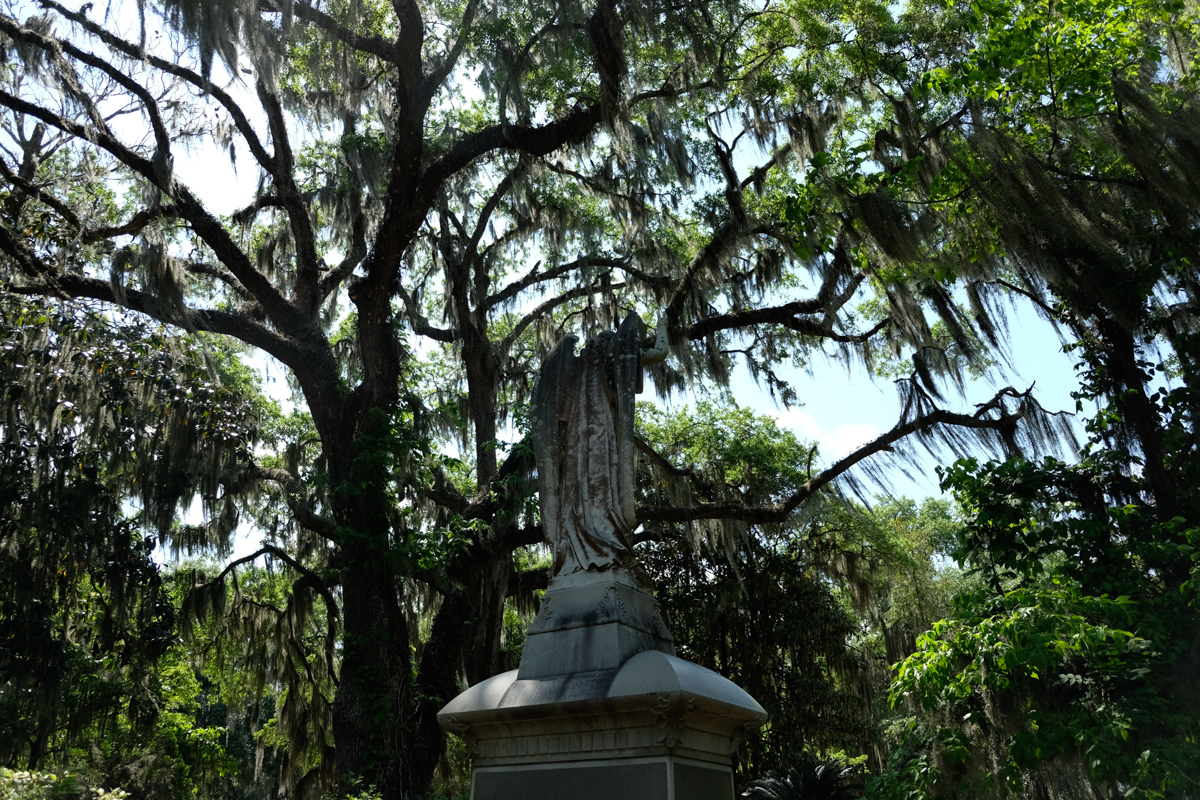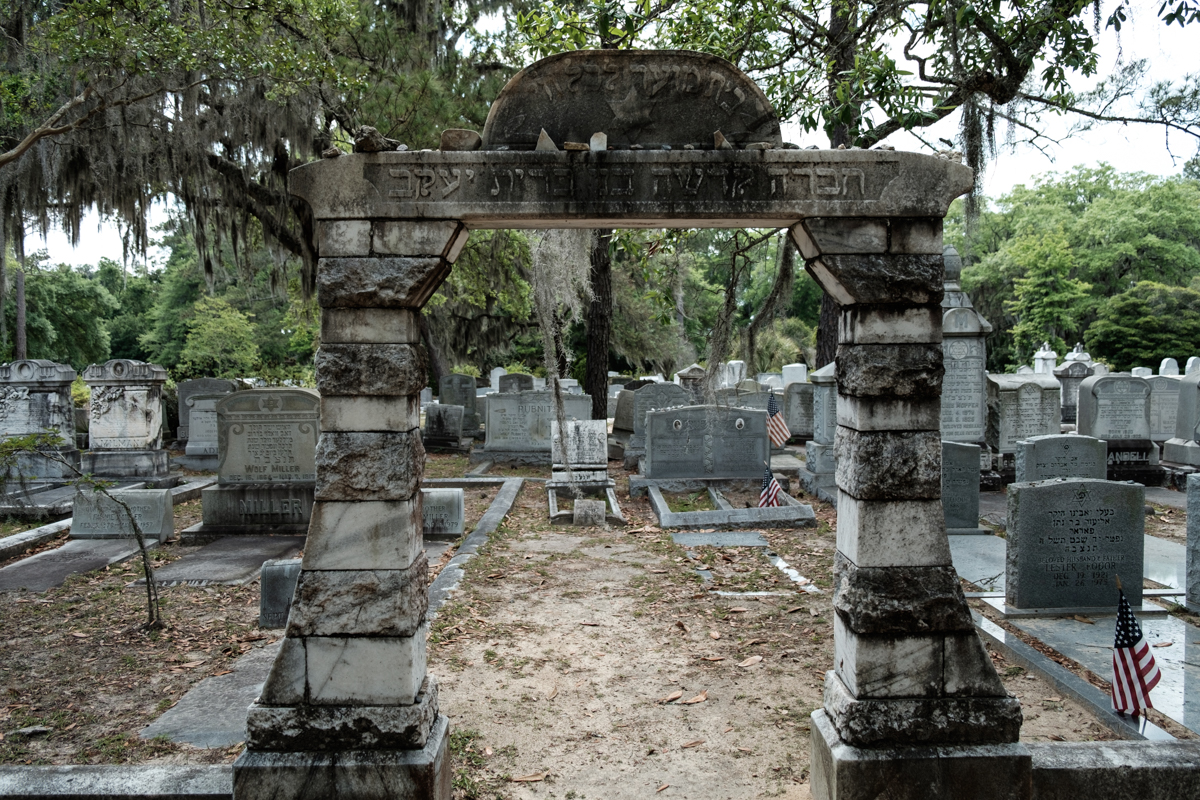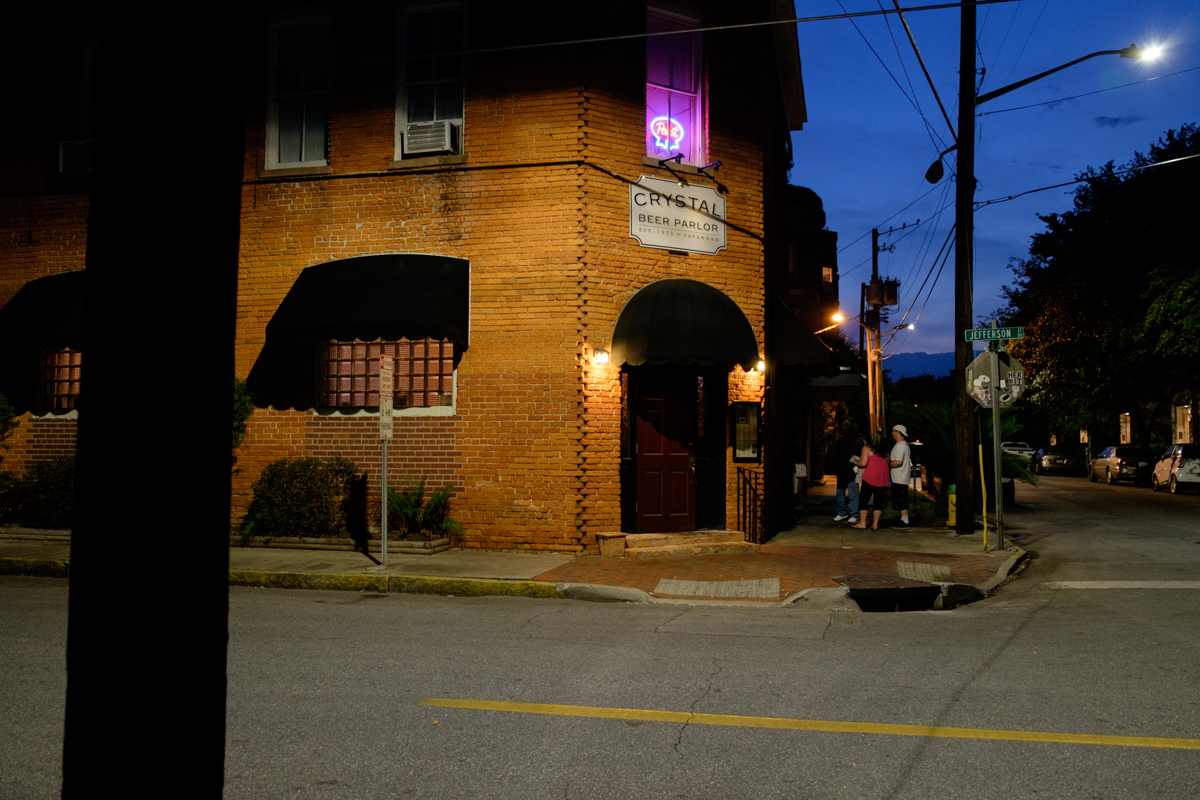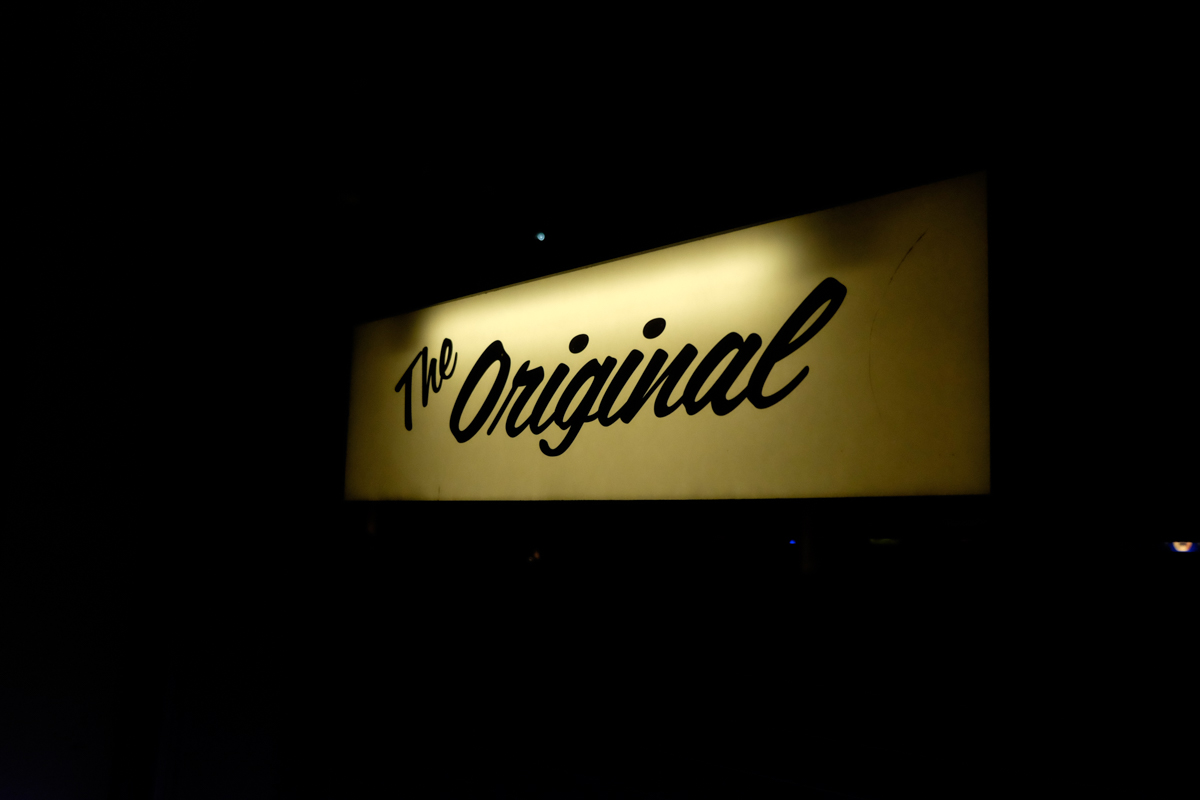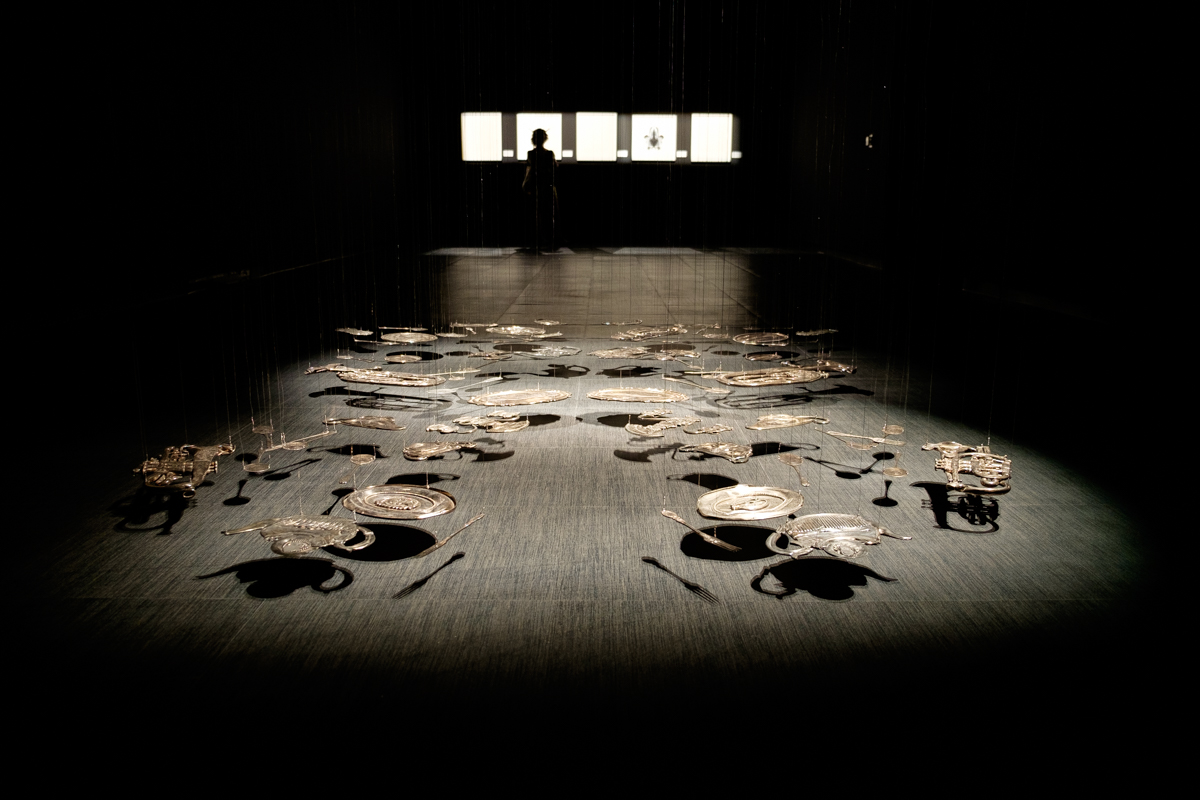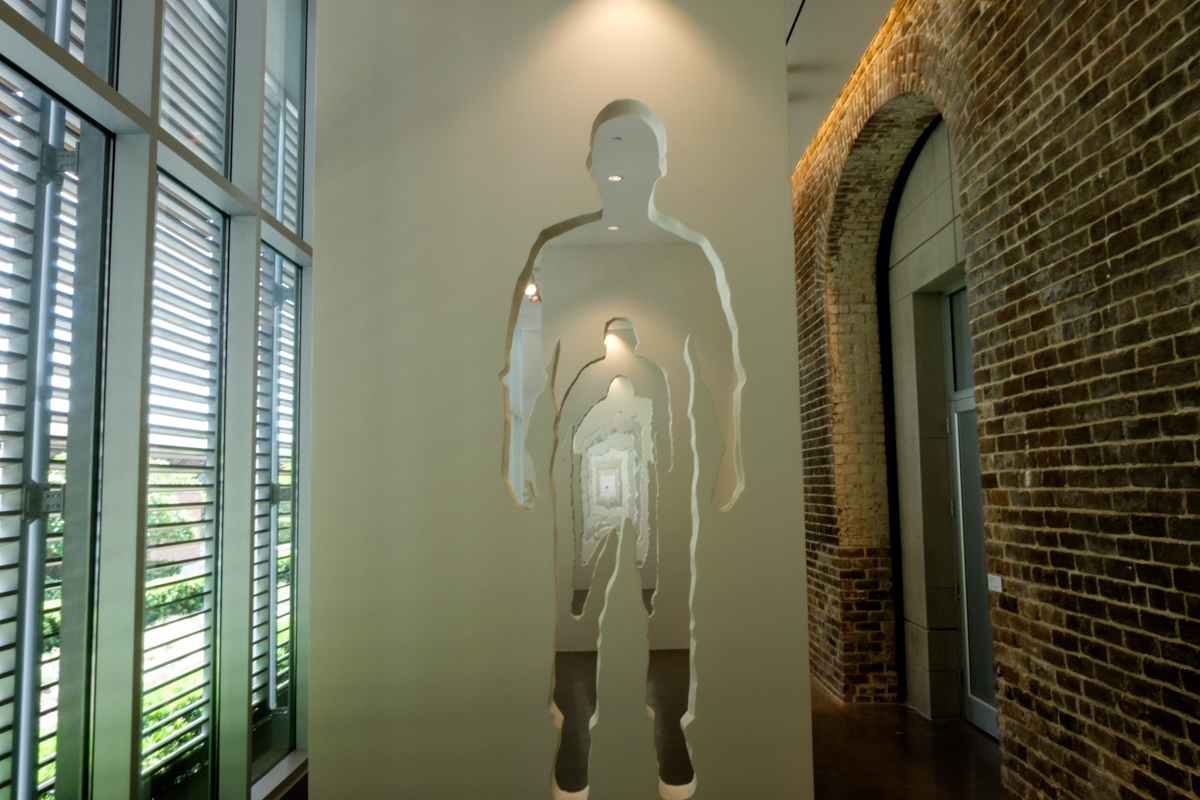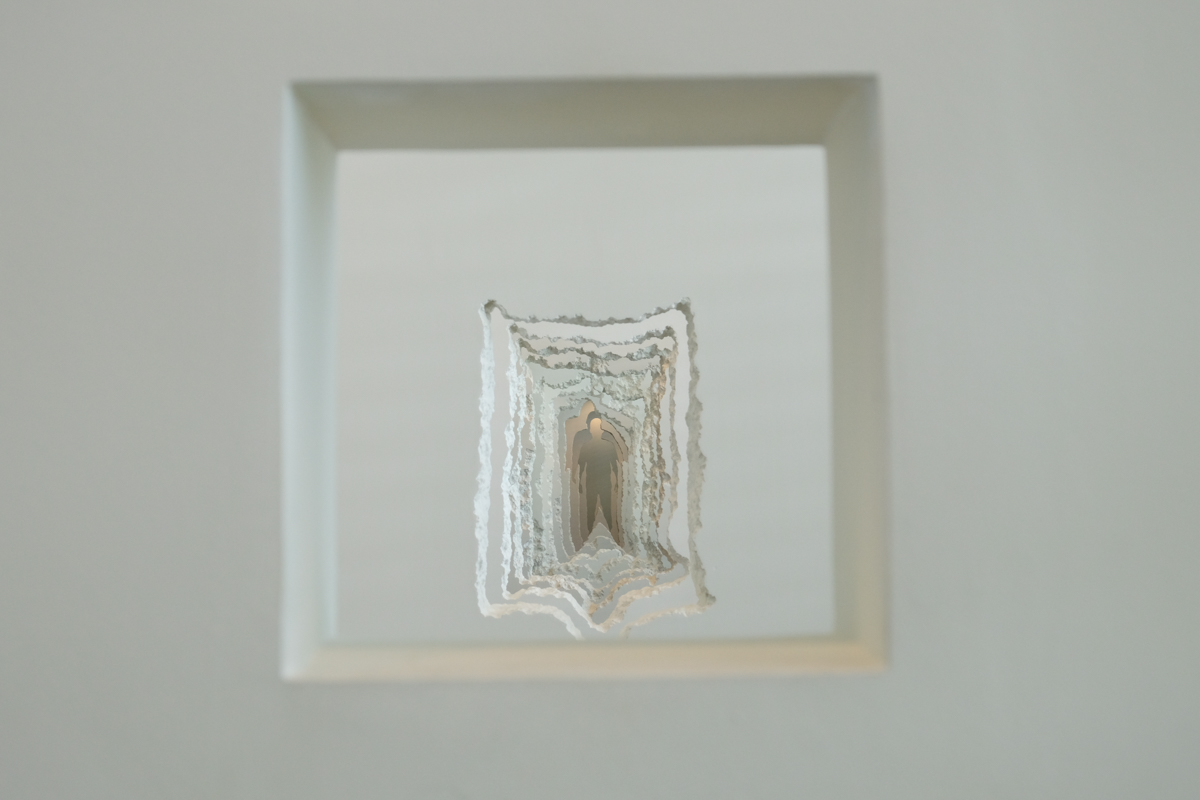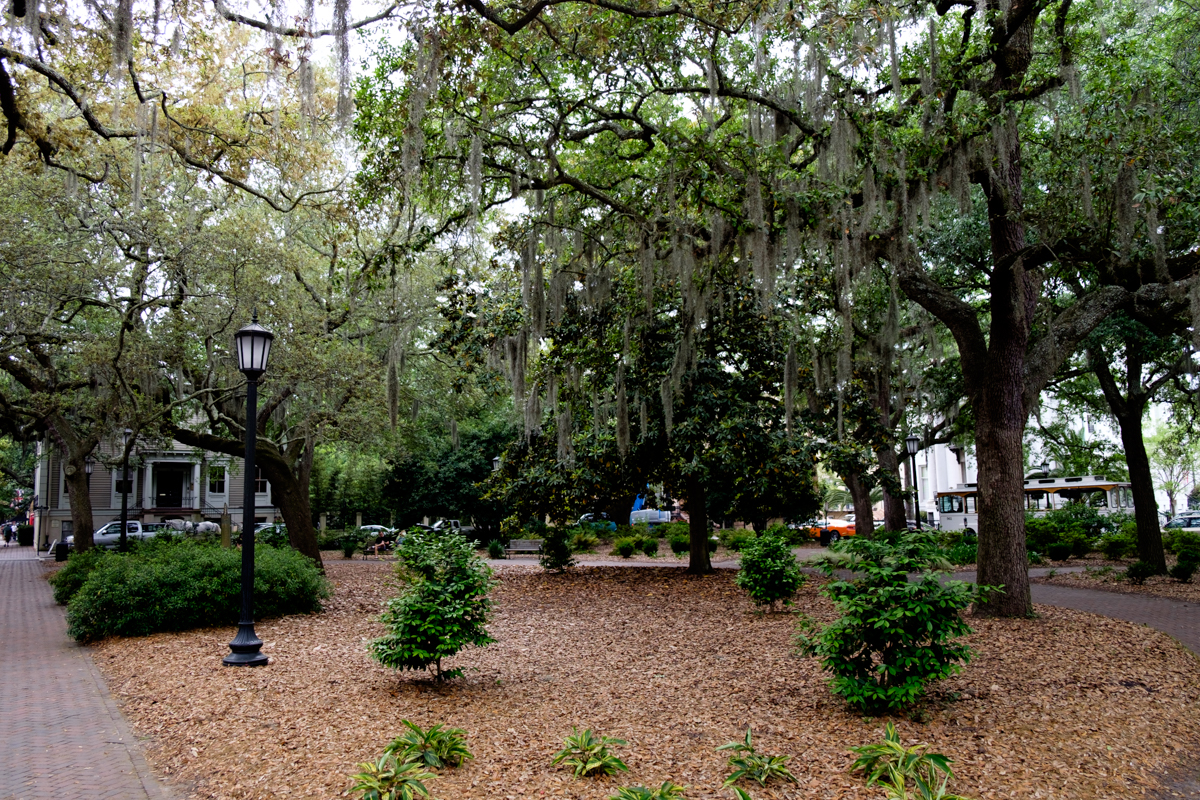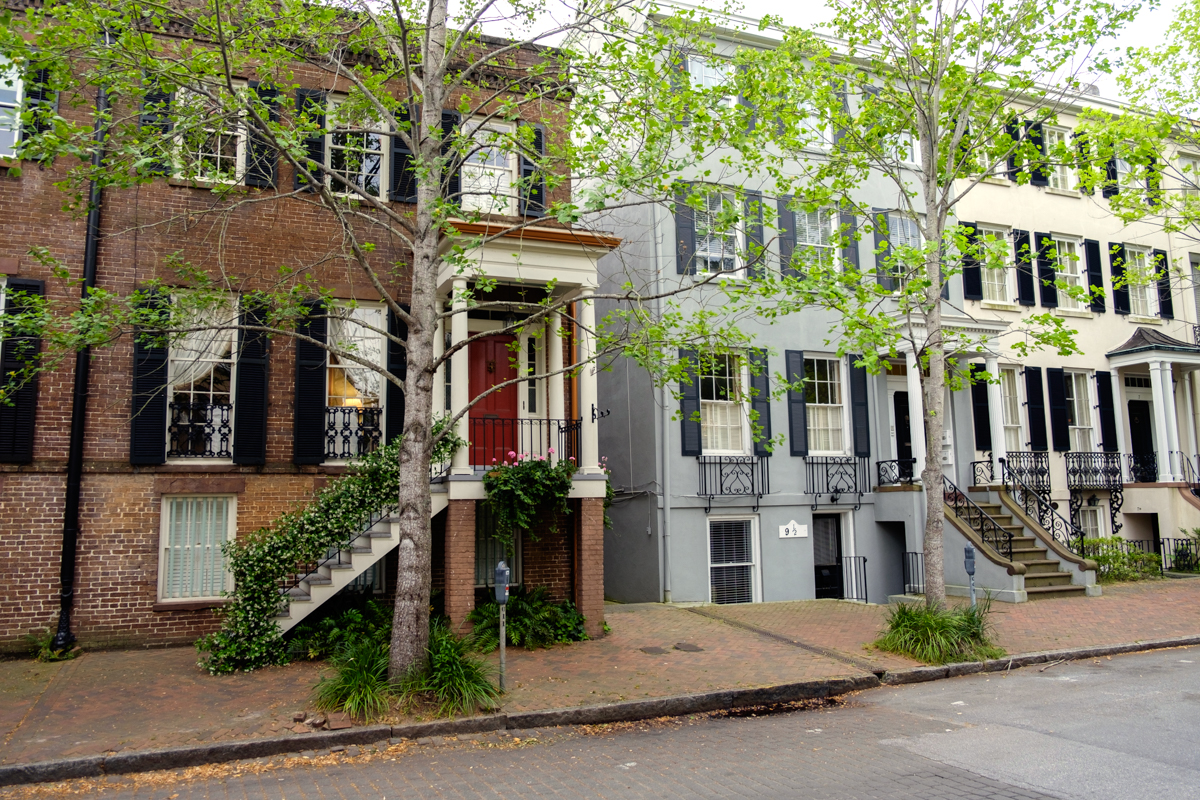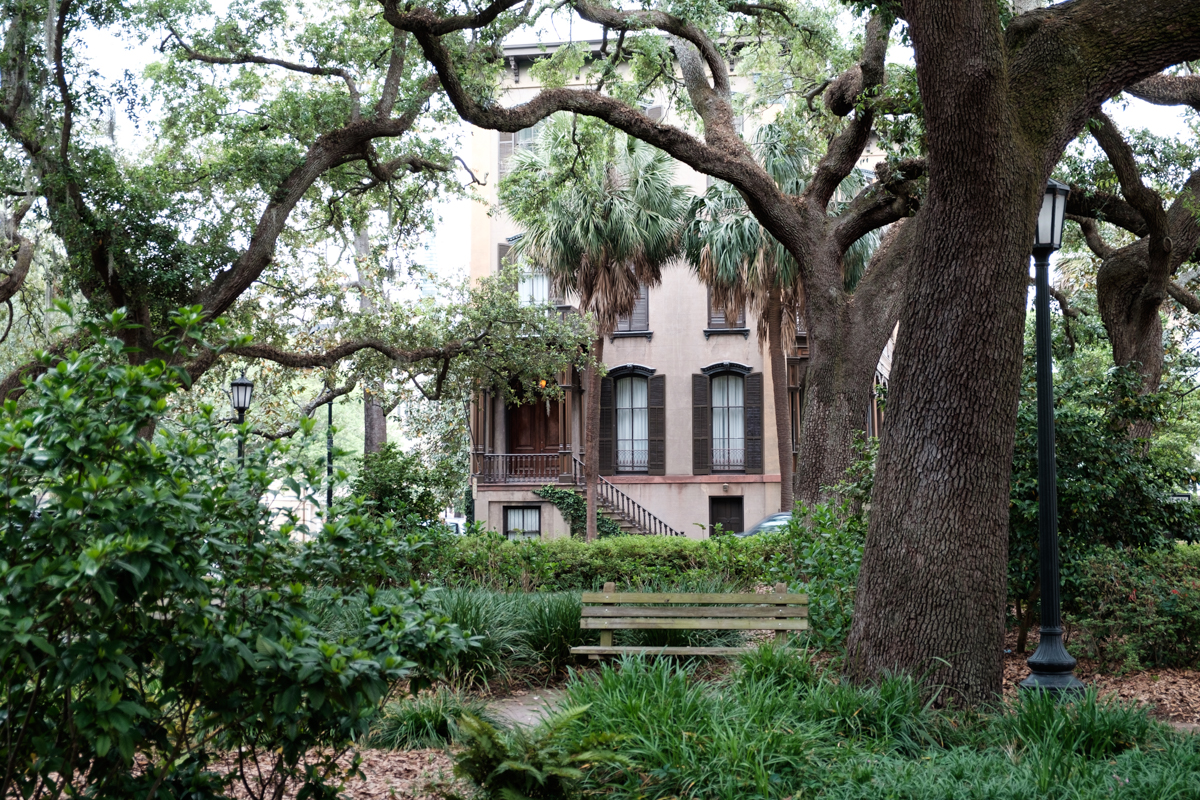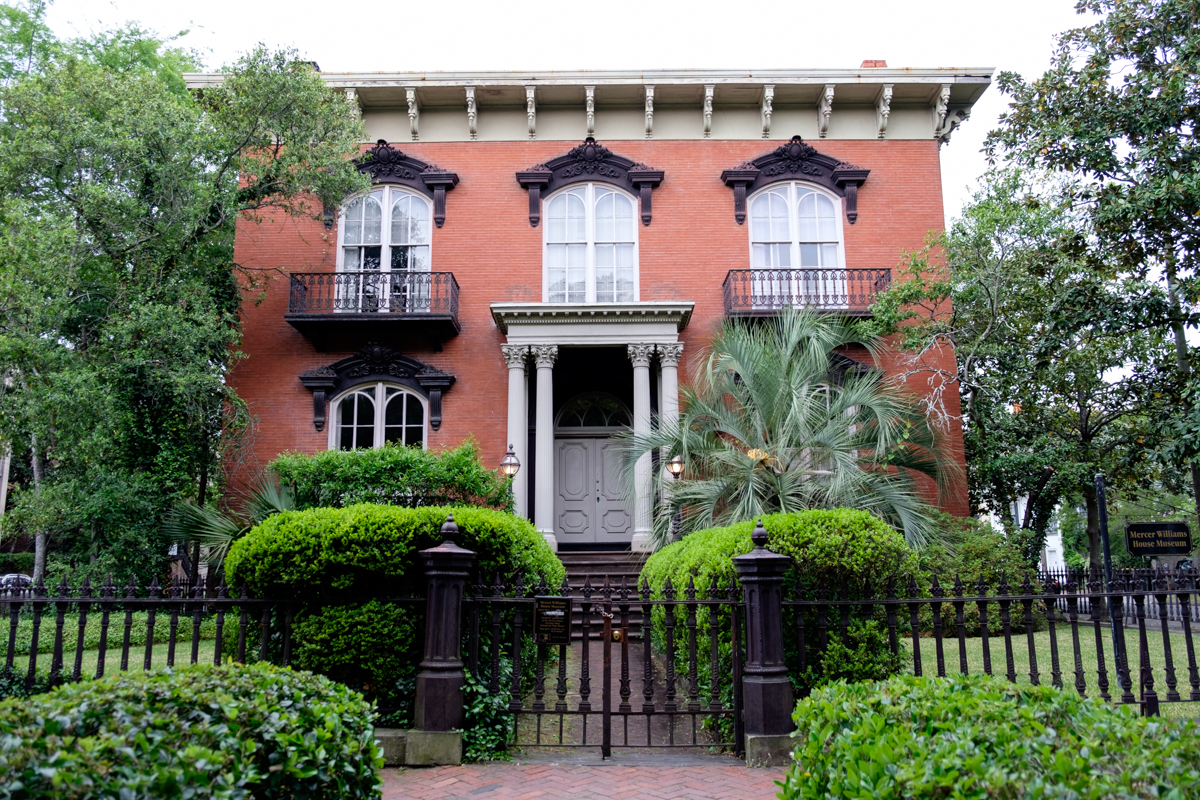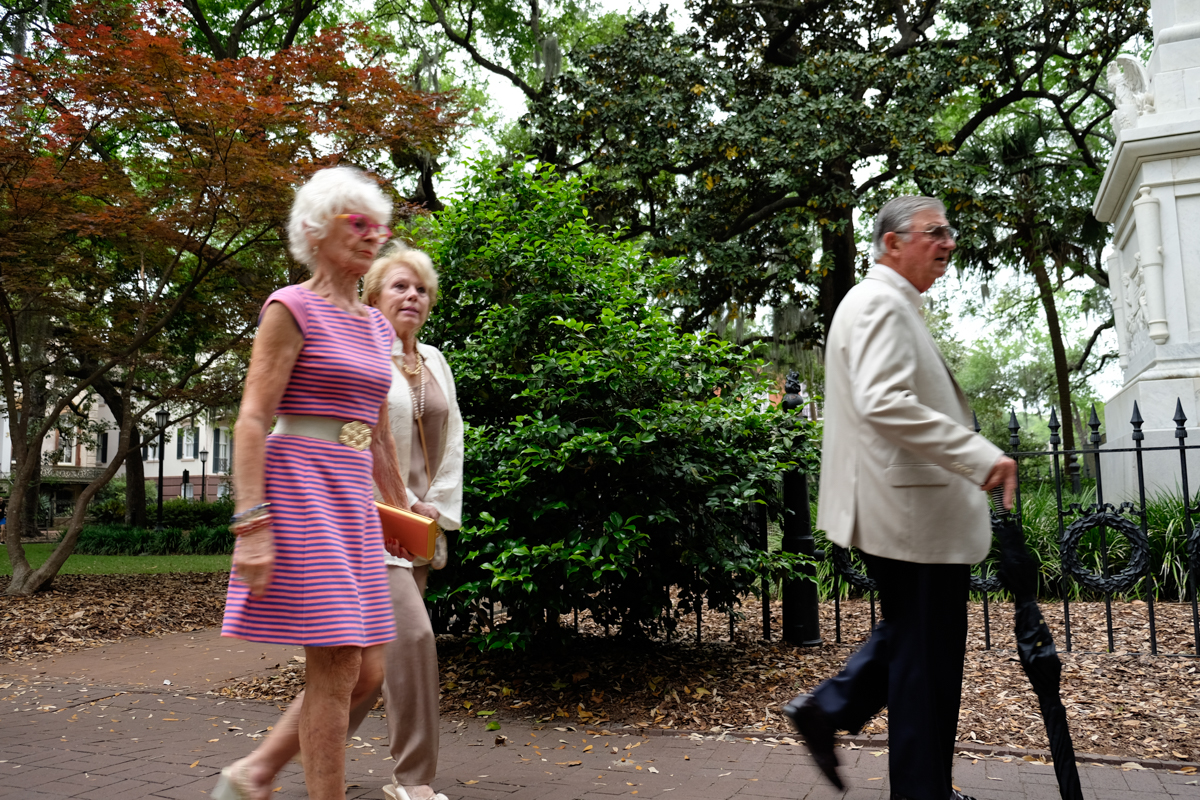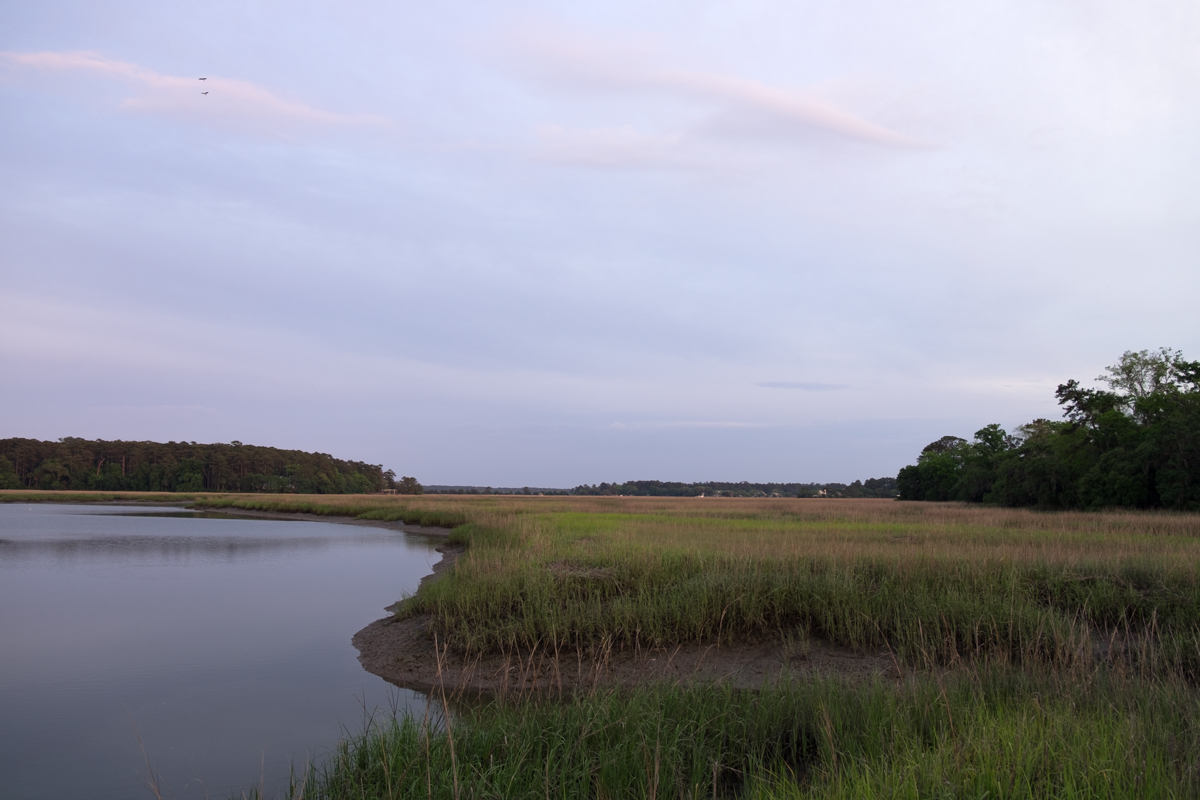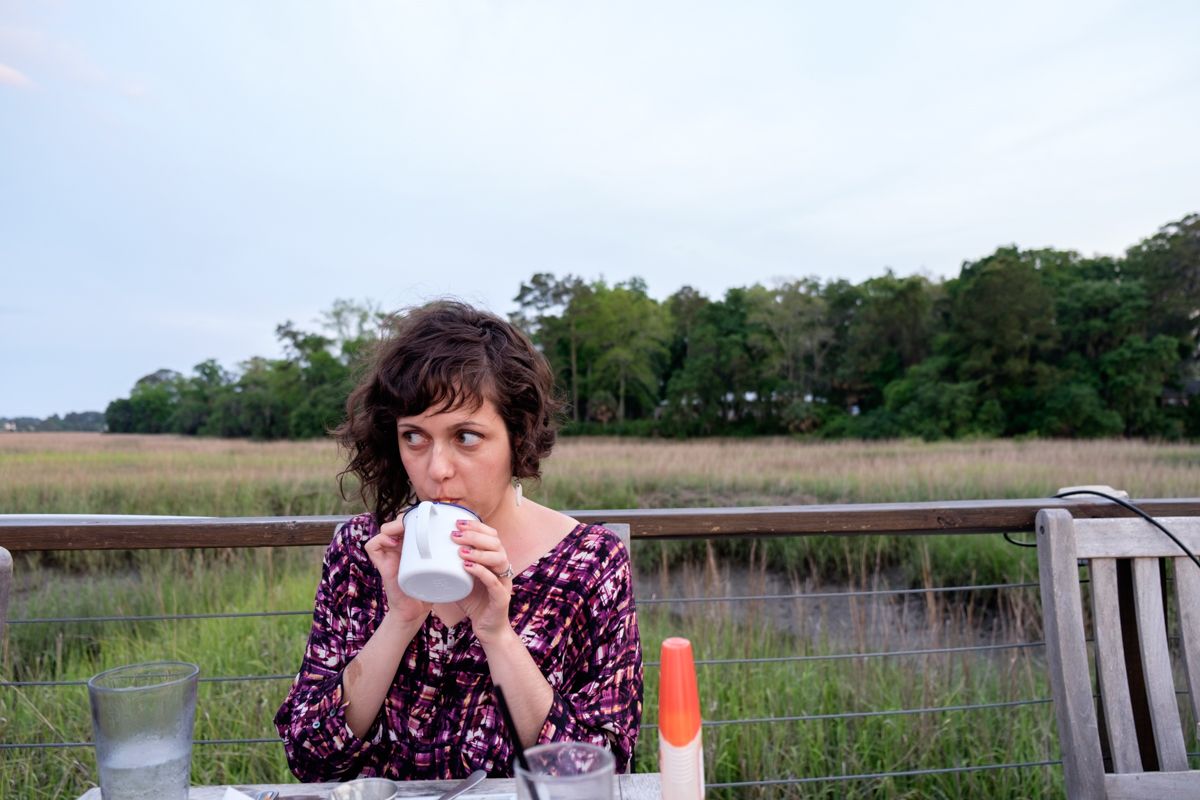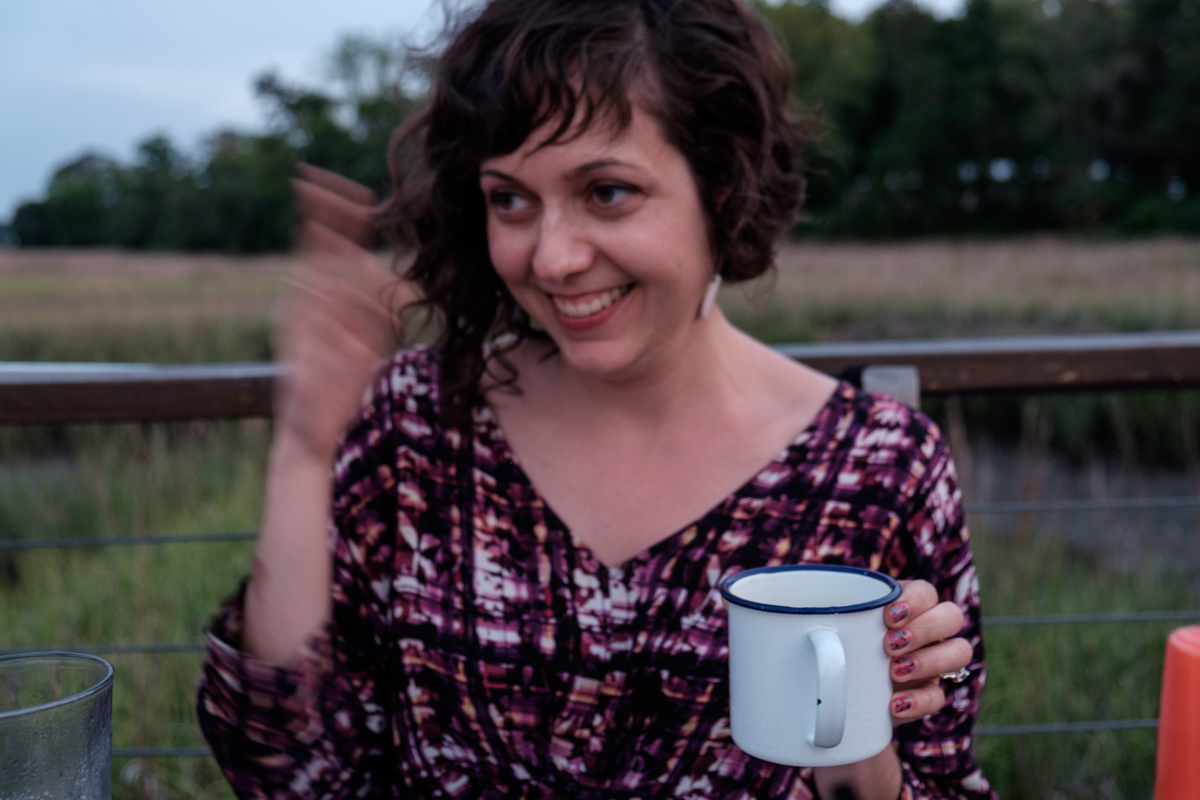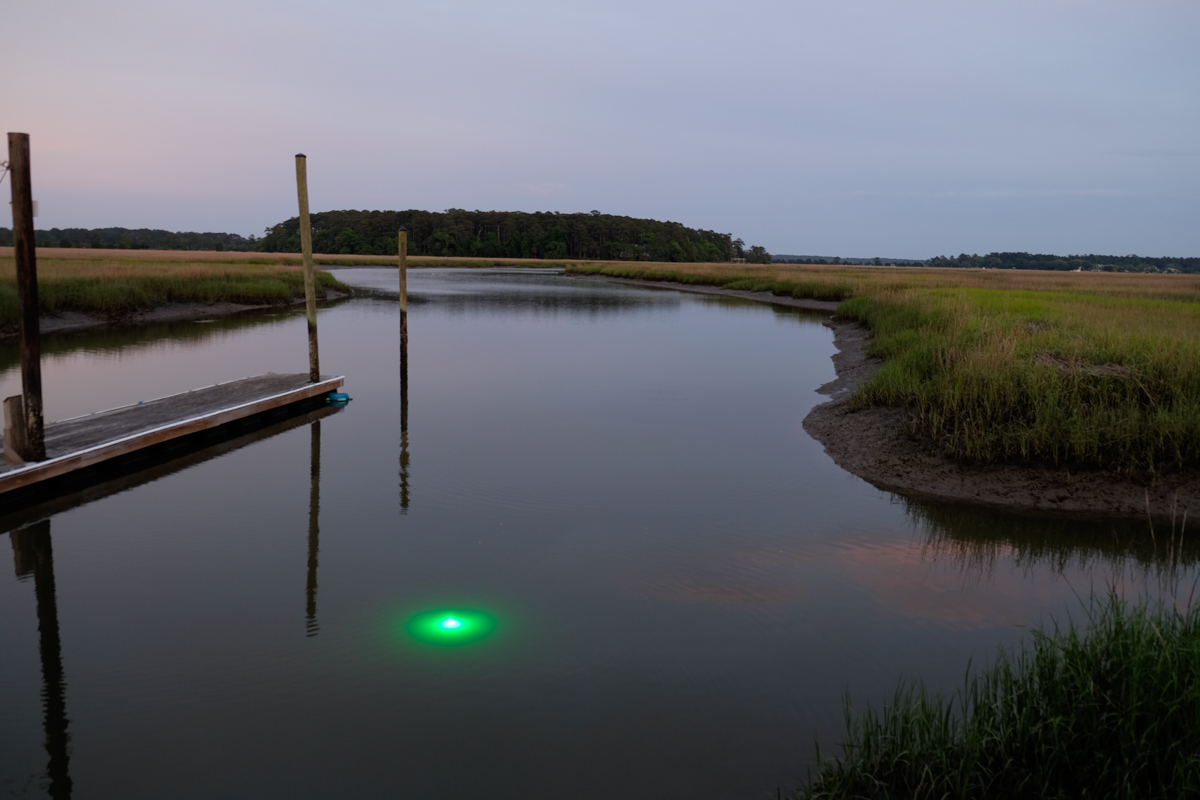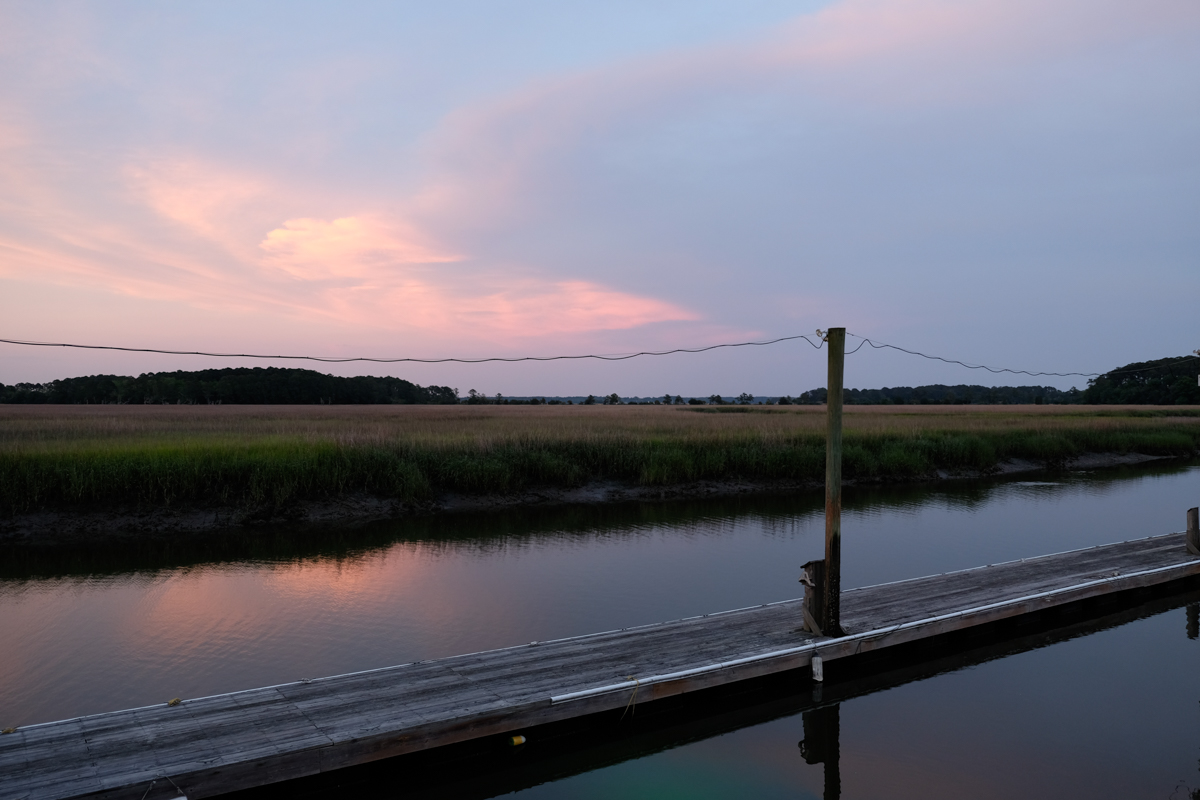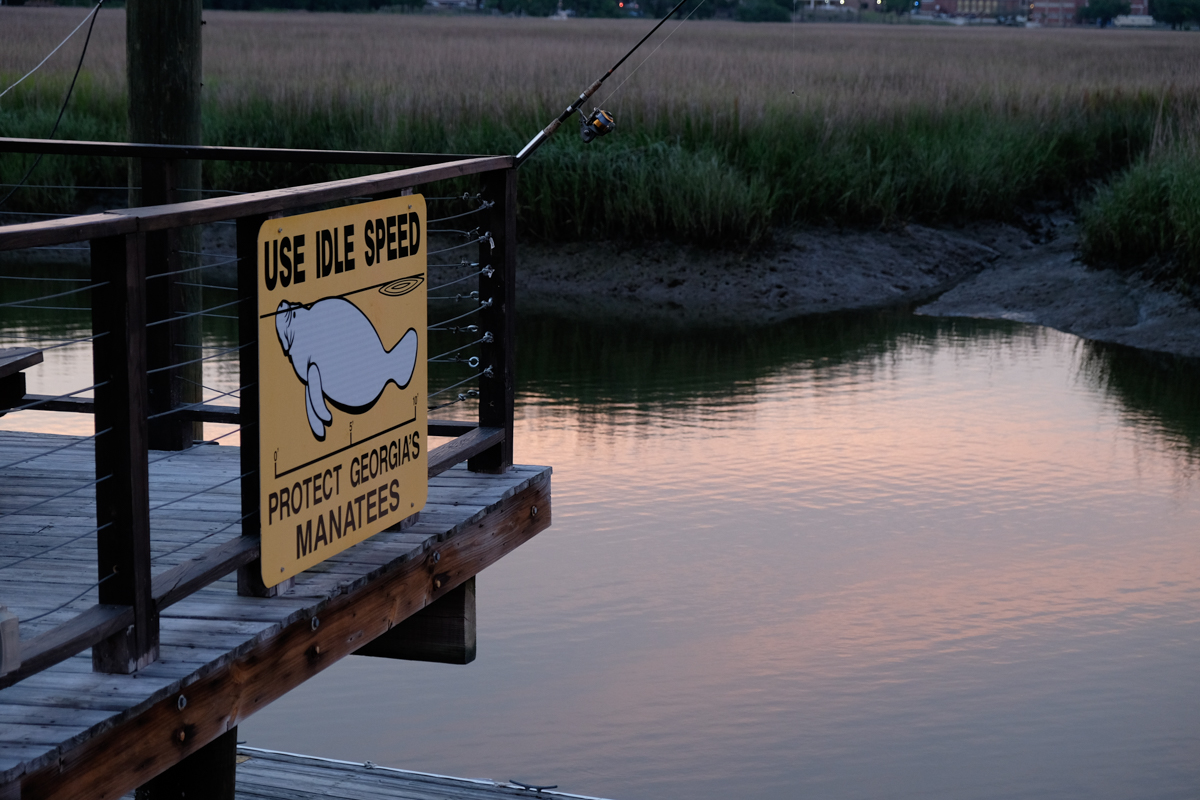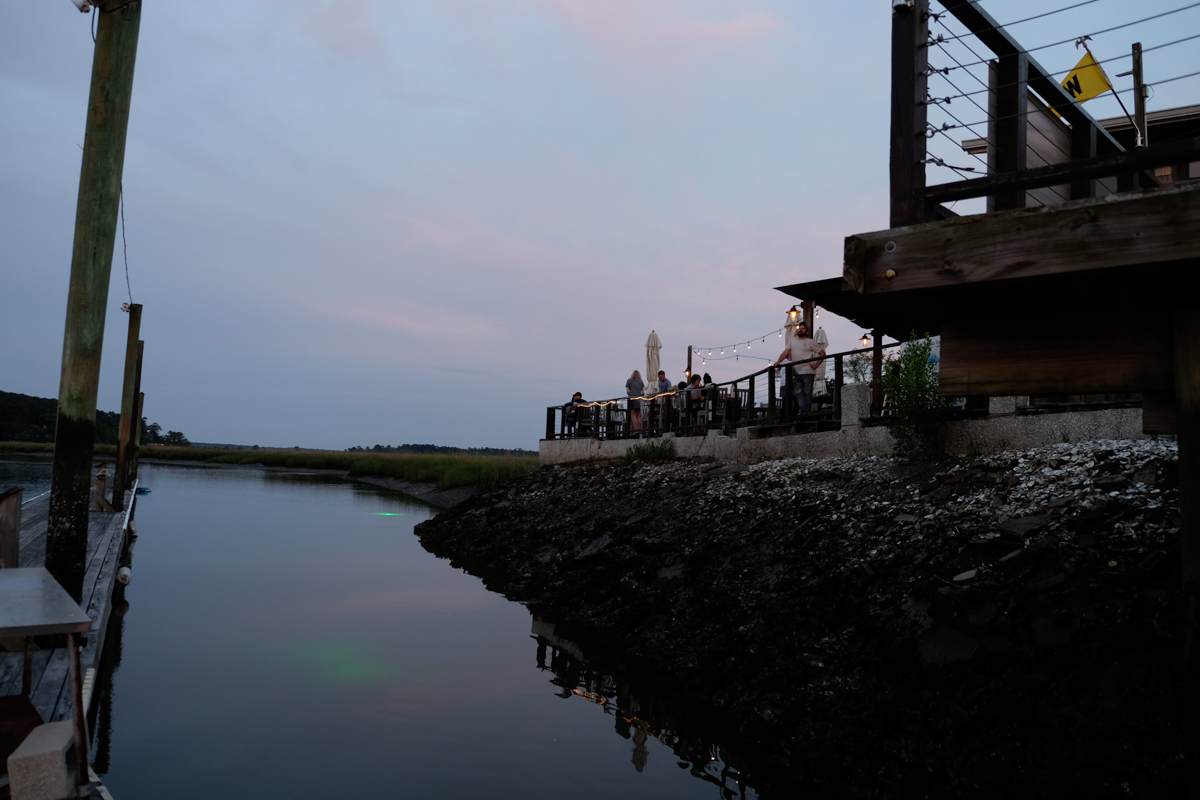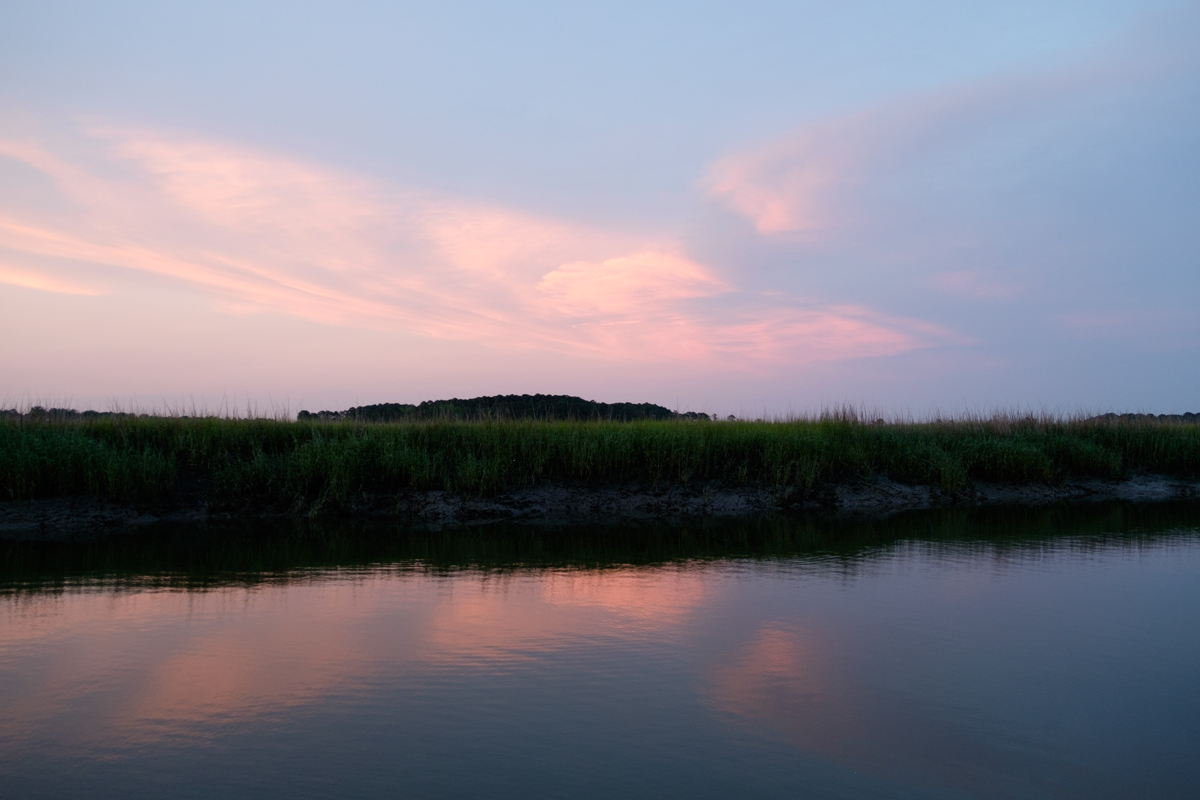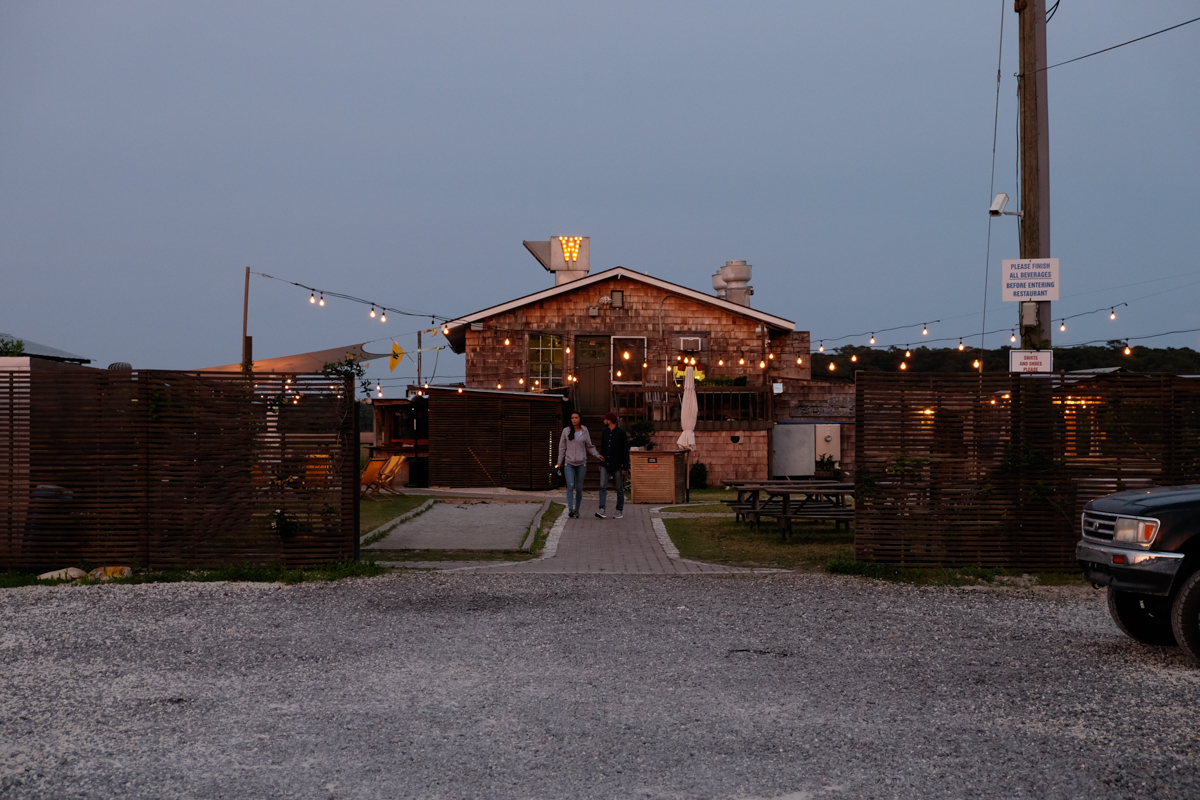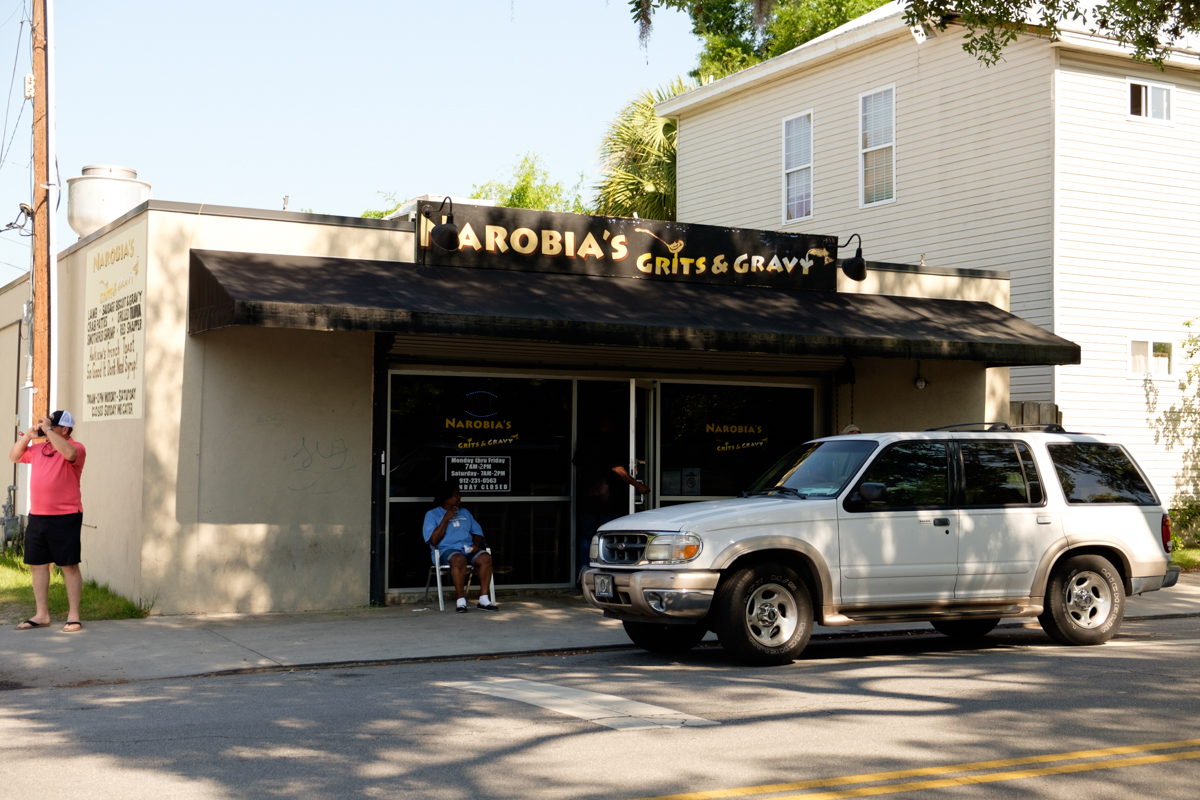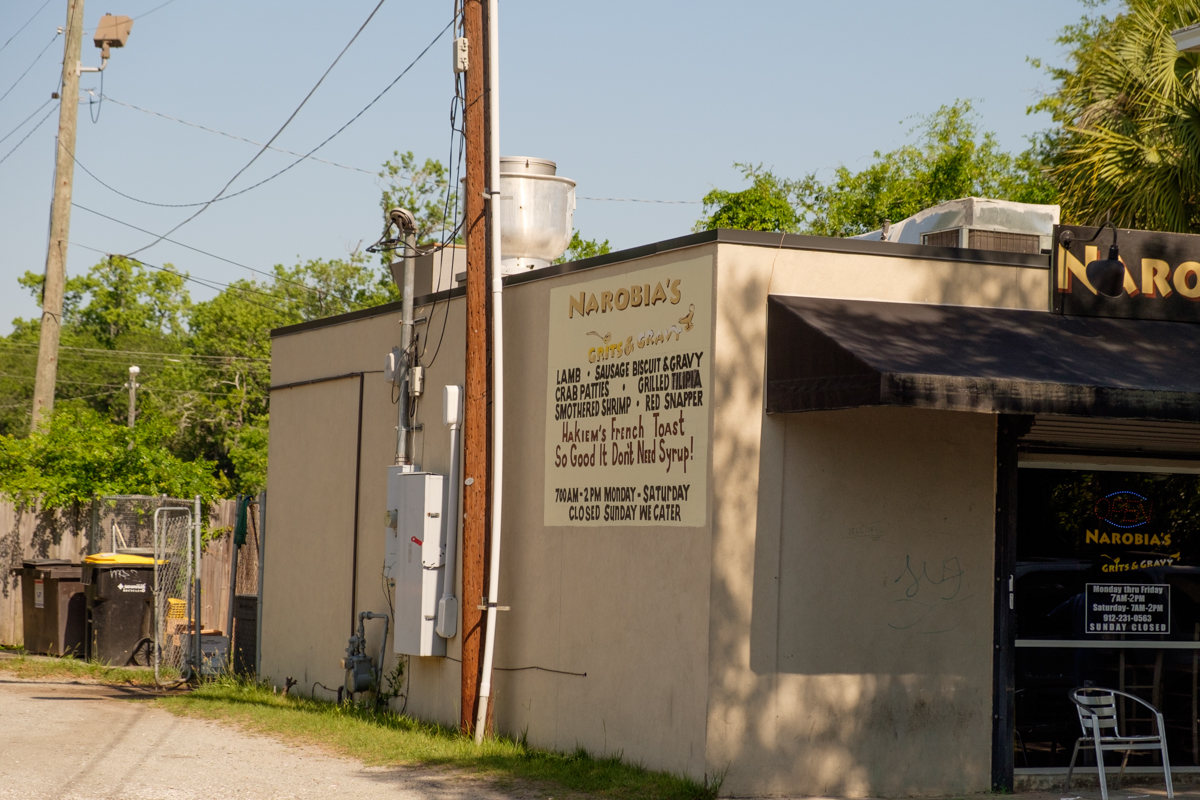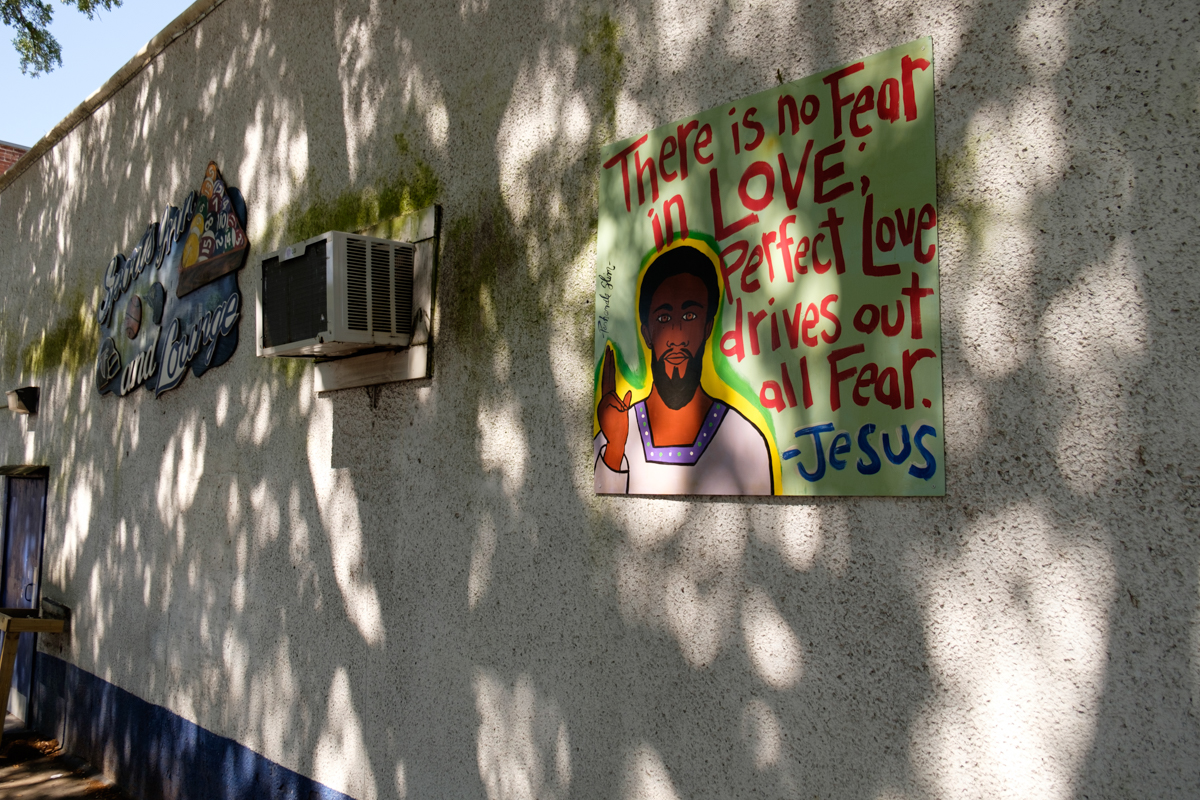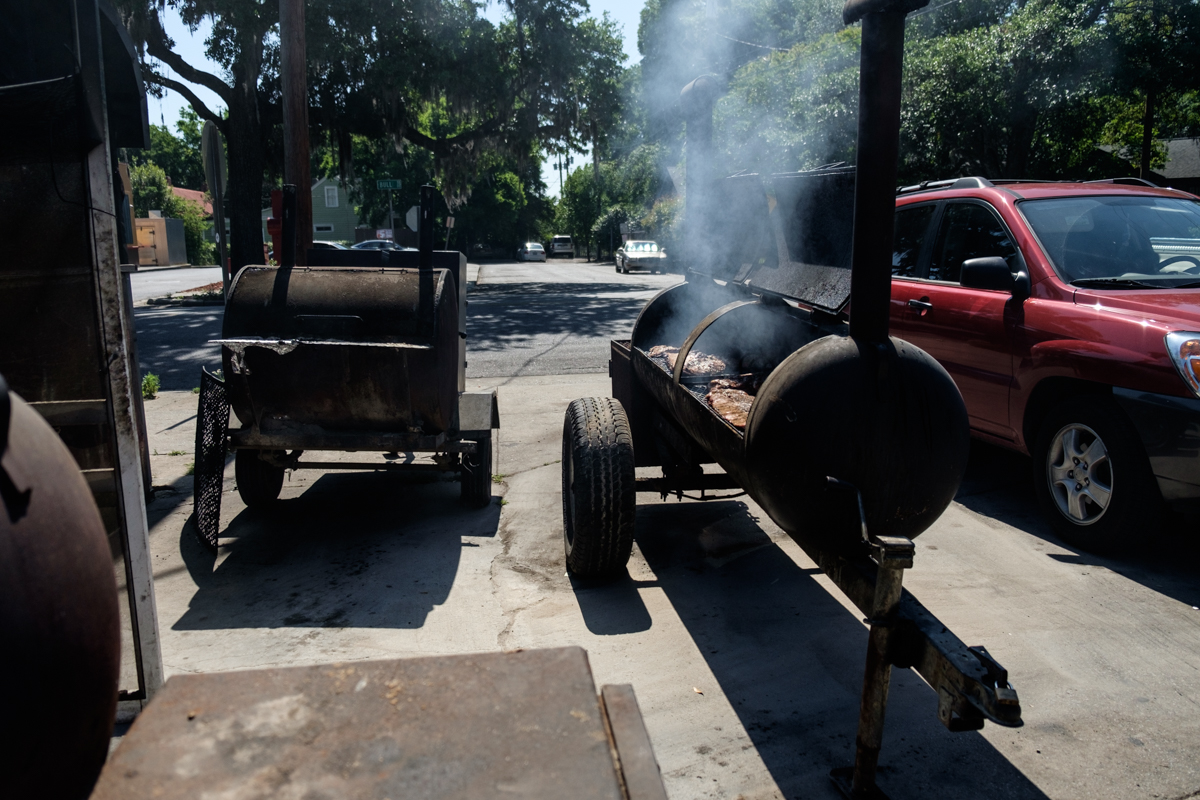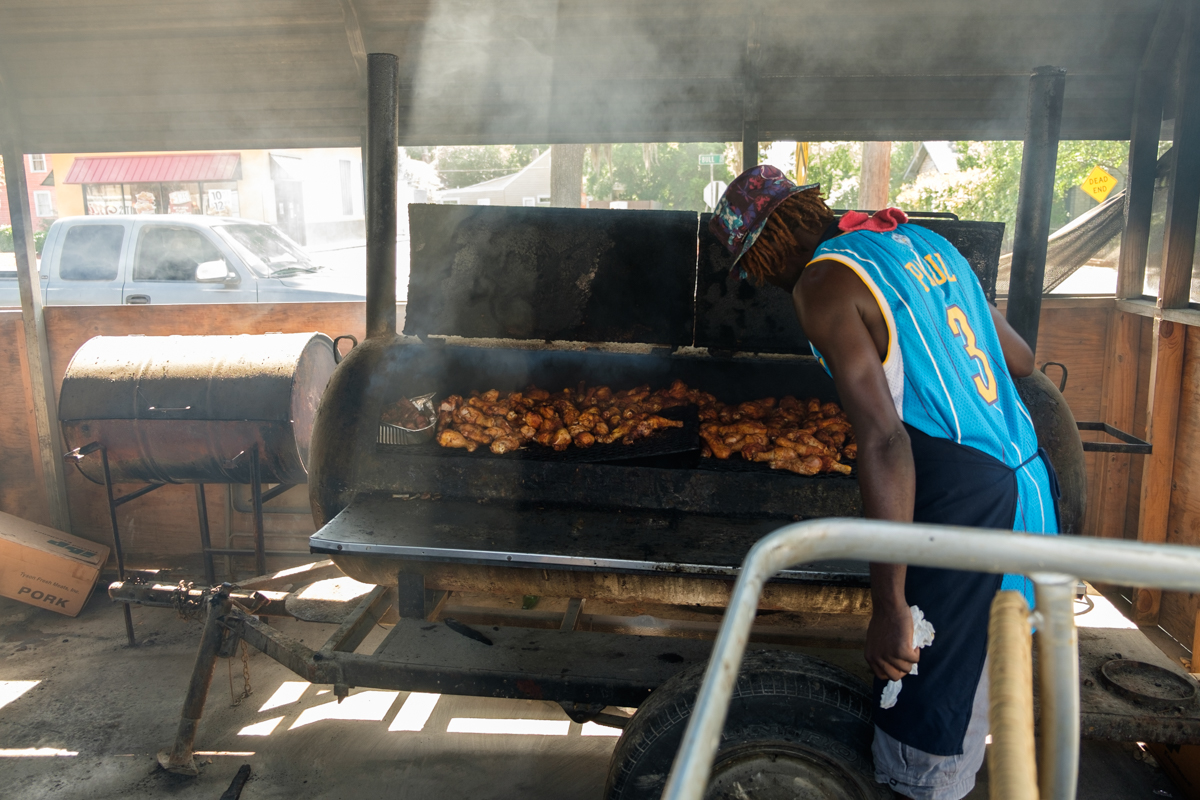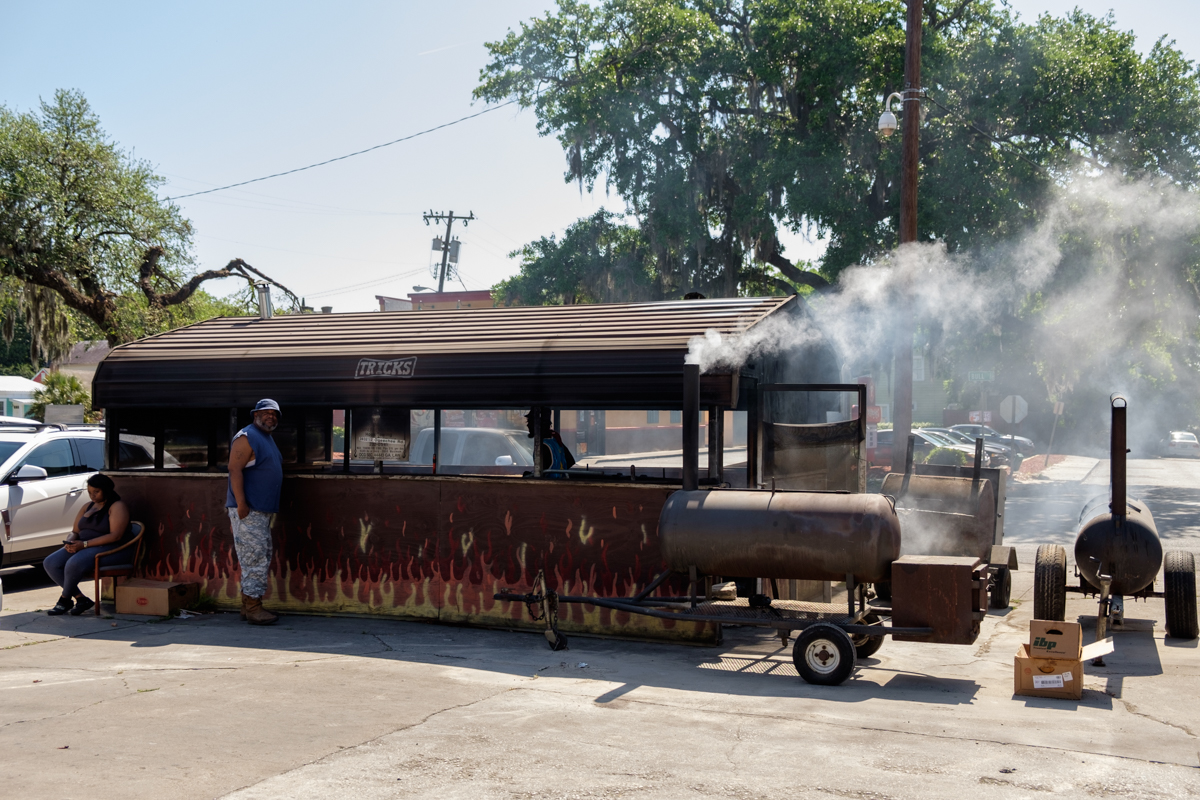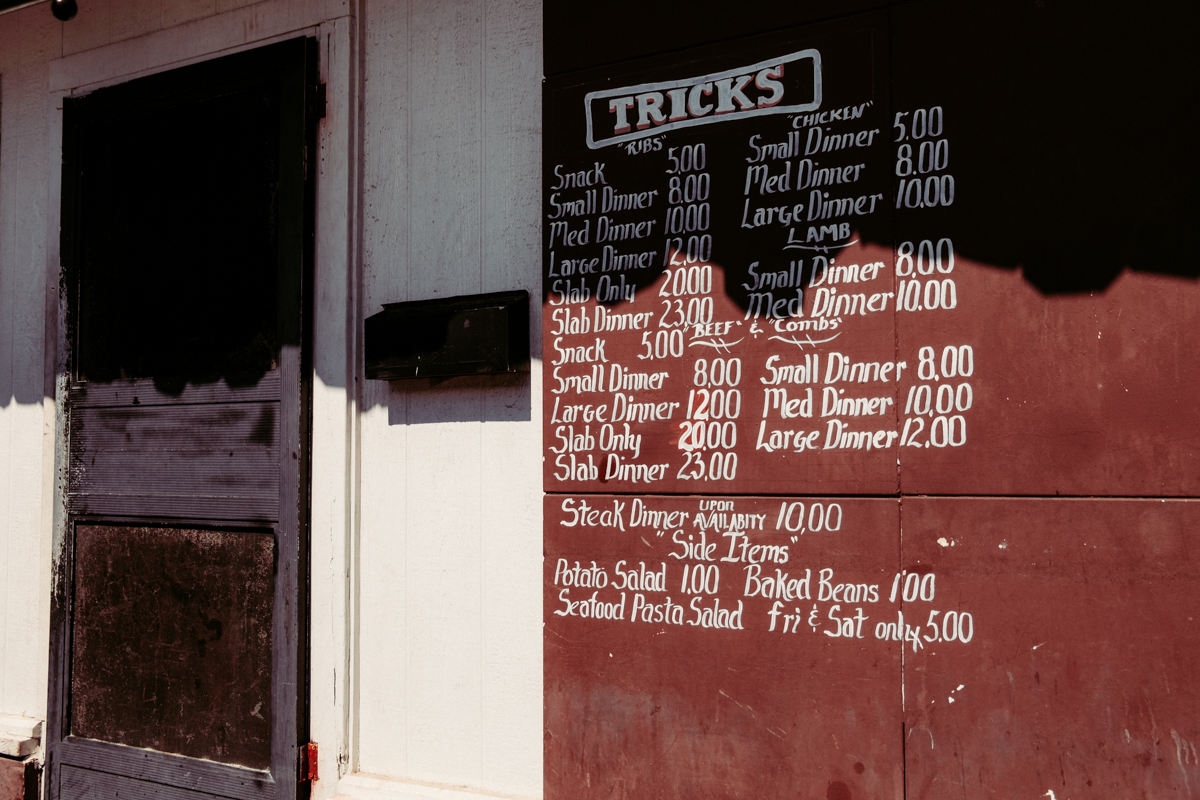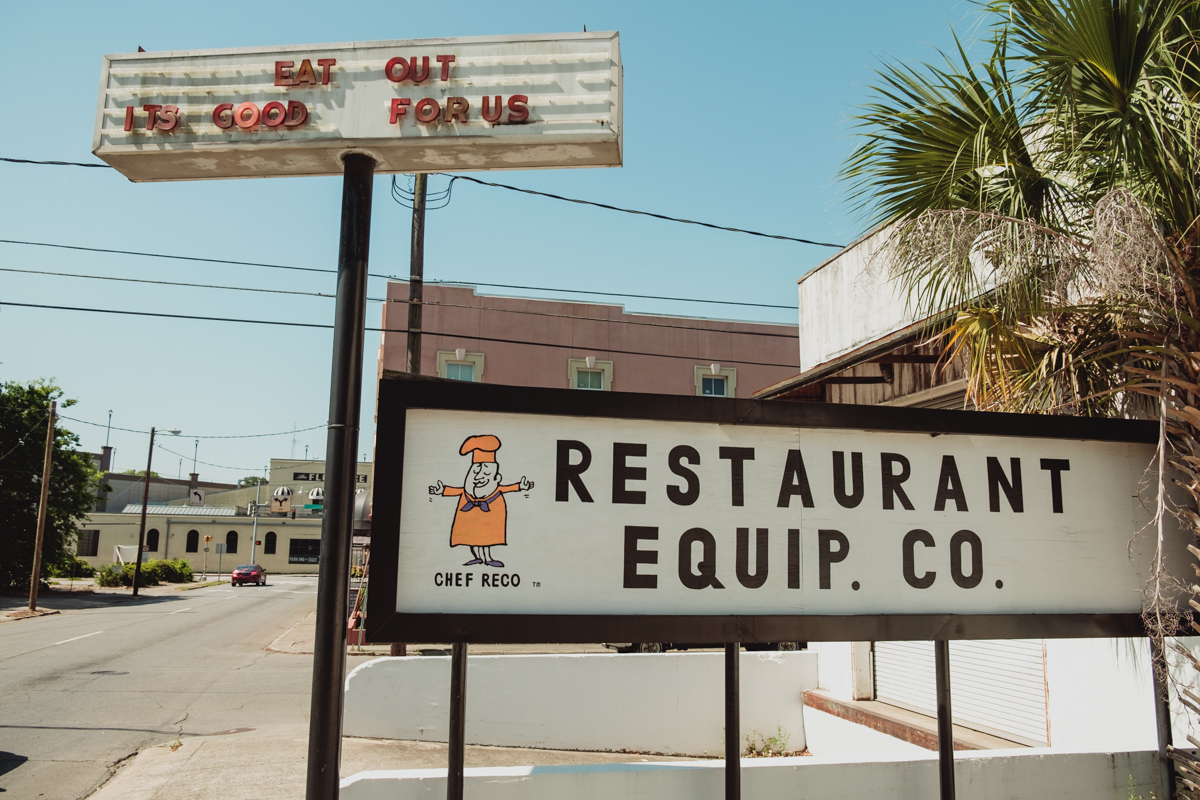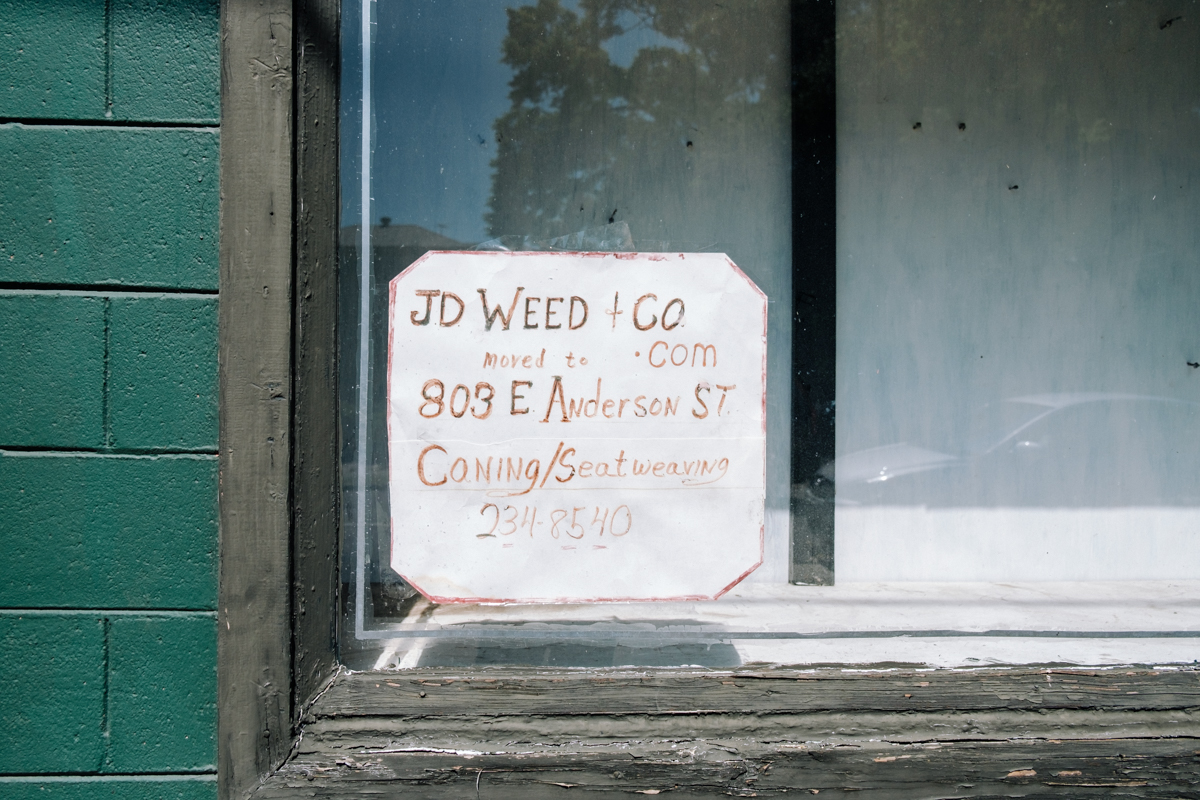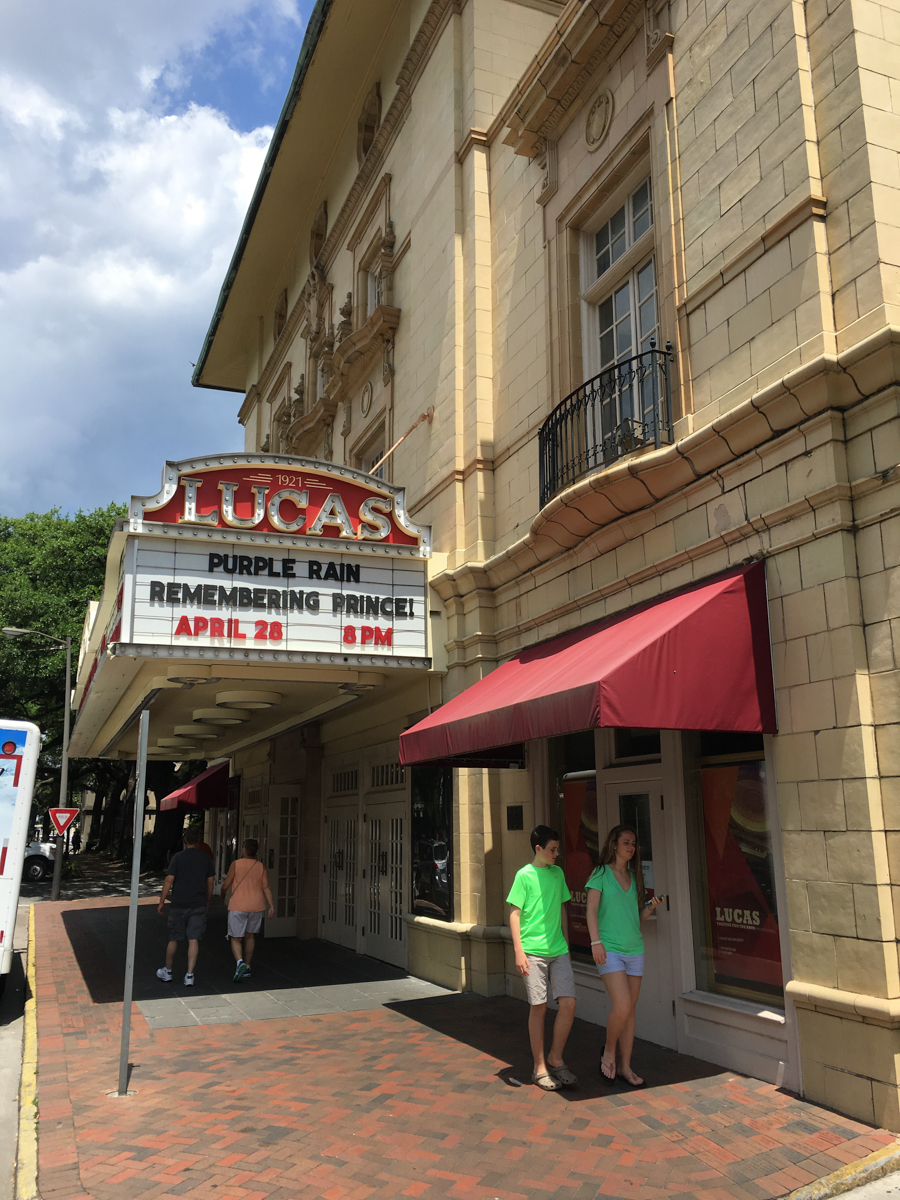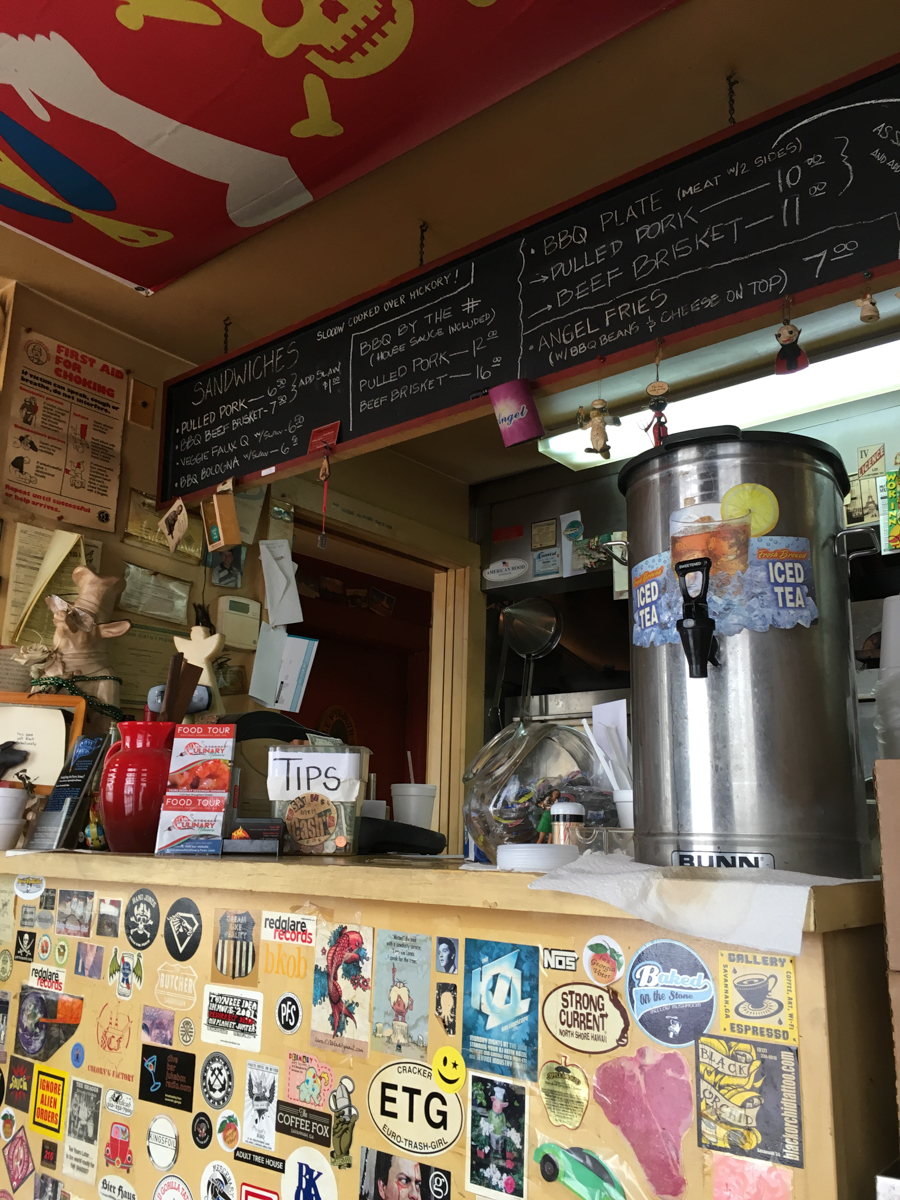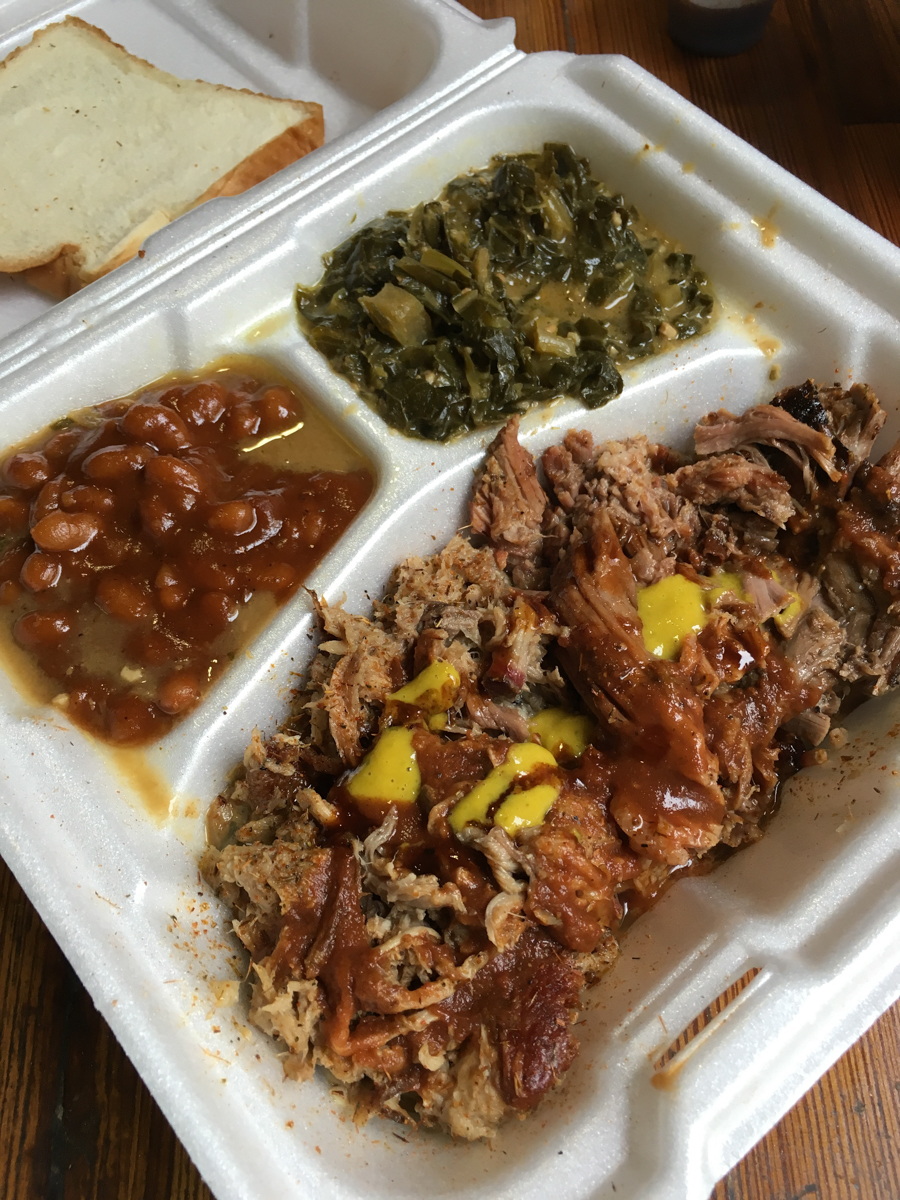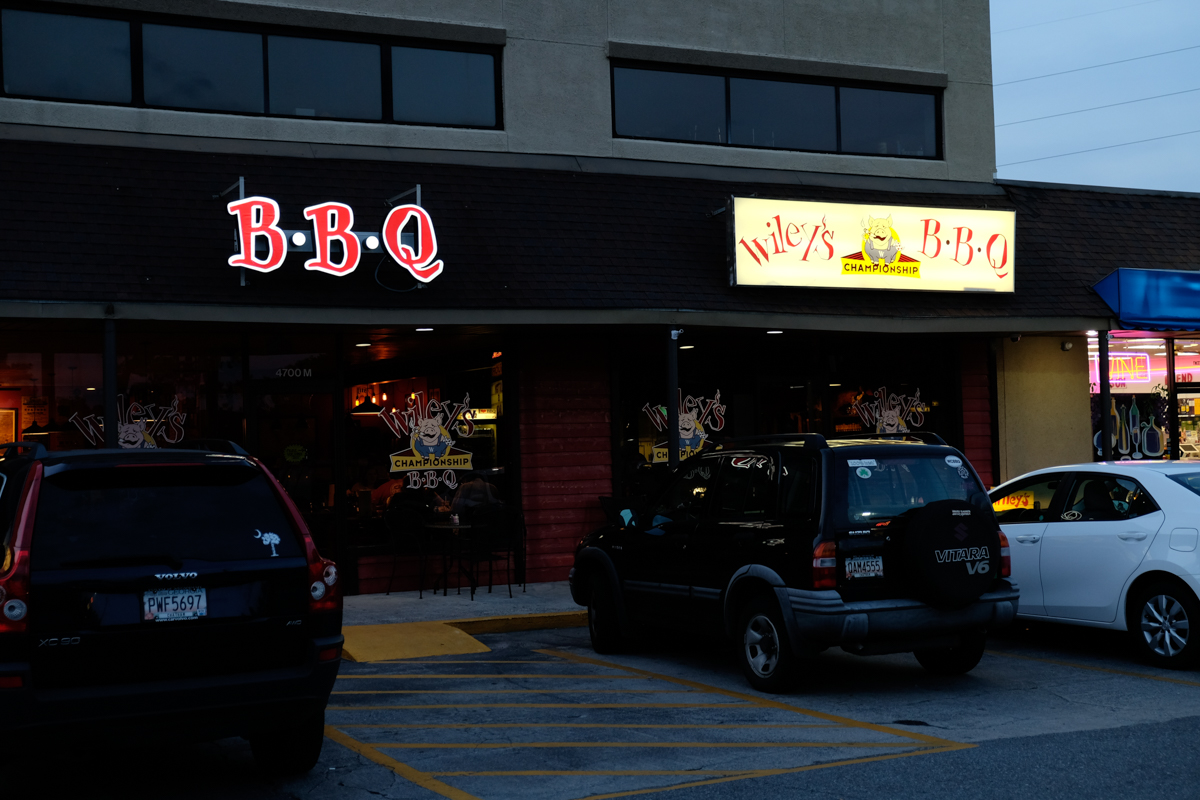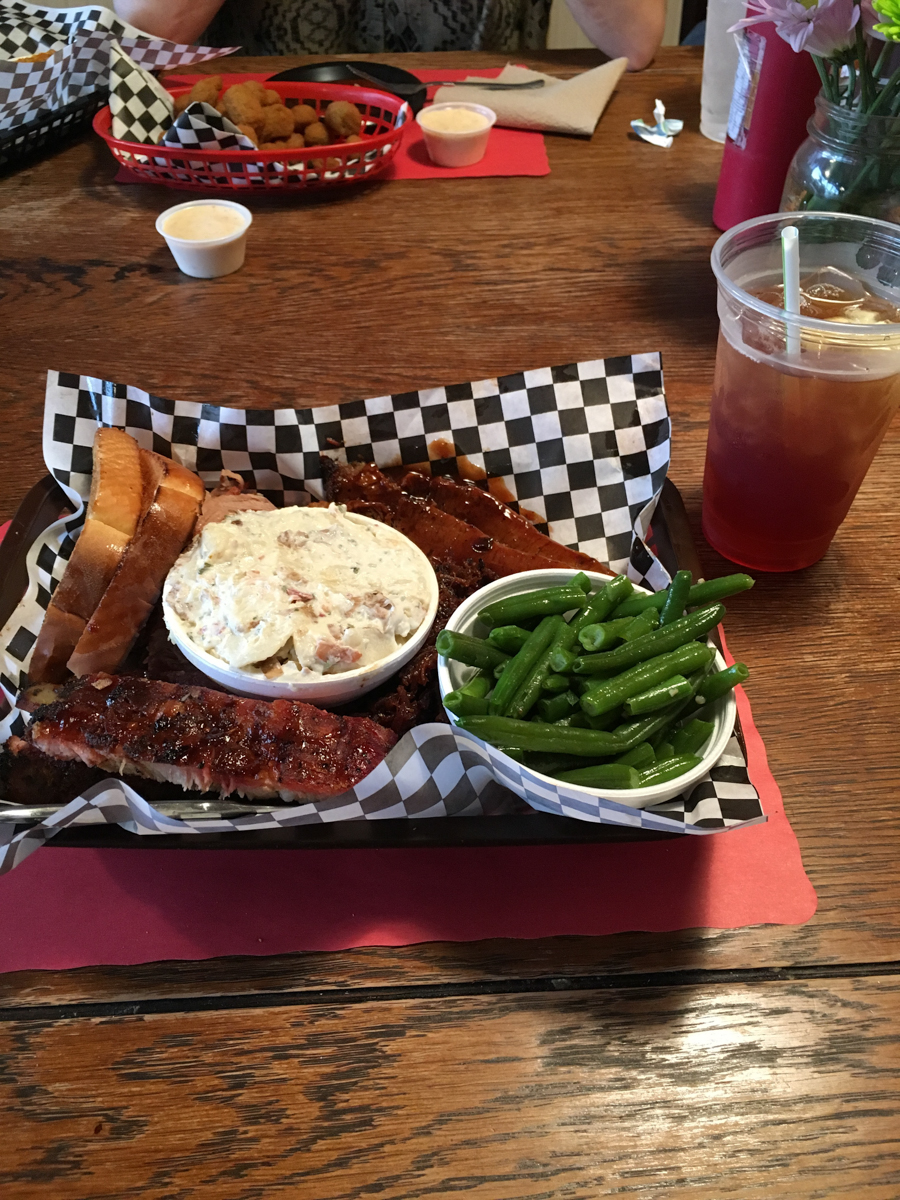 An our way back north through South Carolina, we stopped at the legendary Scott's BBQ. Another one of those places where politicians have to visit, and more pulled pork for Dan.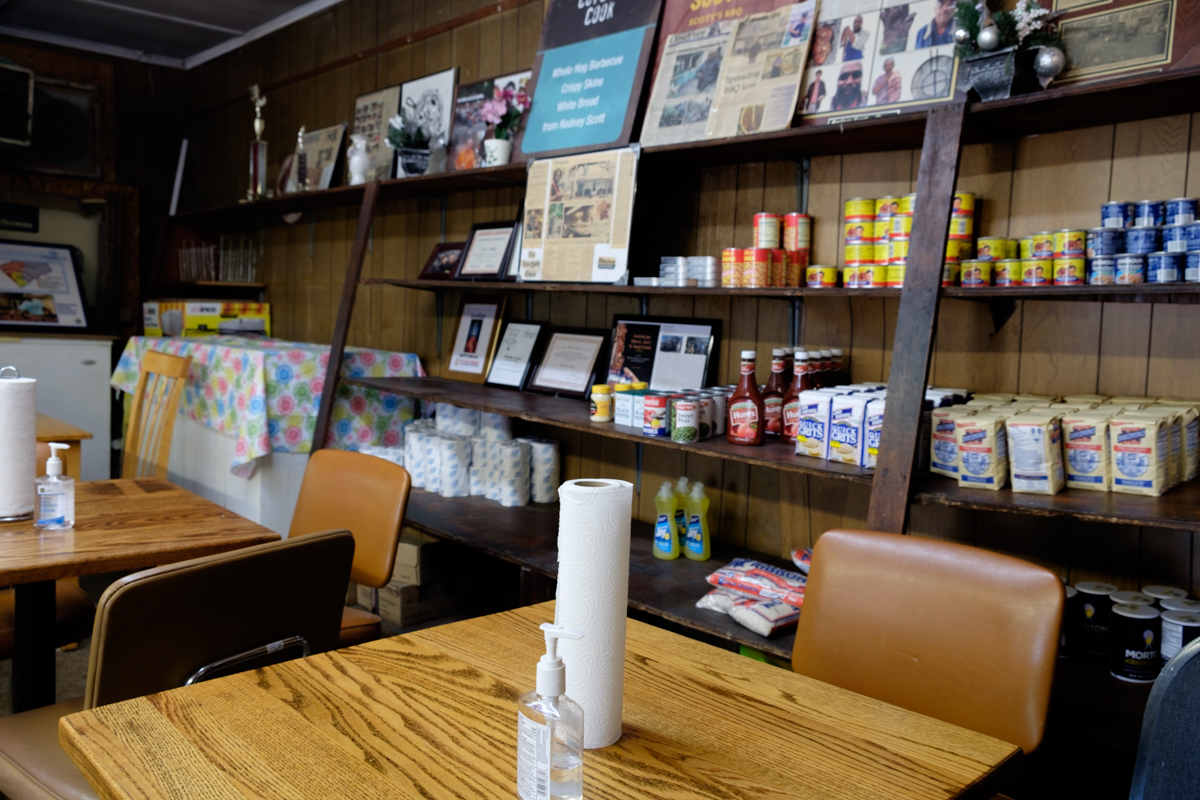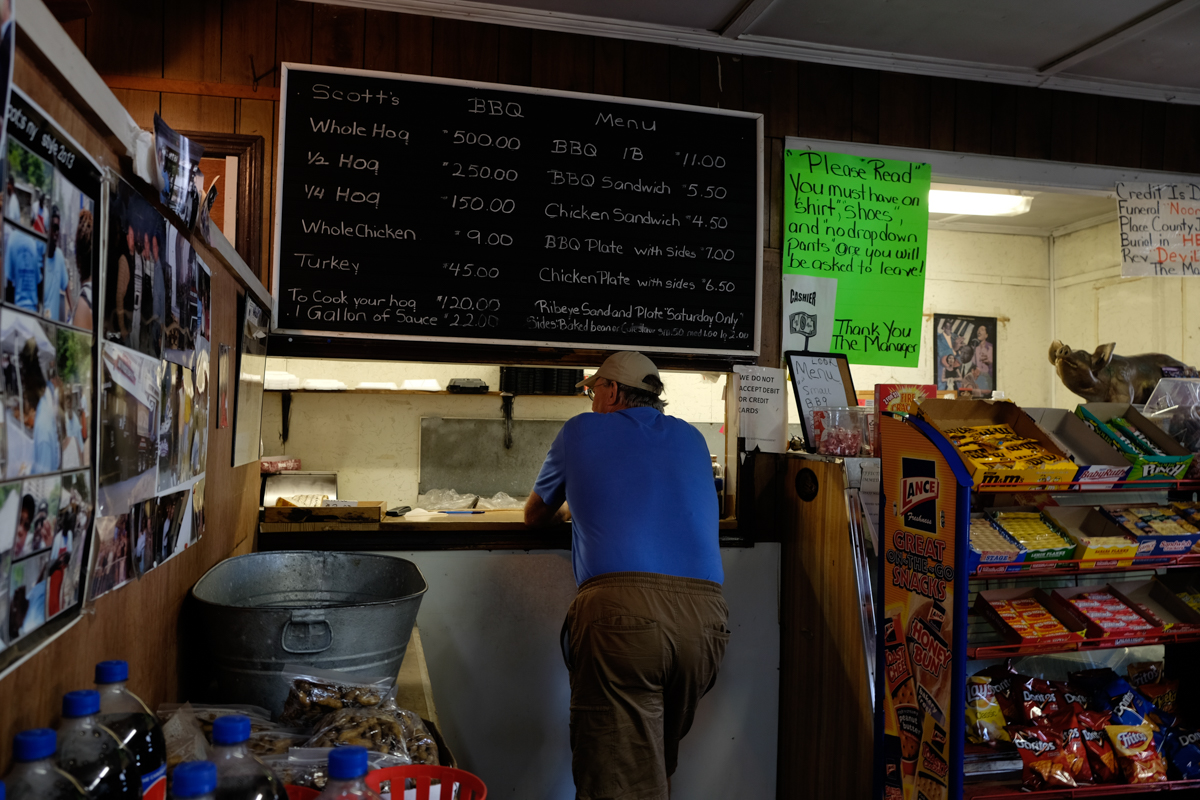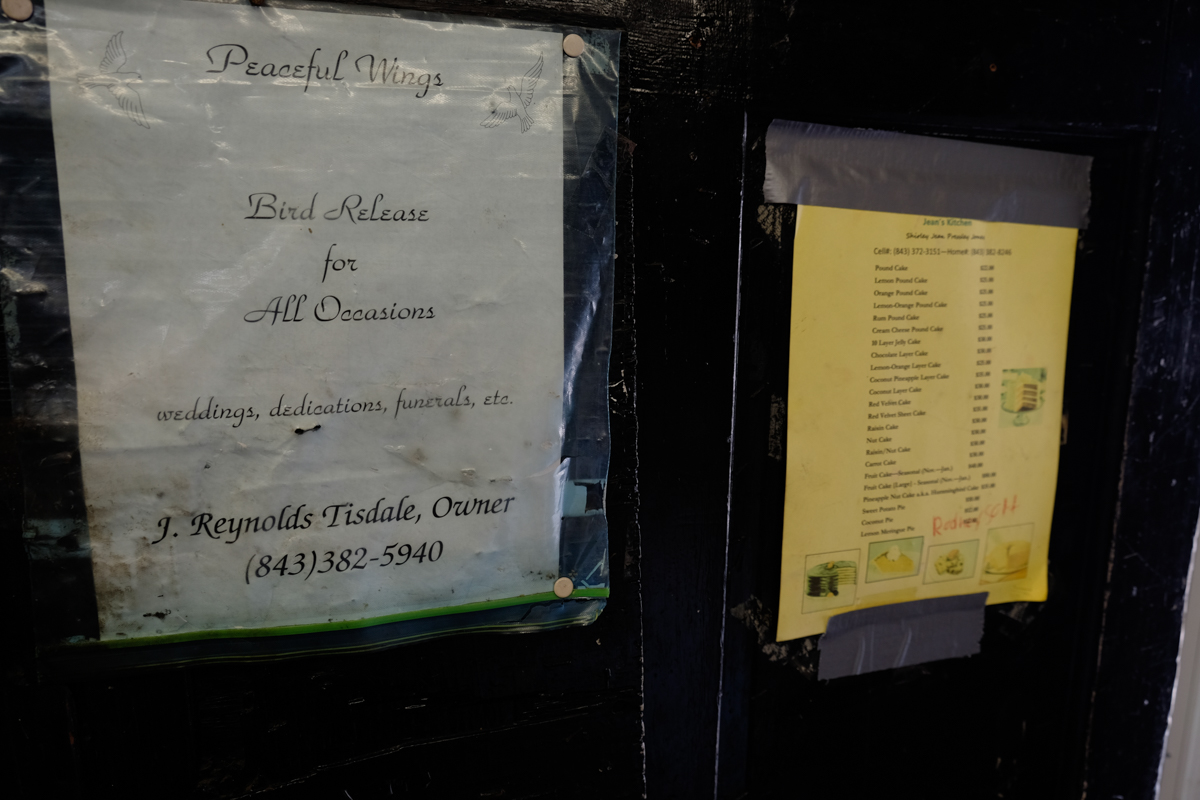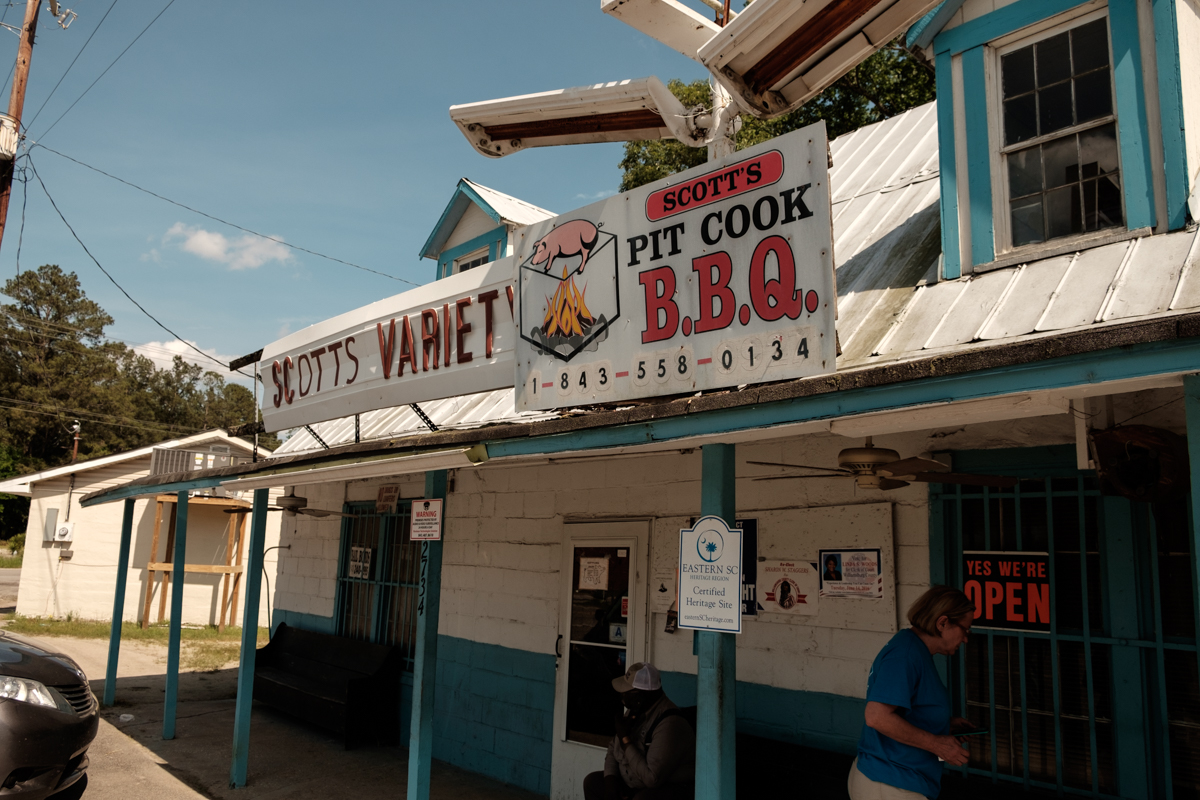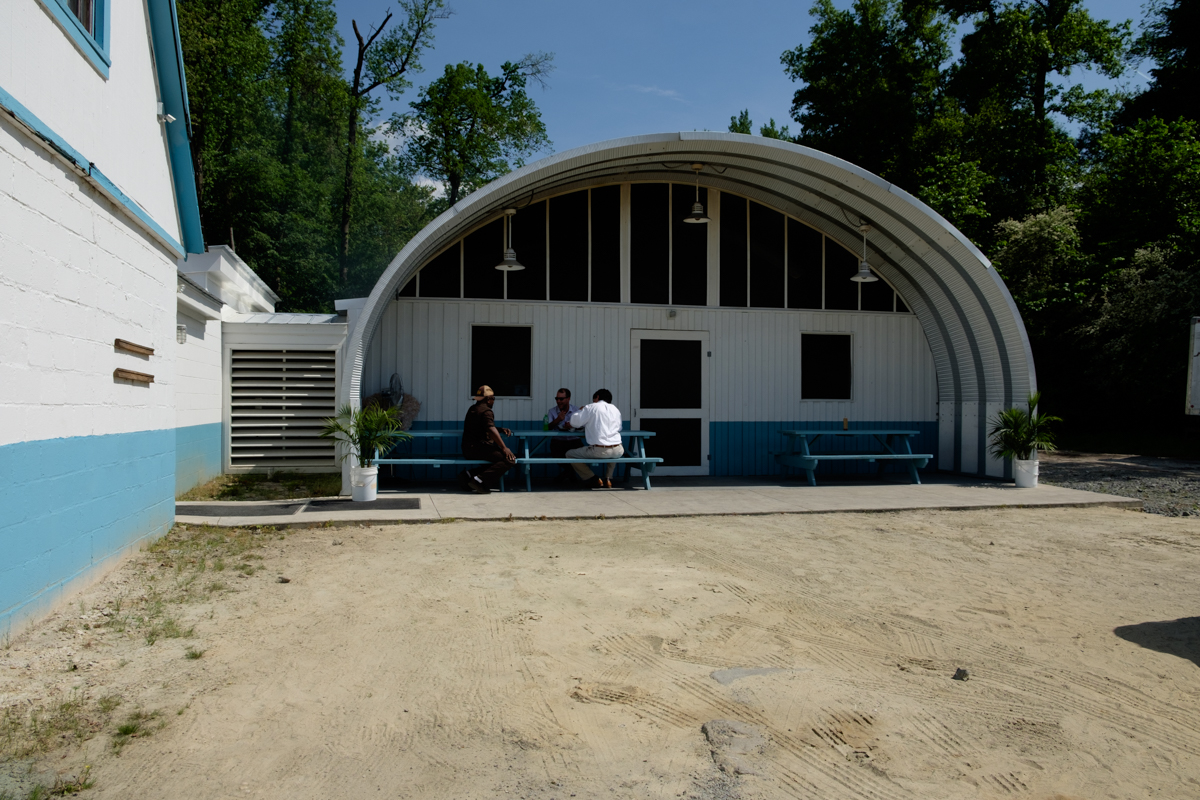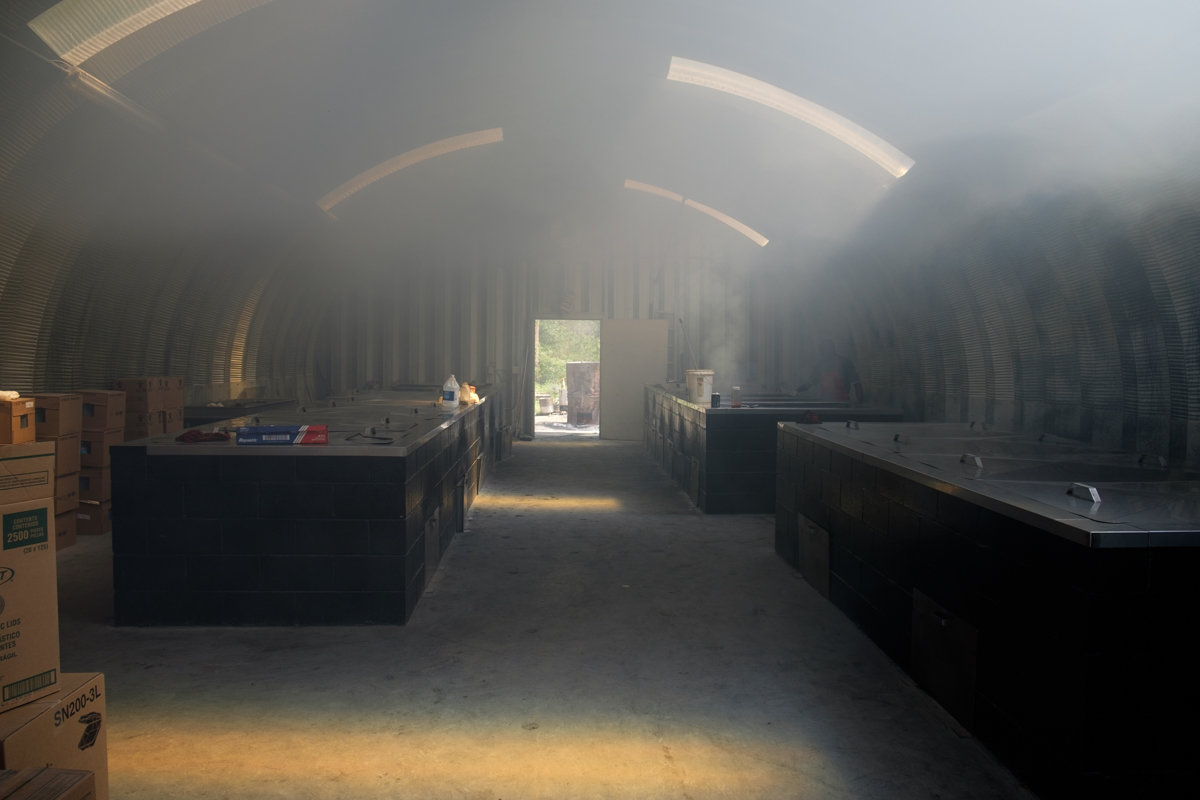 Durham and Chapel Hill
We checked into our very bland highway hotel in Chapel Hill—a hotel we actually tried to get a refund on when HB2 passed, to no avail—and headed into Durham for dinner at Piedmont. It was good but nothing exceptional. We took a long walk around after dinner, taking in the refurbished Tobacco District and the college bar scene. It was heartening to see so many establishments with posted signs rejecting their state's hateful discriminatory new law, but also a bit shocking to see a man dressed in a full Jesus costume—facial contouring included—holding a nine foot tall cross outside of the local gay bar, surrounded by a small group of folks wearing t-shirts about how Jesus saved them from being gay. We wandered past the sports arena, where a minor league game was letting out, disgorging literally thousands of fans. We wondered what the scene would have been like if an even bigger team was playing.
The next morning, we had an almost impossible time finding something to eat. This is in large part our fault—we were armed with suggestions from friends of the best restaurants in Chapel Hill and thought we'd have brunch there, but hadn't researched well enough to discover that they weren't open on Saturday morning. We wound up walking around Carytown, stopping into their neat food coop and the fantastic record store All Day Records, and eventually eating what are apparently iconic sandwiches at the charmingly chaotic Merritt's Store and Grill. We felt like we'd hit the apex of soul food and BBQ a little further South so didn't want to overdo it, and it seemed like this was a popular enough place that it would be fun. It was fun—and they had gluten-free bread—but Nicole was over-ambitious in her attempts to embrace Southern food and, against her better judgement, ordered a pimento cheese sandwich, and had to confirm, once she tried it, that no, nope, she hasn't grown past her cheese aversion enough to eat more than a bite. Dan was happy with his BLT. We explored the campus of UNC-Chapel Hill and then got a donut for the road at Monuts Donuts.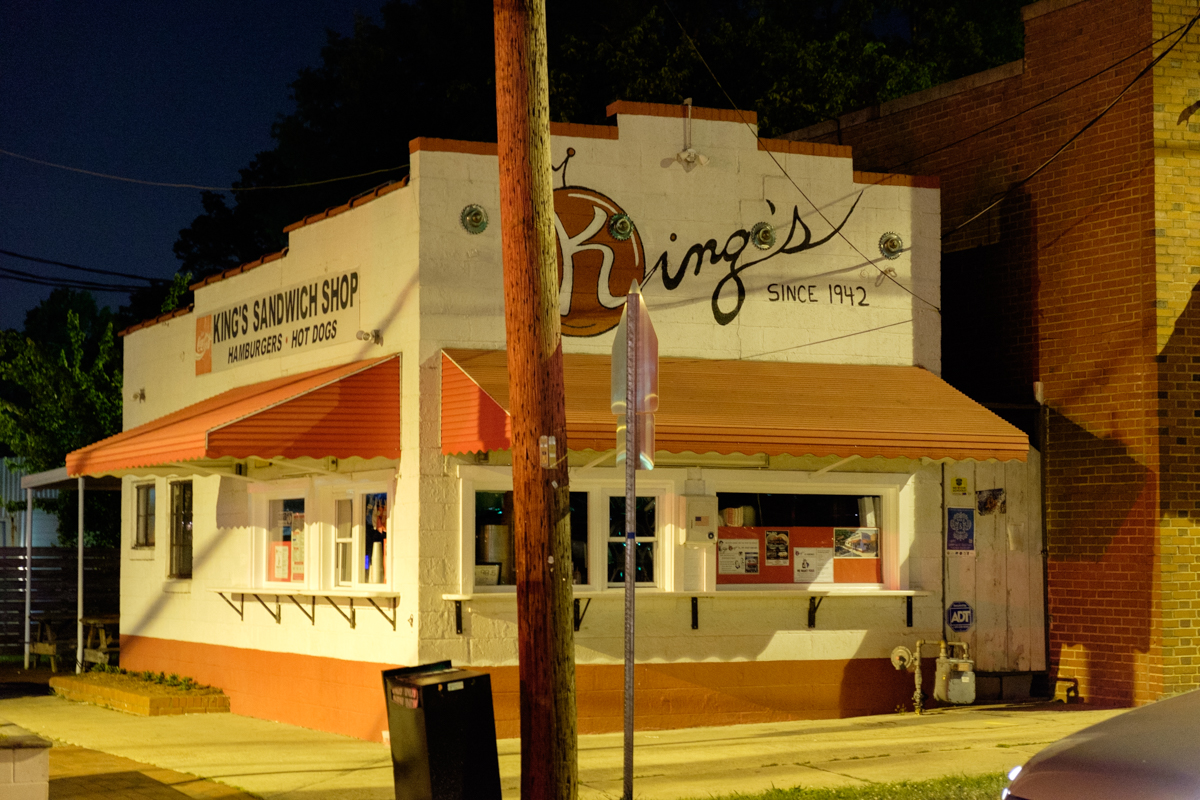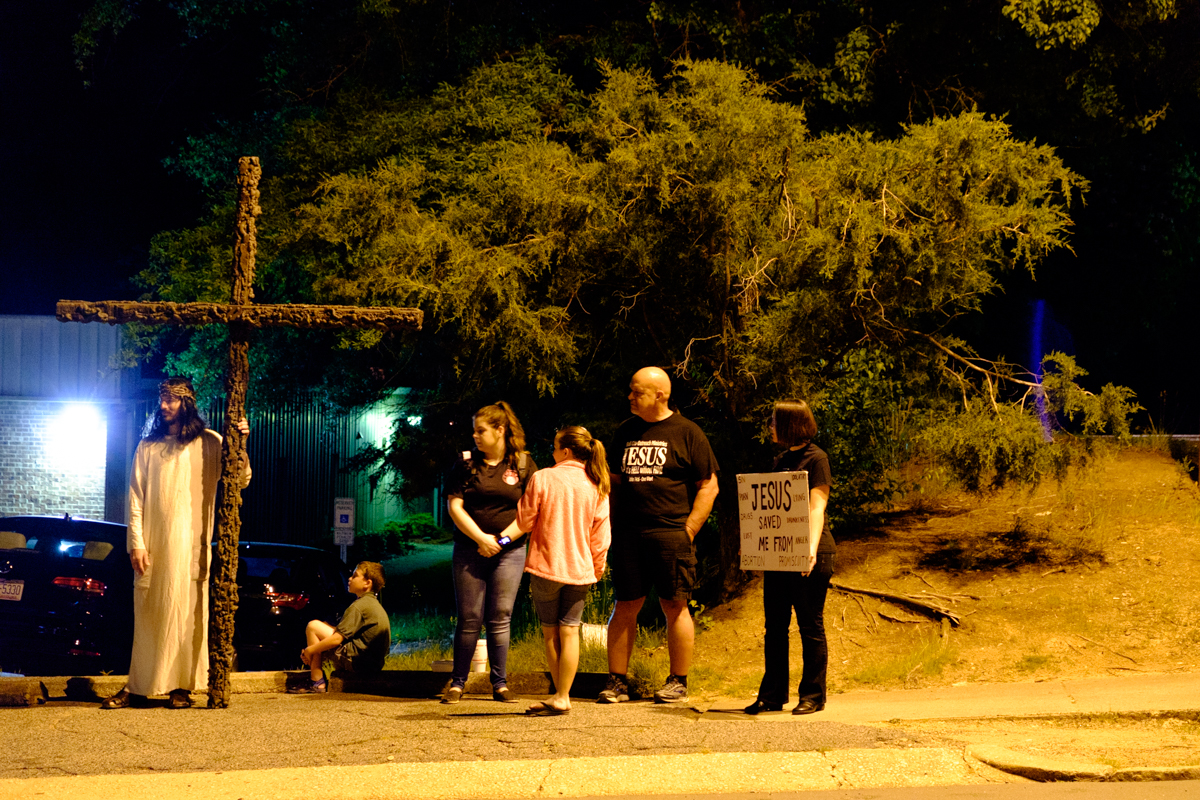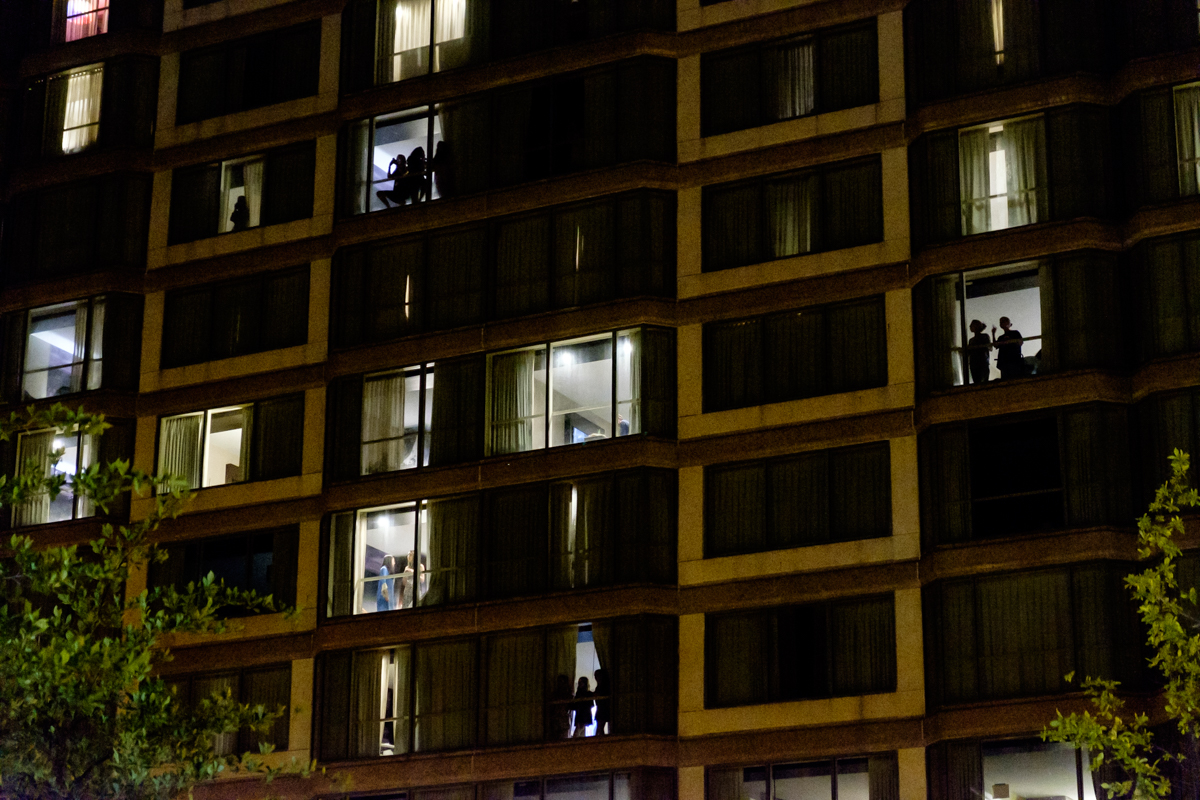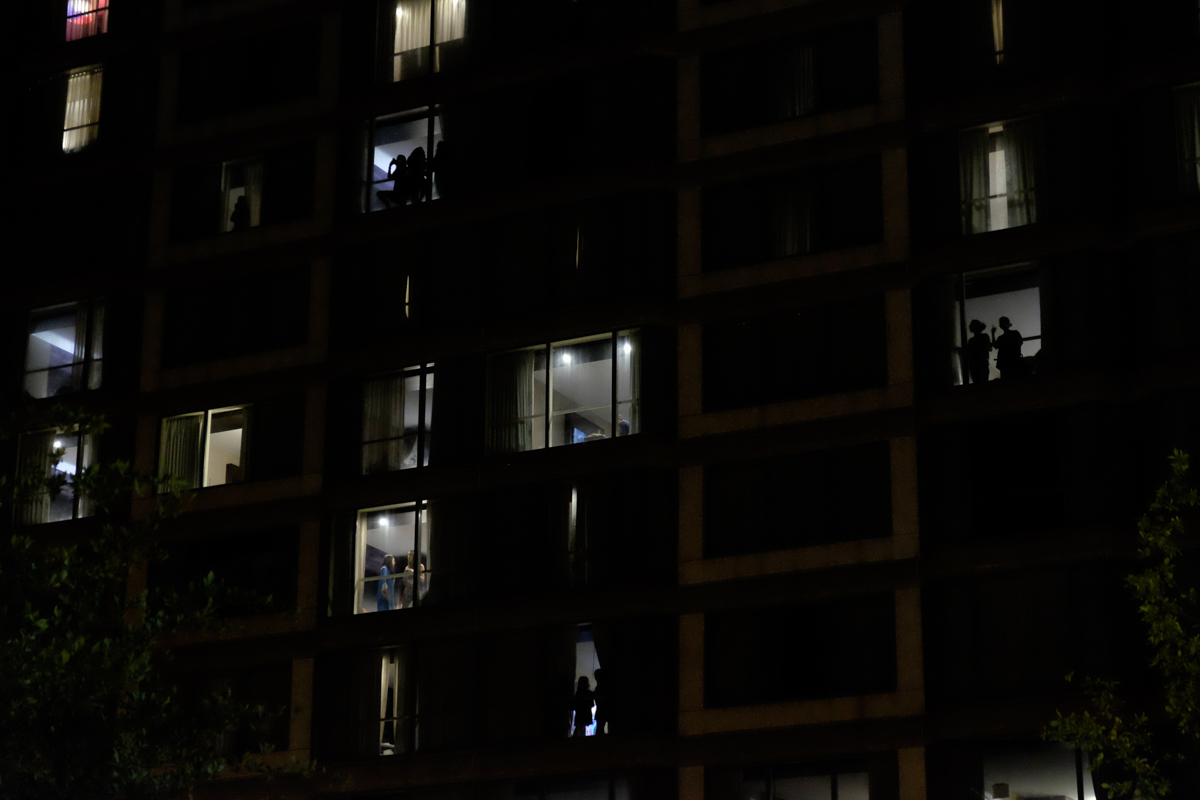 DC
We actually left this night open when we were planning our trip, so we used the app Hotels Tonight to find an awesome fancy room at The Embassy Row Hotel for an affordable last minute price. We checked in and then took a rainy walk over to an Eritrean restaurant called Keren Restaurant. It was late and crowded and confusing and we were nearly delirious by the time we finally got to eat, but the food was really, really good. After, we took a late night stroll through the neighborhood and took in the beautiful architecture and blooming roses. It was the same night at the White House Correspondants Dinner and it was neat to go back to the hotel watching it and know that we were only a few blocks away from where it was taking place.
Baltimore
We woke up and drove straight to our friend Josh's apartment in Baltimore. We picked him up and headed over for brunch to a place we were thwarted in our attempts to eat last time we were in Baltimore, and we were thwarted again. It took us a long time to pick a back up spot, and it was pouring rain, but we wound up at a pub in Fells Point called Penny Black, where we had very delicious crab cakes and Bloody Marys. It was great to catch up with Josh. We headed home after that and ended our trip as we began it, in terrible I-95 traffic. We pulled into a New Jersey rest stop so crowded Nicole couldn't even enter the building. Luckily, memories of jasmine-scented nights in Charleston and art and BBQ in Savannah sustained us on the long, miserable journey back to Queens.