Have you heard about the Finger Lakes? Wineries and hiking and outdoors activities and lakes! So many lakes! We now realize it wasn't correct to tell people our summer vacation was a visit to the Finger Lakes, especially if that was the image it would inspire. More honestly we should have said we were taking a road trip through and/or around the Finger Lakes on our way to Niagara Falls, Toronto and back, stopping briefly in exciting tourist destinations like Rochester, East Aurora, Buffalo and Syracuse.
The inspiration for the trip started there with our friend Jennifer when she said "nobody ever visits Syracuse." Far be it from us to miss the chance to prove a friend wrong, so plans were hatched when it occurred to us it could be a stop on the way to Toronto, a city we've wanted to visit for a while now. With that in mind we started looking at maps and wondered what else might be on the way, and that is how you plan a road trip!
SYRACUSE
We left on a Tuesday morning but not as early as planned as we had our initial stop in Jamaica Queens to get an oil change and inspection. Road trip tip #1: make sure your car is legal and working. We drove straight to Syracuse through Pennsylvania, which only makes sense if you actually look at a map. After stopping for picnic lunch on our way, we arrived in time to take a tour of Boxcar Press. Boxcar Press is many things--a commercial letterpress printer, manufacturer and dealer of printing supplies, provider of services, education and one of the most significant forces in contemporary letterpress printing--so arranging a tour there with Cathy was a must. It was inspiring and daunting to see the scale of their operation and pick their brains about process, technique, technology, etc.
From there we went straight to Jennifer's house. Dan's always been a bit curious about Syracuse, where Delmore Schwartz taught Lou Reed "the rally man's patter ran on through the dawn, until we said so long to his skuk-shrill yell" while at almost the same time Dan's father was pledging the Jewish fraternity. Nicole's mother's family is from right outside Syracuse, but she's only been to Canastota a few times to visit Great Aunt Sally. After walking Jennifer's dog and seeing her cute and collegiate neighborhood, we drove past the university to hit downtown, grab dinner and see the sites, primarily the amazing deco Niagara Mohawk Building. We checked a few other cool buildings before the rainstorm drove us home, but not before stopping by David Foster Wallace's old place. Nicole was determined not to leave Syracuse without a run-in with its reigning literary godfather, the charming genius George Saunders, but alas, it was not meant to be.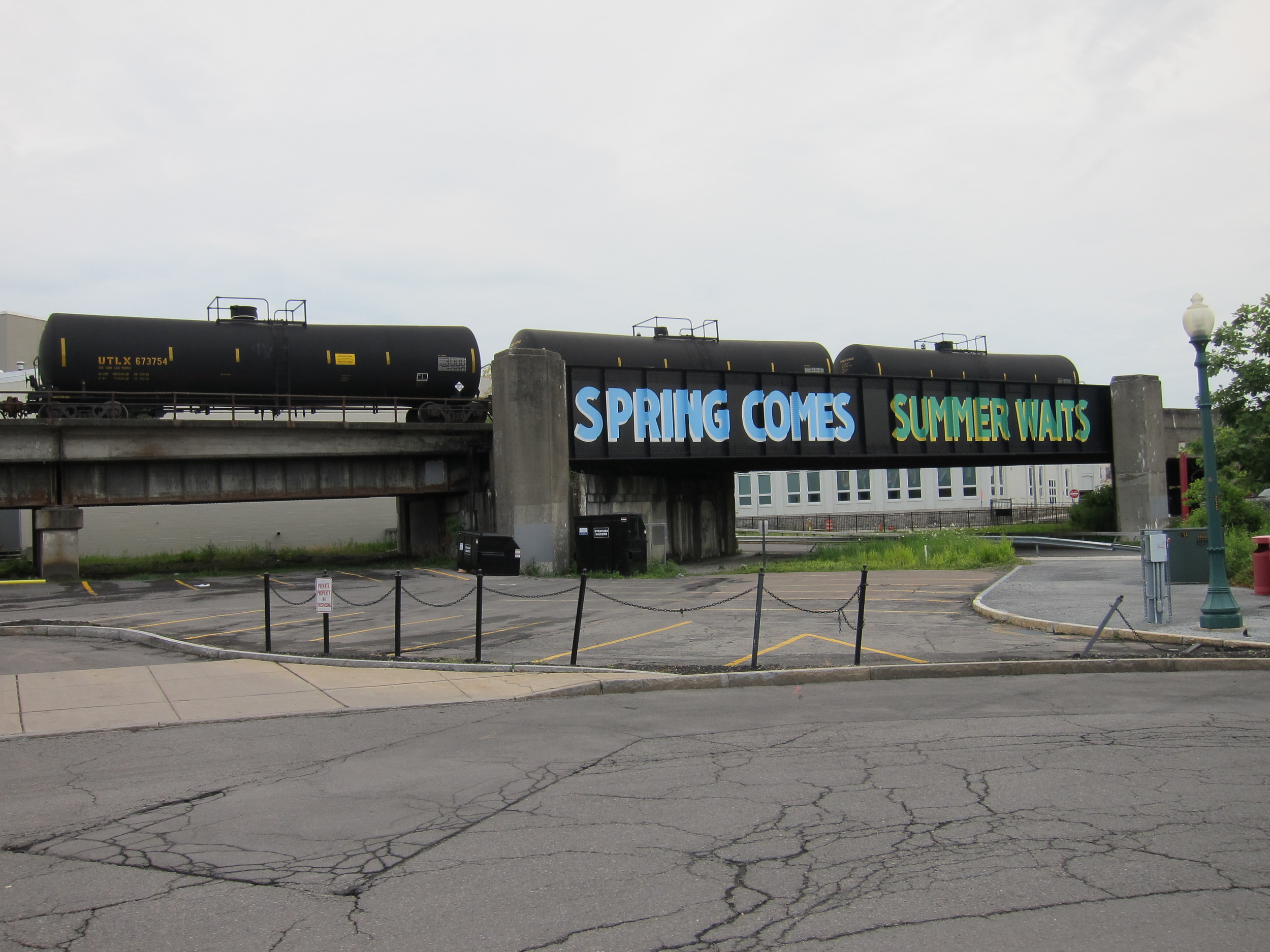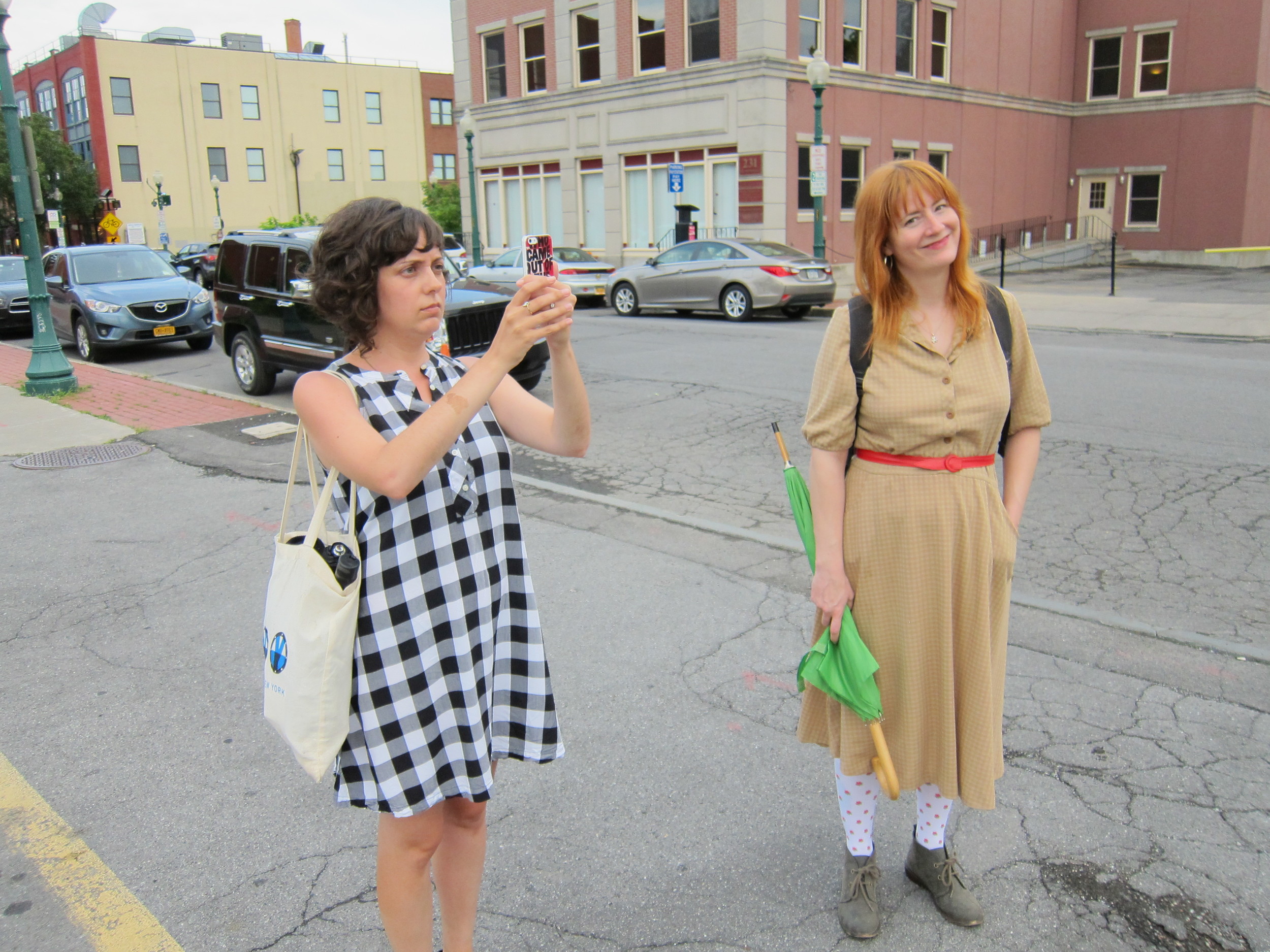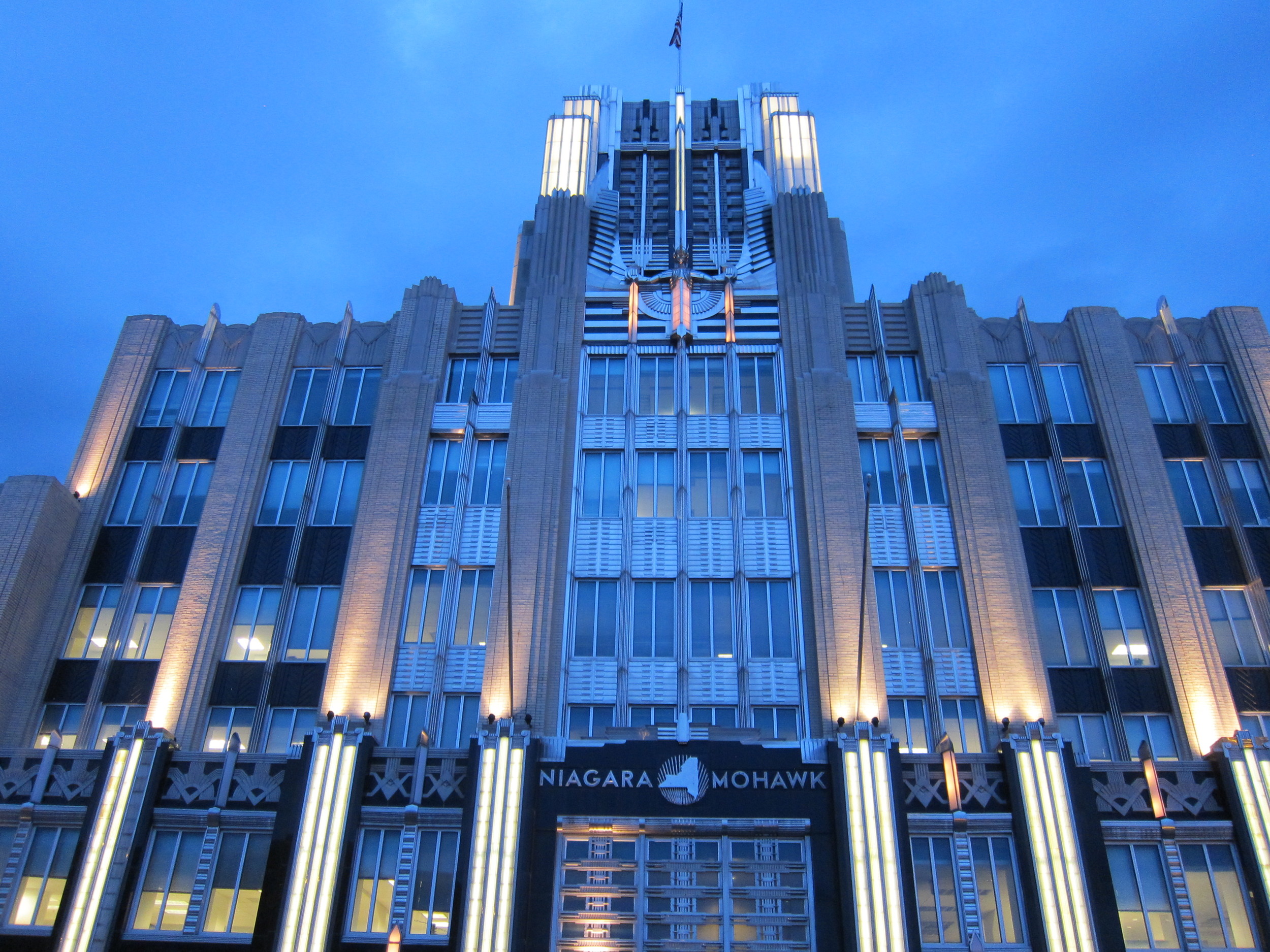 SENECA FALLS / ROCHESTER / BUFFALO
The following day was perhaps a little poorly planned as we hoped to hit too many hot spots in one day and ended up not having enough time in any of them, but our priority was spending more days in Toronto, so Wednesday was a whirlwind. We started in Seneca Falls, birthplace of the Women's Suffrage movement and despite its name, home to zero falls. We visited the Wesleyan Chapel, site of the 1848 Seneca Falls Convention, where the Declaration of Sentiments was signed by 68 women and 32 men and began by proclaiming: We hold these truths to be self-evident: that all men and women are created equal...
We also visited Elizabeth Cady Stanton's home, the visitor center, and a tiny women's history museum that is projecting a relocation into a lovely old mill. Seneca Falls was a moving and important place to visit and we wished we could have stayed longer.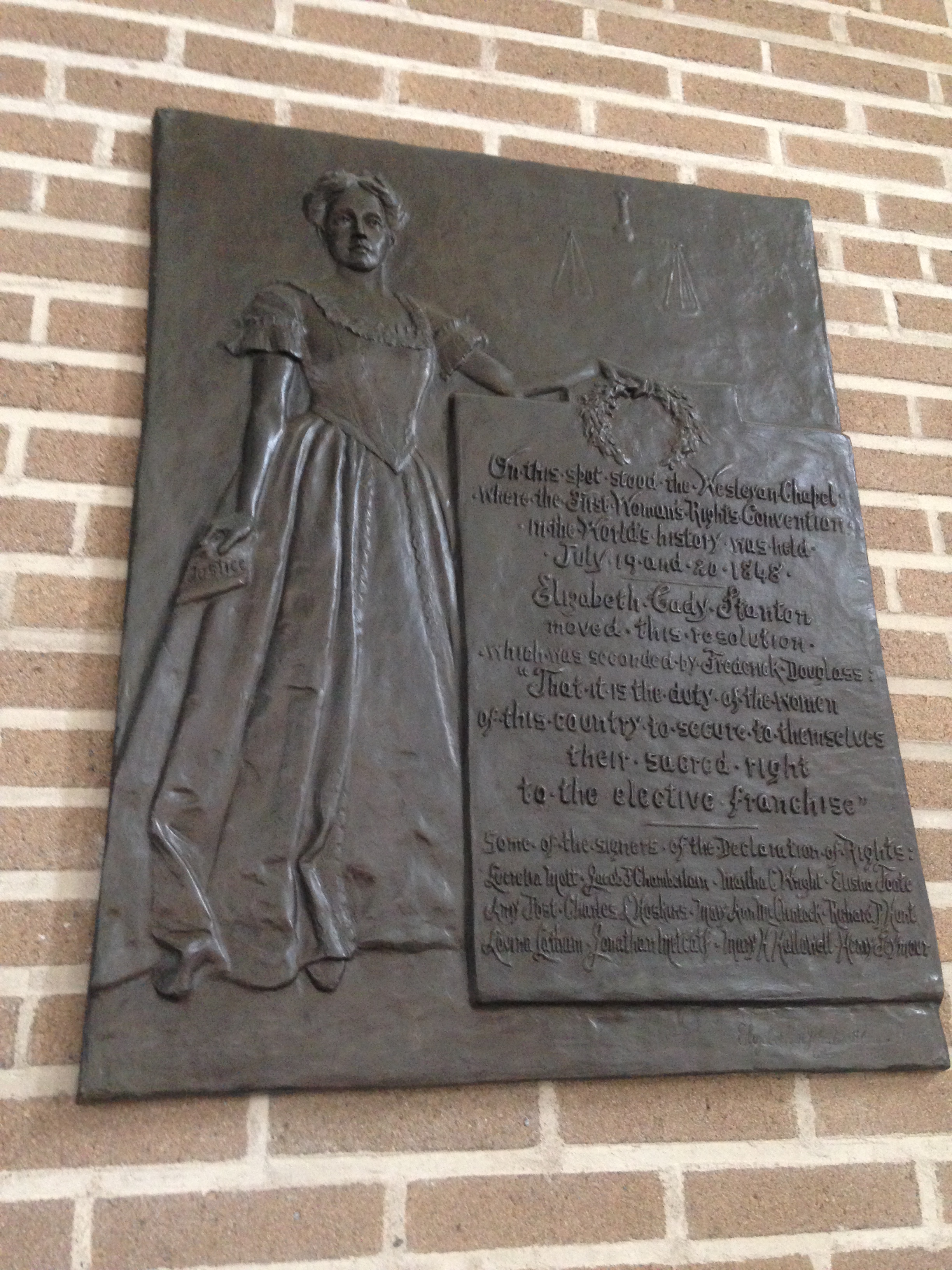 ROCHESTER
We managed to leave Seneca and arrive in Rochester in time for lunch at a cute little spot with gluten-free options and nice ciders called Owl House. After walking around for a few minutes we headed over to the George Eastman Museum, the photography museum and mansion of Kodak founder George Eastman. Our intention was to explore more in Rochester. Dan was curious about the Rochester Institute of Technology because in an alternate universe he might have gone there to study printing and color technology instead of studying noise music, non-literary performance and sound installation art at Oberlin. However we got out of the museum too late to visit RIT--it was just so cool that we had to see all of it--and decided we'd rather just get to Buffalo before it was dark.
BUFFALO
We had read an article in the NY Times about how cool Buffalo is so we were eager to check it out. The first neighborhood we headed to was the one with the record store, of course, where Dan bought Harper's Bazarre and Live Skull records. We explored further and found a strip of boutiques and coffee shops and a neat food incubator type building. Most everything was closed, including Five Points Bakery, whose toast menu came highly recommended from friends who'd preceded us to Buffalo. We then drove downtown to check out the City Hall, but unfortunately only from the outside. Another beautiful art deco building. Nicole's editor, a Buffalo native and editor of the new Buffalo Noir anthology, recommended Riverwalk, the newly revitalized Buffalo waterfront. We did a spin through there but it was so successful we couldn't find a spot to park to check it out further.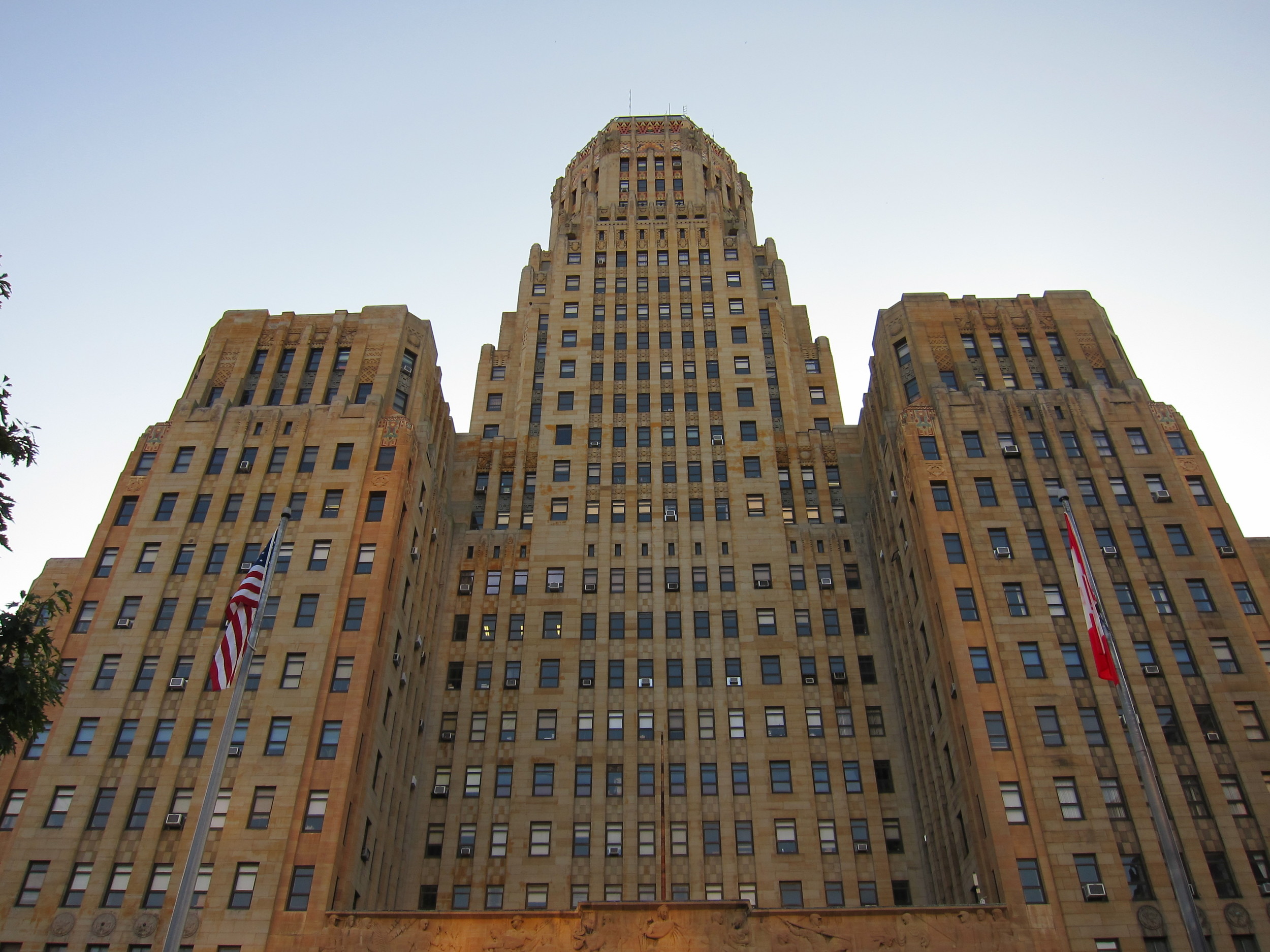 For dinner, Dan had to try Buffalo's classic "Beef on Weck" sandwich, wheat allergies be damned. Internet research led us to Schwabls, an ancient and charming institution just out of town. Luckily, they had fish and chips for Nicole. Dan was confused that he had to ask for extra jus for dipping and a side of horseradish since that's supposed to be the whole point, but once those were supplied, he was in jus-drenched, horseradishy beefy salty bun heaven. The roast beef was pretty good, but all together, a real treat. Although we finished eating at only 8pm or so, we were the last people in the place and the waitstaff closed up after us.
NIAGARA FALLS
We arrived in Canada at dusk. Conventional wisdom says Canada has the best views of Niagara Falls. As we neared the Falls we saw what at first looked like smoke from a fire in the twilight. We wondered...could it be? Could that just be spray from Niagara? Yes it was. We arrived after dark and checked into The Tower Hotel. This iconic space-age structure called out to us as the ideal place to stay. Floor to ceiling windows overlooking the falls, a strange retro mod Marilyn pop art vibe and did we mention windows overlooking the falls? We checked in and only got a slight sense of the falls as it was dark. There's a light show so you can see them, but you don't really get the full scope. Contrary to what one might expect, the Canadian side of the falls is actually more commercial than the American side, and had a bit of a Jersey shore, mall vibe along the main strip. We walked down to the other side of said strip, following the path along the falls where most views are blocked by trees, probably planted by the Niagara Chamber of Commerce Board of Tourism to necessitate paying for a better vantage point. After passing the casino and endless amusements, we arrived at the even more Jetsons-like Skylon Tower for a view from above. Just finding our way to the elevator was a hassle; the entire town is expertly designed to confuse and distract you and take your money, so you have to walk through video arcades and casinos and souvenir sellers to get anywhere. Nicole thought the ride up the side of the side of the tower was absolutely terrifying and didn't like the view from the top much better. Dan and most other people seemed to be enjoying themselves, though. We slept with the curtains open, so by six in the morning or so, our wall of windows framed Niagara Falls at sunrise. It was unreal and made the not insubstantial cost of our room completely worthwhile. The other must when visiting Niagara Falls is a ride on the Hornblower, the ferry that takes boatloads of poncho-clad tourists precariously close to the natural wonder. We spent a long time trying to figure out why it seemed like we could only get on the Hornblower when the Maid of the Mist is the more famous ferry ride--it turns out that they're the exact same thing, only the Hornblower is the Canadian version. It seems like a touristy or perhaps overhyped thing to do, but it was straight up magical. We also really enjoyed walking alongside the falls during the day, although we did not attempt the Journey Behind the Falls or Cave of the Winds scenarios, which seemed kind of scary. After wiping the mist from our faces, we Yelped around to find somewhere that wasn't a nightmare tourist buffet to eat before heading to Toronto and landed on a very delicious, very un-touristy Vietnamese place, Pho Xyclo, a few miles away.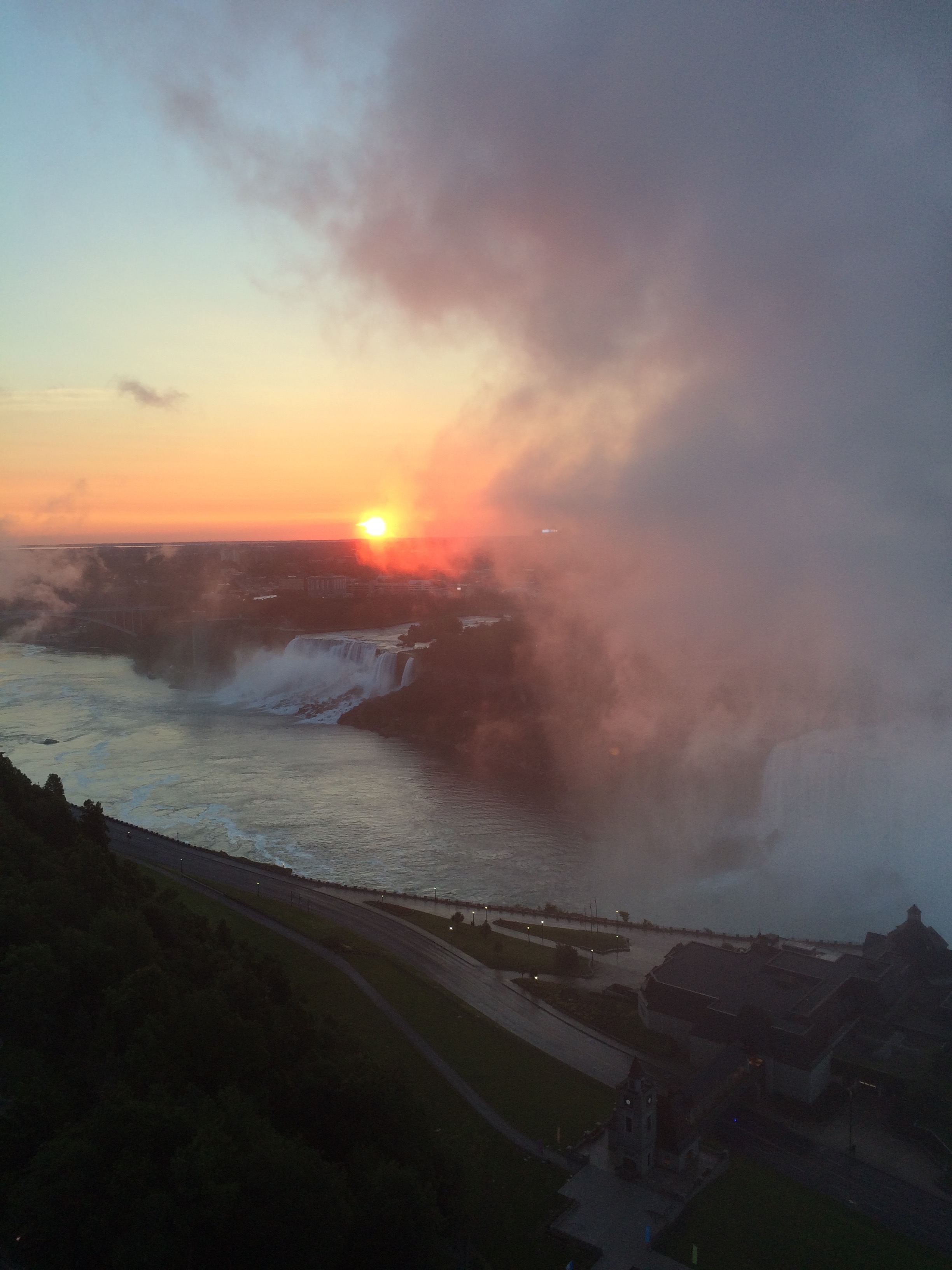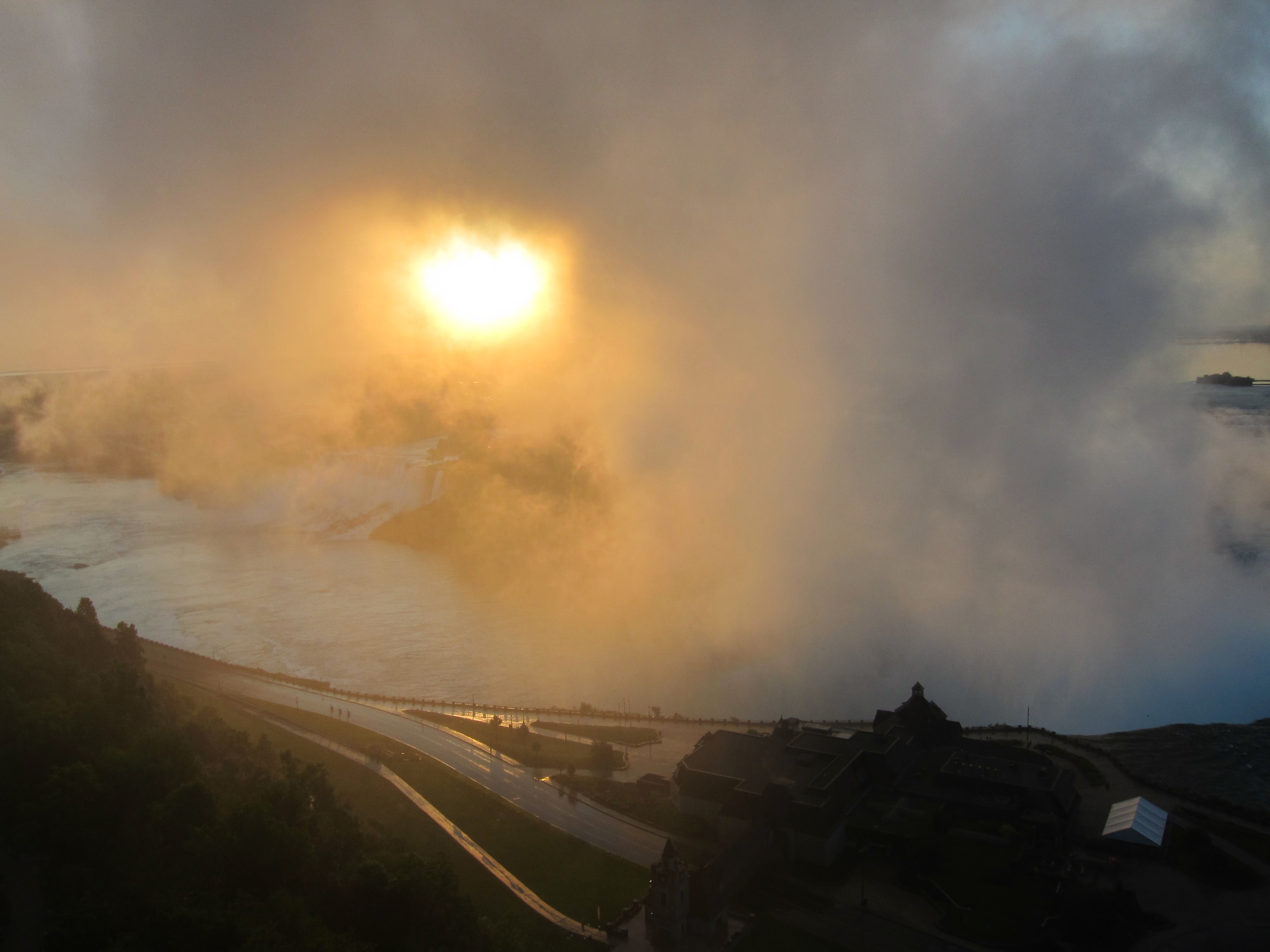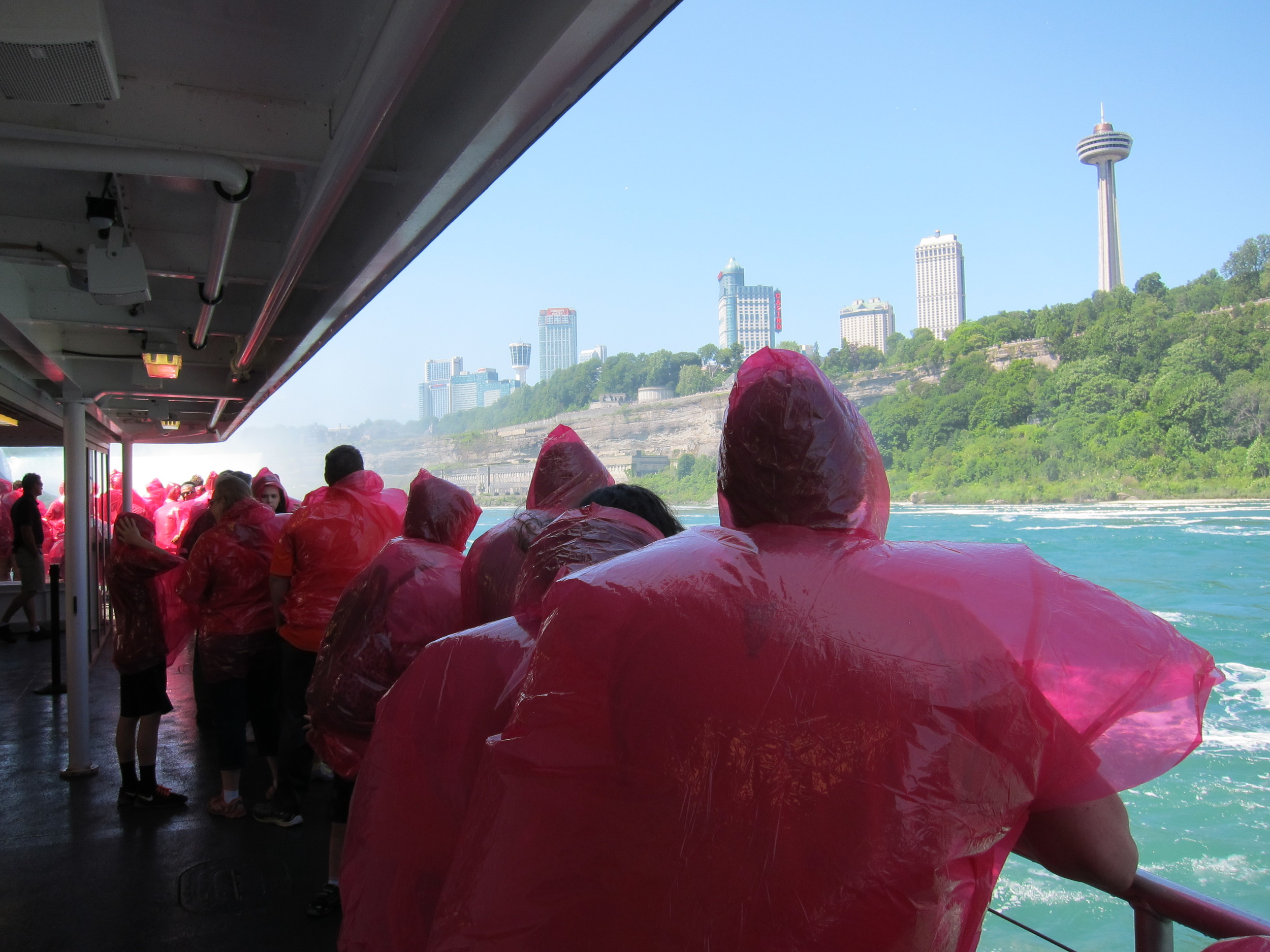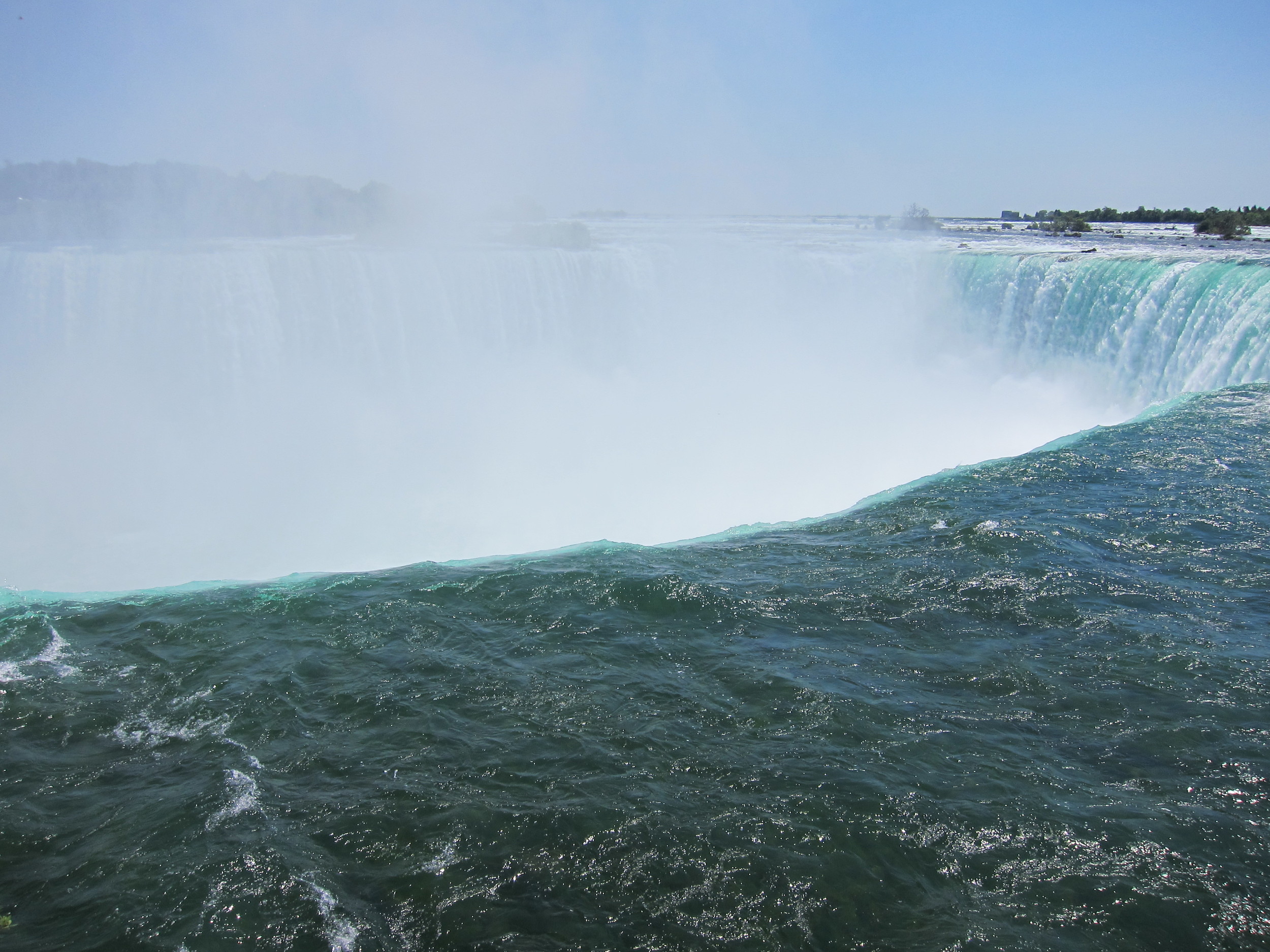 TORONTO
We are oblivious to anything related to sports, so planned our trip to Toronto to coincide with something called the Pan Am games. No one in or outside of Toronto seemed to care very much about them, but to accommodate the additional cars and buses the games brought to the city, something strange was going on with the highways to divert traffic, so we spent quite a while inching along in view of the Toronto skyline before we actually arrived. When we did get into the city, we spent even longer trying to understand our AirBnB host's directions to his parking garage, and even longer than that trying to understand why he didn't mention that the street his family's apartment is on was a muddy, completely closed construction site, and obviously had been for months, if not more.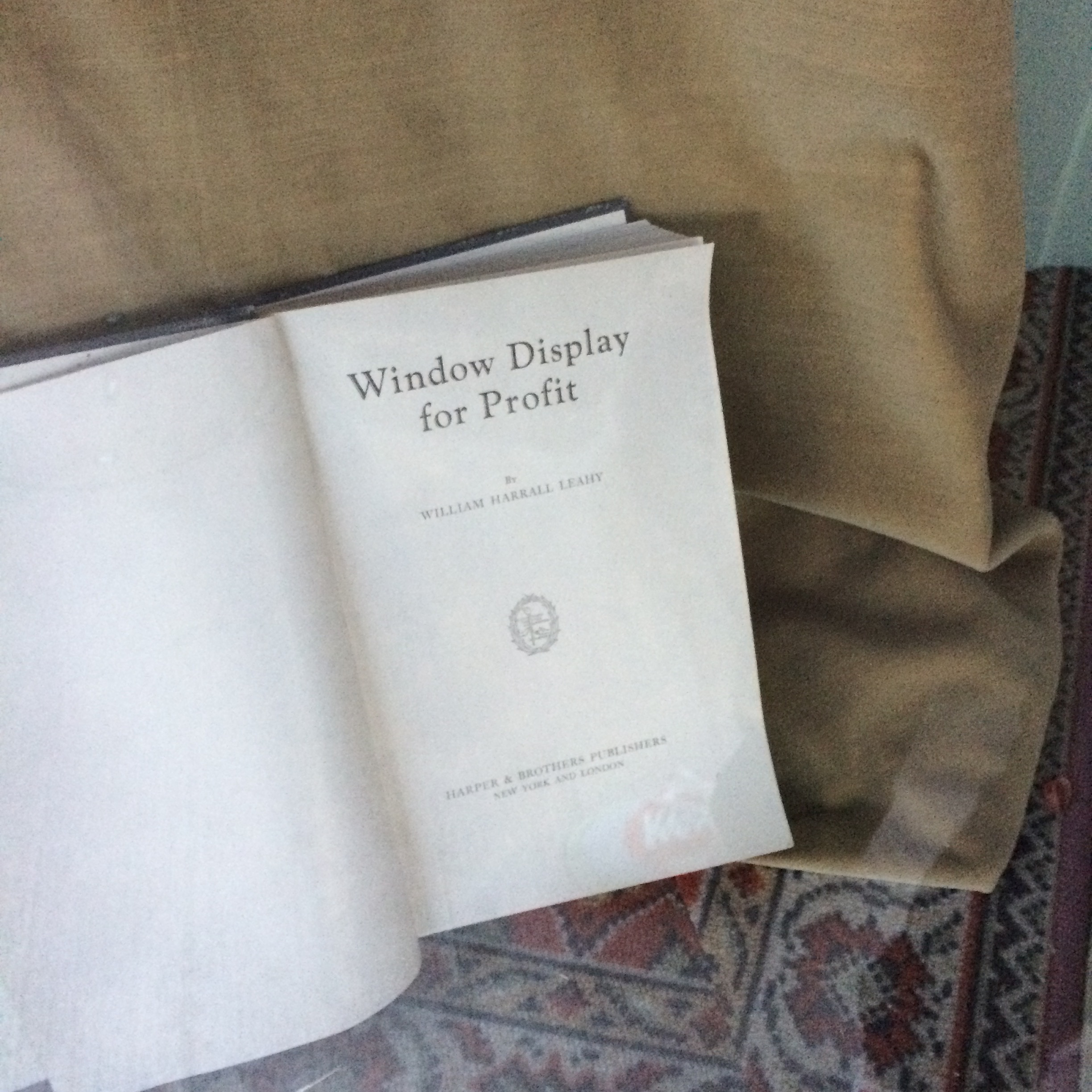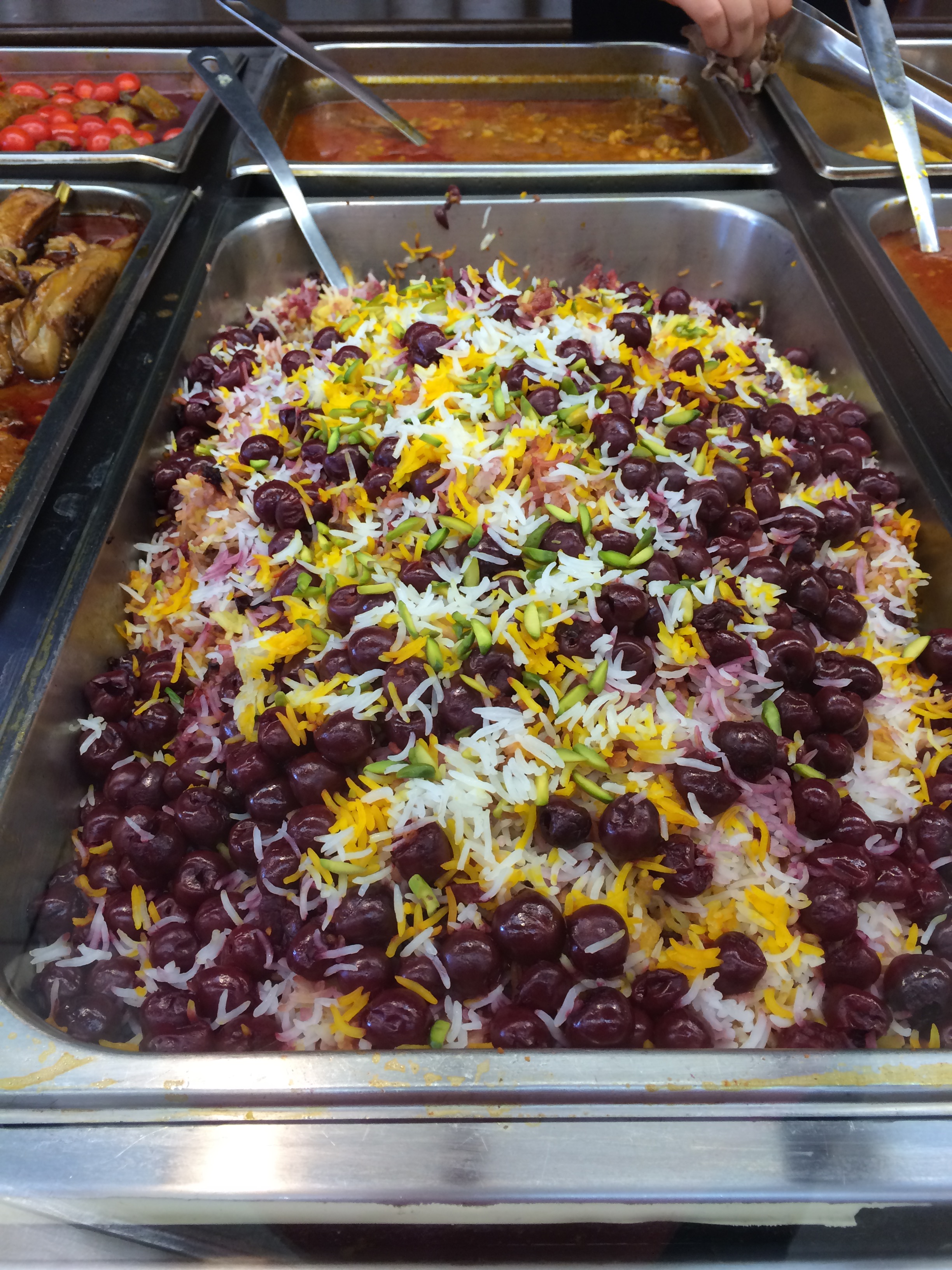 As per usual, most of our prior research and the vast majority of recommendations we'd received about visiting Toronto pertained to food. Art always comes a close second to food for us, though, so we had a list of a few exhibitions we were excited to see. Two of our top picks were at the small but very special Textile Museum of Canada: Frida Kahlo Through the Lens of Nicholas Muray, with Traditional Costume from the Textile Museum of Canada and Artist Textiles: Picasso to Warhol. We really enjoyed both of them. The saturated colors of Muray's photographs of Kahlo were especially gripping. The rain that day was driving, but we still didn't want to spend too much time in the Art Gallery of Ontario, which we'd been warned shouldn't be a priority, so we swung by to check out the architecture and then headed over to the more inspiring Museum of Contemporary Canadian Art. It was the end of the last exhibition the museum was holding in that space; we would be interested to return and see what they do with their new digs. Afterwards, we wandered into a great arts nonprofit called Artscape Youngplace that provides flex studios, art classes and more to the community. An artist couple we spent some time with explained that the organization--which also ran the loft building our AirBnB was in--was a bit controversial for buying art spaces and then turning them into snazzier more expensive art spaces, but it did seem better than NYC's system of buying art spaces and turning them into condos. That couple recommended a bunch of great galleries to visit, too. We also hit up the awesome Toronto bookstores, Type Books, and some really excellent little shops and boutiques on main drags like Queens Street West and Dundas. In addition to hiking over to few neat waterfront parks during our few days in the city, all on foot after one ill-fated experience with a street car and Nicole's trademarked motion sickness, trekking to these spots helped us keep our appetites up to check out many--though not nearly all--of the places on our culinary wish lists.
TORONTO--Places We Ate and Liked/Loved
Kensington Market--a small neighborhood of shops, stalls and restaurants.
St. Lawrence Market--a gigantic indoor market of specialty shops, food stands and more.
Churrasco of St. Lawrence--famous and amazing Portugese custard tarts in the St. Lawrence market.
Boralia --historical Canadian recipes, excellent cocktails. Our favorite spot.
Patois--Caribbean inspiration, very hipstery. We went for brunch--delicious.
Parts and Labor--friends' friend is part owner, which is why we went. The deconstructed Nicoise salad and cocktails were excellent.
Dumpling House Restaurant--Chinatown, lots of great dumplings!
BangBang Ice Cream--ice cream, ice cream sandwiches--incredible, crazy lines
Toronto Iranian Plaza--one-stop Persian strip mall at 6075 Yonge St.
TORONTO--Place We Drank and Liked/Loved
Mr. Flamingo--very hipstery. we wanted to eat here, too, but didn't have time.
Geraldine--very expensive restaurant with excellent historical cocktails and a great bartender. Has since closed!!! But it would be worth it to track down the folks responsible for this place and see if they've got a new one.
Communist's Daughter--a dive with pickled eggs
TORONTO: Places We Would Have Gone Had We Had Time/Weren't Prevented by Allergies
Bent (Susur Lee)
Luckee (Susur Lee)
DaiLo (fancy Chinese)
Bar Isabel (seems like the most talked about place in Toronto, tapas, cocktails, late-night)
The County General (recommended by a friend)
Big Crow (fun, silly, lots of trout)
Fat Pasha (Israeli / Jewish food, hipstery)
Swan Restaurant (really beautiful, taken over by Rose and Sons people, randomly closed when we tried to go even though it should have been open)
ROYCROFT CAMPUS AND CORNING
We definitely buy into the idea that everything in Canada functions better than here in the States, but leaving Toronto, the border crossings were a total shitshow. Because of our hours spent waiting to flash our passports and return to New York State, we made it to the Roycroft Campus, ground zero of the Arts and Crafts movement, only fifteen minutes before closing. We took in the architecture, sped through a few exhibits, checked out the Roycroft Inn, where we'd thought for a second we might stay if we had an extra day between Syracuse and Niagara, and then found a picnic table in a local park to eat our take-out Persian food. Nicole quickly discovered that "no meat" to Persians means "flavored by a lot of hidden shredded meat" but Dan really enjoyed his meal. East Aurora, New York was flying a lot of flags and seemed pretty small-town idyllic, which made us a little uncomfortable. We continued on to Corning.
We booked one of the three rooms over a local bar on Corning's adorable main drag called the Inn at Gaffer Grille. We procured the key from the bartender downstairs and discovered that our room was enormous and strangely luxurious. We took a twilight walk and then ate a late dinner at the incongruously hipstery, terribly named but actually really delicious Hand and Foot. If you go to the Corning Museum of Glass, which we really think you should, you couldn't do better than a stay at the Inn at Gaffer Grille and a meal or two at Hand and Foot. We had breakfast the next morning at a little bakery in town, then hit the museum. We expected to spend an hour or two there and start our drive home. Once we arrived, though, we discovered that the museum was serious business. We wound up spending at least six hours there and we could have spent longer. It is a complex, encompassing a contemporary art museum, a historical glass museum, a bevy of areas for scientific presentations and a few small arenas for glass blowing demonstrations. And then, there's also an exhibition area in the library and archives, which had a fantastic show about the history of Pyrex. We did a quick swing through a little museum of Western art also in town called The Rockwell Museum, and then actually headed home. We stopped in a very forgettable, sort of sad restaurant in Scranton on the way, and then our summer vacation was over.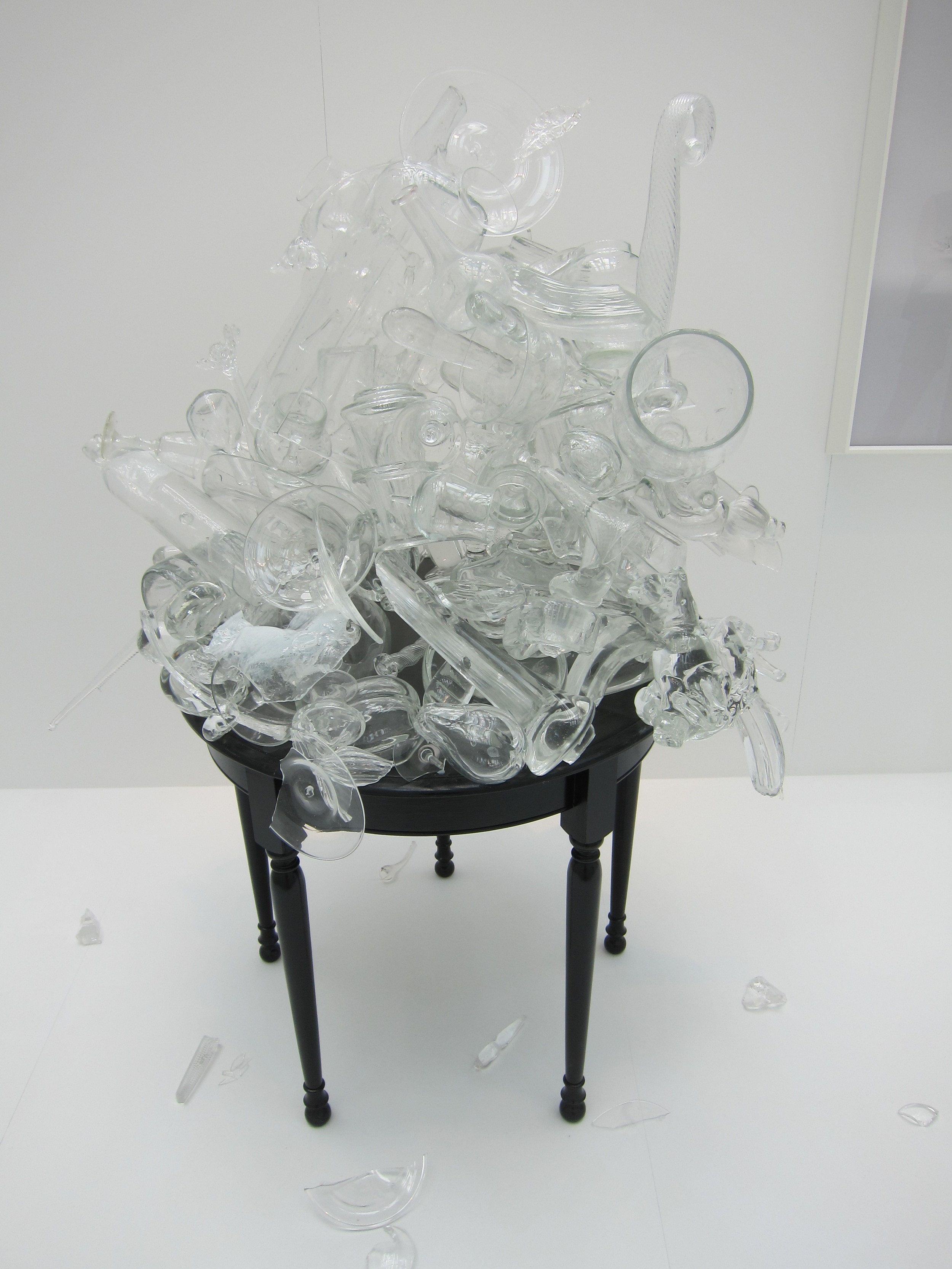 As completely entrenched New Yorkers, traveling is great but it is hard to imagine ever living in another city. Toronto came closest to a place we could feel at home, though. Diverse, vibrant, artistic, and filled with tons and tons of incredible restaurants, it was a place we could have spent weeks, if not a few months. We'll be back!